Cbx2 stably associates with mitotic chromosomes via a PRC2- or PRC1-independent mechanism and is needed for recruiting PRC1 complex to mitotic chromosomes.
Bottom Line: Depletion of PRC1 or PRC2 protein has no effect on the immobilization of Cbx2 on mitotic chromosomes.We find that the N-terminus of Cbx2 is needed for its recruitment to mitotic chromosomes, whereas the C-terminus is required for its immobilization.Thus these results provide fundamental insights into the molecular mechanisms of epigenetic inheritance.
Affiliation: Department of Chemistry, University of Colorado Denver, Denver, CO 80217-3364.
Show MeSH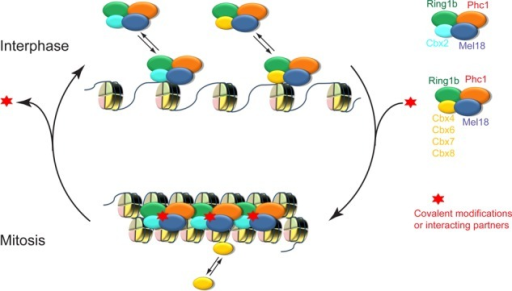 © Copyright Policy - creative-commons
getmorefigures.php?uid=PMC4230780&req=5
Mentions: It is interesting to note that the Cbx2-containing PRC1 complex (Cbx2, Ring1b, Phc1, and Mel18) is immobilized at mitotic chromosomes without exchange, whereas other Cbx-family proteins (Cbx4, Cbx6, Cbx7, and Cbx8) dynamically bind to mitotic chromosomes with kinetics similar to their binding to interphasic chromatin. It is not clear which factors dictate the transition between a dynamic and a stable Cbx2-PRC1 complex during different phases of the cell cycle. Because the C-terminus of Cbx2 is required for the immobilization of Cbx2 proteins at mitotic chromosomes, the C-terminus may dictate the dynamic switching between interphase and mitosis. The C-terminus contains the Cbox domain, which interacts with Ring1b (Satijn et al., 1997; Schoorlemmer et al., 1997; Bardos et al., 2000), but depletion of Ring1a/Ring1b proteins did not alter the immobilization of Cbx2 to mitotic chromosomes, suggesting that other factors play roles in immobilizing the Cbx2-PRC1 complex at mitotic chromosomes. Previous studies of transcription factors, epigenetic regulators, and chromosomal structural proteins showed that most of them either rapidly exchange at or stably bind to chromatin (Phair et al., 2004; Cherukuri et al., 2008; Ueda et al., 2008; Souza et al., 2009; Hemmerich et al., 2011), and yet a subset of these factors switch binding dynamics upon signaling stimuli or cell cycle transition (Angus et al., 2003; Schmiedeberg et al., 2004; Chen et al., 2005; Mekhail et al., 2005; Gerlich et al., 2006; Meshorer et al., 2006; Yao et al., 2006; Ren et al., 2008; Giglia-Mari et al., 2009; Hellwig et al., 2011; Hemmerich et al., 2011). We hypothesize that the dynamic switching of the Cbx2-PRC1 complex between interphase and mitosis may be regulated through covalent modifications or additional interacting partners (Figure 8).