Cbx2 stably associates with mitotic chromosomes via a PRC2- or PRC1-independent mechanism and is needed for recruiting PRC1 complex to mitotic chromosomes.
Bottom Line: Depletion of PRC1 or PRC2 protein has no effect on the immobilization of Cbx2 on mitotic chromosomes.We find that the N-terminus of Cbx2 is needed for its recruitment to mitotic chromosomes, whereas the C-terminus is required for its immobilization.Thus these results provide fundamental insights into the molecular mechanisms of epigenetic inheritance.
Affiliation: Department of Chemistry, University of Colorado Denver, Denver, CO 80217-3364.
Show MeSH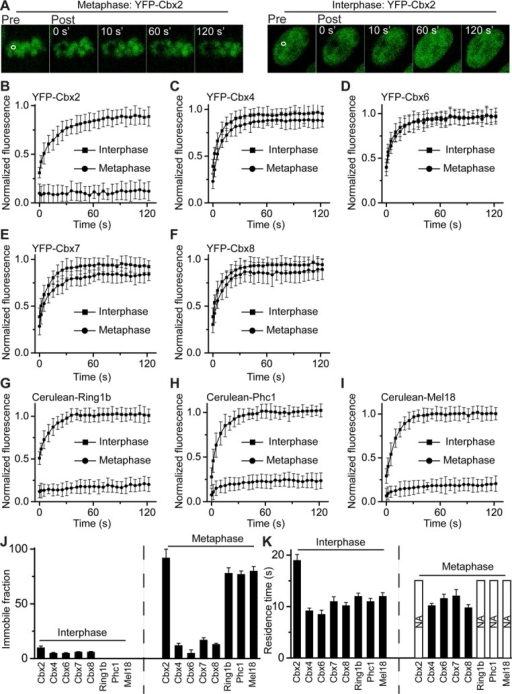 © Copyright Policy - creative-commons
getmorefigures.php?uid=PMC4230780&req=5
Mentions: Several studies demonstrated that mammalian PRC1 proteins are highly dynamic during interphase in cells (Hernandez-Munoz et al., 2005; Ren et al., 2008; Isono et al., 2013; Vandenbunder et al., 2014). Recent studies of Drosophila Pc and Ph proteins showed that a subpopulation of the two proteins bind to mitotic chromosomes with up to 300-fold-longer residence time than during interphase (Fonseca et al., 2012; Steffen et al., 2013). To determine the dynamic properties of mammalian PRC1 proteins binding to chromatin in both interphase and mitosis of ES cells, we performed quantitative FRAP on the Cbx family of proteins (Cbx2, Cbx4, Cbx6, Cbx7, and Cbx8), as well as on the three core components of the canonical PRC1 complex (Ring1b, Phc1, and Mel18; Figure 5, A–I). The mCherry-H2A fusion protein served as a guide for placing bleach spots at mitotic chromosomes. Comparison of recovery kinetics of the Cbx-family fusion proteins binding to mitotic chromosomes revealed striking differences among Cbx proteins. Greater than 90% of YFP-Cbx2 fusion protein was immobilized at mitotic chromosomes without exchange over a time period of 120 s. Conversely, >85% of the YFP-Cbx4, YFP-Cbx6, YFP-Cbx7, and YFP-Cbx8 fusion proteins rapidly exchanged at mitotic chromosomes, with a residence time of 10–15 s (Figure 5, A– F, J, and K). During interphase, >90% of the Cbx-family fusion proteins showed fluorescence recovery, with a residence time of ∼10–20 s (Figure 5, A– F, J, and K), which is consistent with previous studies (Ren et al., 2008). Thus these data reveal that the YFP-Cbx2 fusion protein stably binds to mitotic chromosomes but rapidly exchanges at interphasic chromatin, whereas other Cbx-family proteins dynamically exchange on both interphasic and mitotic chromatin.