Cbx2 stably associates with mitotic chromosomes via a PRC2- or PRC1-independent mechanism and is needed for recruiting PRC1 complex to mitotic chromosomes.
Bottom Line: Depletion of PRC1 or PRC2 protein has no effect on the immobilization of Cbx2 on mitotic chromosomes.We find that the N-terminus of Cbx2 is needed for its recruitment to mitotic chromosomes, whereas the C-terminus is required for its immobilization.Thus these results provide fundamental insights into the molecular mechanisms of epigenetic inheritance.
Affiliation: Department of Chemistry, University of Colorado Denver, Denver, CO 80217-3364.
Show MeSH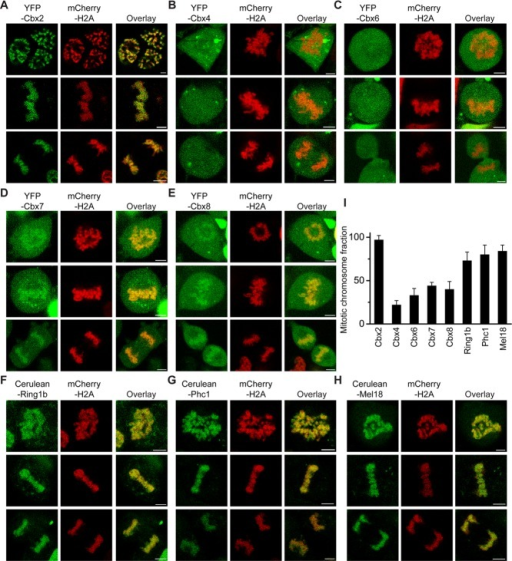 © Copyright Policy - creative-commons
getmorefigures.php?uid=PMC4230780&req=5
Mentions: Early studies of the association of mammalian PRC1 proteins with mitotic chromosomes reached divergent opinions (Wang et al., 1997; Saurin et al., 1998; Koga et al., 1999; Voncken et al., 1999; Akasaka et al., 2002; Suzuki et al., 2002; Miyagishima et al., 2003; Aoto et al., 2008; Vincenz and Kerppola, 2008). To appreciate fully whether the Cbx-containing PRC1 complexes associate with mitotic chromosomes, we established ES cell lines that inducibly express PRC1 protein fused with either Cerulean or yellow fluorescent protein (YFP) in a doxycycline-controlled manner. To facilitate live-cell imaging and mark mitotic chromosomes, we coexpressed histone H2A fused with Cerulean or mCherry with PRC1 fusion protein. We performed multicolor Z-scan imaging of live cells at 37°C with a confocal laser-scanning microscope. The PRC1 fusion proteins (Cbx family proteins [Cbx2, Cbx4, Cbx6, Cbx7, Cbx8], Ring1b, Phc1, and Mel18) exhibited variable capacities of association with mitotic chromosomes. YFP-Cbx2 fusion was the primary protein accumulated at mitotic chromosomes (Figure 1, A–H). These PRC1 fusion proteins were granularly distributed at mitotic chromosomes. Quantitative analysis of Z-stack images showed that (96 ± 5)% of YFP-Cbx2 protein associates with mitotic chromosomes, whereas YFP-Cbx4, (22 ± 5)%; YFP-Cbx6, (26 ± 7)%; YFP-Cbx7, (44 ± 4)%; Cbx8, (40 ± 9)%; Cerulean-Ring1b, (63 ± 10)%; Cerulean-Phc1, (84 ± 10)%; and Cerulean-Mel18, (84 ± 7)%, all showed reduced association with mitotic chromosomes (Figure 1I). These results are consistent with previous bimolecular fluorescence complementation analysis of Cbx2 and Cbx6 association with mitotic chromosomes (Vincenz and Kerppola, 2008), but the present studies provide quantitative insights into the entire set of Cbx-family proteins and other PRC1 proteins. Thus these data indicate that the Cbx-containing PRC1 complexes associate with mitotic chromosomes, and Cbx2 is the primary protein enriched at mitotic chromosomes.