Quantitative analysis and modeling of katanin function in flagellar length control.
Bottom Line: Previous work demonstrated that Chlamydomonas cytoplasm contains a pool of flagellar precursor proteins sufficient to assemble a half-length flagellum and that assembly of full-length flagella requires synthesis of additional precursors to augment the preexisting pool.We used quantitative analysis of length distributions to identify candidate genes controlling pool regeneration and found that a mutation in the p80 regulatory subunit of katanin, encoded by the PF15 gene in Chlamydomonas, alters flagellar length by changing the kinetics of precursor pool utilization.We tested this model using a stochastic simulation that confirms that cytoplasmic microtubules can compete with flagella for a limited tubulin pool, showing that alteration of cytoplasmic microtubule severing could be sufficient to explain the effect of the pf15 mutations on flagellar length.
Affiliation: Department of Biochemistry and Biophysics, University of California, San Francisco, San Francisco, CA 94158.
Show MeSH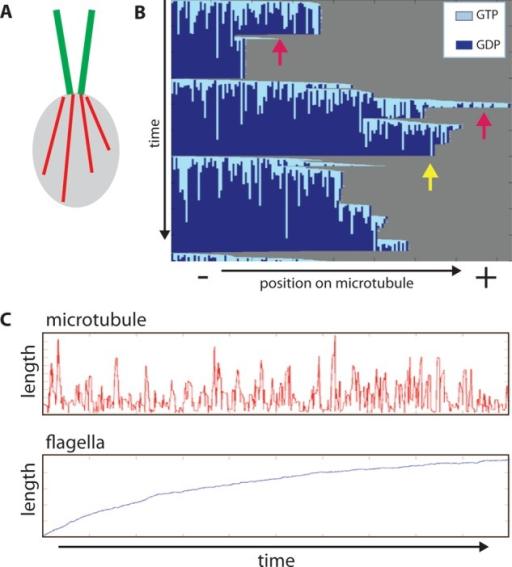 © Copyright Policy - creative-commons
getmorefigures.php?uid=PMC4230626&req=5
Mentions: It was previously shown that when flagella regenerate, cytoplasmic microtubules shorten transiently (Wang et al., 2013), suggesting that cytoplasmic microtubules and flagella are competing for a common pool of tubulin. Because the pf15 mutants in katanin show reduced mobilization of the precursor pool, we hypothesized that this slow mobilization might reflect the competition for a limited quantity of total tubulin between flagellar microtubules and cytoplasmic microtubules described by Wang et al. (2013) with katanin-mediated cleavage, making tubulin more available for flagellar growth. The Chlamydomonas cell contains two types of microtubules in the cytoplasm: four highly stable microtubule bundles known as rootlets (Ringo, 1967; Holmes and Dutcher, 1989) and ∼10–20 nonroot microtubules (Schibler and Huang, 1991; Horst et al., 1999). Because the rootlet microtubules are highly stable, we postulate that the nonroot microtubules contain a dynamic pool of tubulin and that growth of flagella competes with these microtubules for a shared tubulin pool. In this model, reduced katanin activity would lead to sequestration of tubulin by the cytoplasmic microtubules, causing shorter average flagellar length, as well as slower mobilization of the precursor tubulin pool during flagellar regeneration. To test whether this conceptual model could in principle explain the effects of the pf15 mutants, we implemented a computational model that combines an ordinary differential equation model for flagellar length (Marshall and Rosenbaum, 2001) with a stochastic model for cytoplasmic microtubule dynamics (Gregoretti et al., 2006). In this model, a single shared pool of tubulin is used for assembly of flagella and cytoplasmic microtubules (Figure 4A). We implemented a stochastic simulation of flagellar dynamics coupled to cytoplasmic microtubule dynamics. For this simulation, we implemented the model of microtubule dynamics described by Goodson and coworkers (Gregoretti et al., 2006), in which each microtubule is represented as a linear polymer of subunits that can be either GTP or GDP bound. We recognize that such single-protofilament-type models do not capture the full richness of microtubule dynamics and that in the future, more realistic models should be applied (Bowne-Anderson et al., 2013). Here we use this model simply to determine whether modulation of microtubules is at least in principle capable of affecting the apparent rate of flagellar precursor pool regeneration. At each time step, a decision is made to either release the final subunit, based on the GTP state of the penultimate subunit, or bind a new subunit based on the free tubulin concentration and the GTP state of the terminal subunit. The simulation of microtubules and the parameters of the model were based on those previously reported (Gregoretti et al., 2006) and are given here as probability per unit time of a given event: probability of GTP hydrolysis, Khydrolysis = 0.1 s−1; probability to add a subunit when the GTP cap is present, Kgrow_GTP = 2.0 s−1; probability to add a subunit when there is no GTP cap, Kgrow_GDP = 0.10 s−1; and probability to remove a subunit when there is no GTP cap, Kshrink_GDP = 48 s−1. Following the approach of Gregoretti et al. (2006), we assume that shrinkage never occurs when the GTP cap is present. We note that for Chlamydomonas, none of the relevant kinetic parameters of microtubule dynamics has been reported; hence we use these parameters based on approximate values for mammalian cells discussed in Gregoretti et al. (2006). As was done by Gregoretti et al. (2006), we assume that regeneration of soluble GTP tubulin from disassembled GDP tubulin is instantaneous.