Structural basis for activation of trimeric Gi proteins by multiple growth factor receptors via GIV/Girdin.
Bottom Line: We discovered a unifying mechanism that allows GIV/Girdin, a bona fide metastasis-related protein and a guanine-nucleotide exchange factor (GEF) for Gαi, to serve as a direct platform for multiple RTKs to activate Gαi proteins.Using a combination of homology modeling, protein-protein interaction, and kinase assays, we demonstrate that a stretch of ∼110 amino acids within GIV C-terminus displays structural plasticity that allows folding into a SH2-like domain in the presence of phosphotyrosine ligands.Expression of a SH2-deficient GIV mutant (Arg 1745→Leu) that cannot bind RTKs impaired all previously demonstrated functions of GIV-Akt enhancement, actin remodeling, and cell migration.
Affiliation: Department of Medicine, University of California, San Diego, School of Medicine, CA 92093.
Show MeSH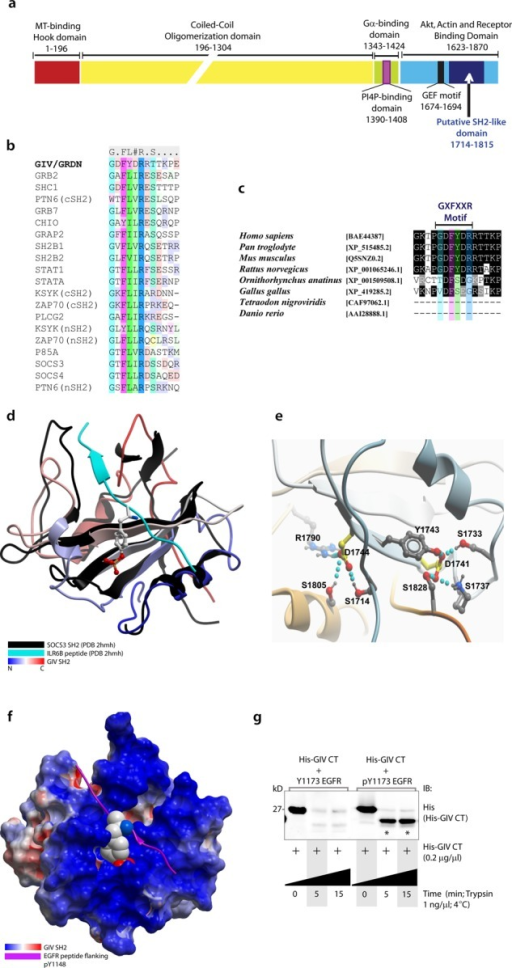 © Copyright Policy - creative-commons
getmorefigures.php?uid=PMC4230624&req=5
Mentions: Next we examined whether GIV-CT contains any functional domains that might recognize and bind the major autophosphorylation sites on EGFR tail—the SH2 and phosphotyrosine-binding (PTB) domains, two well-characterized and widely studied domains that recognize and bind phosphotyrosines (Schlessinger and Lemmon, 2003). To search systematically for similarities between GIV and other known phosphotyrosine binding domains, we aligned the sequences corresponding to the C-terminal domain of human (BAE44387; aa 1660–1870) and mouse (NP_789811; aa 1600–1845) GIV with other known SH2 and PTB domains in various proteins by pfam alignment using the MolSoft ICM molecular modeling suite (Abagyan et al., 1997; Cardozo et al., 1995, 2000). A stretch of ∼110 aa, 1713–1823, of GIV-CT showed weak similarity to the consensus sequence shared by 43 other SH2 domains in various proteins (Supplemental Figure S1), whereas no significant similarity was noted between known PTB domains and GIV. This putative SH2-like stretch in GIV's C-terminus lies ∼15 aa downstream of the previously reported GEF motif (Figure 2a). This stretch contains the critical GXFXXR motif, which is conserved across all SH2 adaptors, widely implicated in the structural basis for recognition and binding of the phosphotyrosine ligand (Schlessinger, 1994; Songyang et al., 1993, 1994), and highly conserved in GIV (Figure 2b). Of note, the three X residues within this GXFXXR motif in GIV were unusual in that they were GDFYDR instead of the hydrophobic side chains that are typically seen in other SH2 proteins (Supplemental Figure S1). A phylogenetic analysis of GIV revealed that this motif is conserved in mammals, whereas it is absent in birds, fish, or lower animals (Figure 2c and Supplemental Figure S2). Therefore the GXFXXR motif of GIV, which is key to the functions of the SH2-like domain, is evolutionarily younger than the GEF motif (the latter evolves earliest in fish; Garcia-Marcos et al., 2009) and the two critical C-terminal tyrosines that upon phosphorylation bind and activate PI3K (which evolved first in birds; Lin et al., 2011; Supplemental Figure S2). Next we built a homology model of the putative SH2-like domain in the C-terminus of GIV using the ICM homology modeling procedure (Cardozo et al., 1995, 2000; Abagyan et al., 1997) and the available structures of SH2 domains and the GIV-SH2 sequence alignment (Supplemental Figure S1; see Materials and Methods). The modeled structure of human GIV-SH2 superimposed onto the known structure of SOCS3 (Protein Data Bank [PDB] 2hmh), another SH2 domain (Figure 2d), revealed that the putative SH2-like domain has the same characteristics as all other SH2 domains; they feature an antiparallel β-sheet flanked by α-helices and mostly short loops, and the α-helices and the edge of the β-sheet create a fairly flat surface for phosphopeptide binding. The homology model also provided clues into how the SH2-like domain remains stably folded in the presence of phosphotyrosine ligands despite its unusual polar composition. For example, both Asp-1741 and Asp-1744 within the 1740GDFYDR1745 motif are buried compensated charges making multiple favorable polar interactions with the surrounding residue side chains in the folded state (Figure 2e). Specifically, the carboxyl group of Asp-1741 is in hydrogen-bonding proximity of hydroxyl groups of Tyr-1743 (also a part of 1740GDFYDR1745), Ser-1733, Ser-1828, and possibly the primary amine of Lys-1737. Similarly, Asp-1744 within the 1740GDFYDR1745 motif is favorably close to the side chains of Ser-1714, Arg-1790, and Ser-1805. These findings indicate that the unusual polar residues found in the GXFXXR motif are stabilized in the folded (SH2-like) form and provide insights into the role of the unusual Tyr at 1743 within the 1740GXFXXR1745 motif (Figure 2e).