The circadian factor Period 2 modulates p53 stability and transcriptional activity in unstressed cells.
Bottom Line: We found that hPer2 binds the C-terminal half of human p53 (hp53) and forms a stable trimeric complex with hp53's negative regulator, Mdm2.Down-regulation of hPer2 expression directly affects hp53 levels, whereas its overexpression influences both hp53 protein stability and transcription of targeted genes.Overall our findings place hPer2 directly at the heart of the hp53-mediated response by ensuring that basal levels of hp53 are available to precondition the cell when a rapid, hp53-mediated, transcriptional response is needed.
Affiliation: Integrated Cellular Responses Laboratory, Department of Biological Sciences, Virginia Polytechnic Institute and State University, Blacksburg, VA 24061.
Show MeSH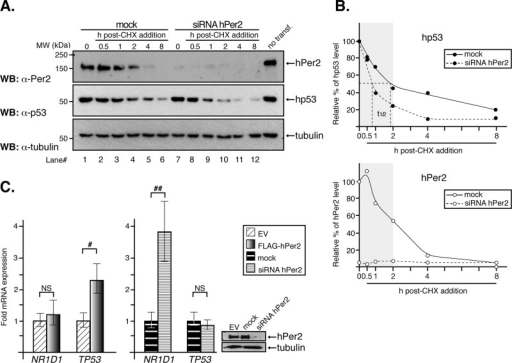 © Copyright Policy - creative-commons
getmorefigures.php?uid=PMC4230596&req=5
Mentions: Rhythmic expression of p53 protein, but not its mRNA, has been observed in human tissues and correlates with those of the circadian oscillators Per and Bmal1 (Bjarnason et al., 1999, 2001). Remarkably, hp53 oscillations are not due to rhythmic expression of Mdm2, since its mRNA and protein levels exhibit a very modest oscillation throughout a 24-h cycle (Fu et al., 2002; Panda et al., 2002). Consequently, we hypothesized that, when available, hPer2 binds to the C-terminal half of hp53 and inhibits its Mdm2-mediated ubiquitination, thus stabilizing hp53. To test this possibility, we knocked down the endogenous expression of hPer2 using small interfering RNA (siRNA) in HCT116 cells and monitored hp53 stability in the presence of cycloheximide (CHX), an inhibitor of protein translation (Figure 3A). Effective down-regulation of hPer2 was achieved 48 h after siRNA transfection (Figure 3A, top, lane 1 vs. lane 7) and was sustained over the time course analyzed (Figure 3A, top, lanes 7–12). Expression of hp53 was then evaluated at different times after CHX addition (t = 0, Figure 3A, middle). Our findings show that endogenous hp53 levels dramatically dropped 1 h after CHX treatment (from 100 to 70 and 40% in mock- vs. siRNA-treated samples, respectively (Figure 3A, middle, lane 3 vs. lane 9) and decreased thereafter (Figure 3B, top). Thus hp53 half-life (t1/2) decreased ∼60% in the absence of hPer2 expression, supporting a role for hPer2 in hp53 stability. Accordingly, we observed a direct correlation between the down-regulation of hPer2 after CHX addition in mock samples and the progressive decrease of hp53 (Figure 3A, lanes 1–6) to the point in which hPer2 was undetectable and only trace levels of hp53 were identified (Figure 3, A, lane 6, and B). It is worth noting both the role of de novo transcription/translation in keeping hp53 levels detectable in the cell even in the absence of hPer2 as evidenced in Figure 3A (lane 7) and the relevance of hPer2 presence in sustaining hp53 levels (Figure 3A, middle). A clearer picture of the effect of hPer2 in hp53 stability arises from the quantitative analysis of the experiments shown in Figure 3A and summarized in Figure 3B. Here we represent the remaining levels of hp53 (Figure 3B, top) and hPer2 (Figure 3B, bottom) detected in both mock- and siRNA hPer2 CHX-treated cells. The drop in hp53 levels is evident within the first 2 h post CHX treatment (Figure 3B, top, shaded box) and is concomitant with a decrease in hPer2 levels in mock samples (Figure 3B, bottom, shaded box). Further support for our observations came from transfection studies in which hPer2 was overexpressed in HCT116 and endogenous hp53 levels were monitored after CHX addition (Supplemental Figure S3). As a result, we observed a significant increase (∼60%) in endogenous hp53 levels in samples transfected with hPer2 (t = 0; Supplemental Figure S3). As expected, this effect was sustained while hPer2 was overexpressed in cells but dropped dramatically once CHX affected hPer2 translation, and its own stability was compromised by 4 h (Supplemental Figure S3A, middle, and graph, shaded box).