Adenosine uptake is the major effector of extracellular ATP toxicity in human cervical cancer cells.
Bottom Line: Corroborating these data, blockage or knockdown of P2 × 7 only slightly reduced ATP cytotoxicity.Moreover, ATP-induced apoptosis and signaling-p53 increase, AMPK activation, and PARP cleavage-as well as autophagy induction were also inhibited by dipyridamole.In addition, inhibition of adenosine conversion into AMP also blocked cell death, indicating that metabolization of intracellular adenosine originating from extracellular ATP is responsible for the main effects of the latter in human cervical cancer cells.
Affiliation: Laboratory of Biochemical and Cytological Analysis, Faculty of Pharmacy, Federal University of Rio Grande do Sul, Porto Alegre, RS 90610-000, Brazil.
Show MeSH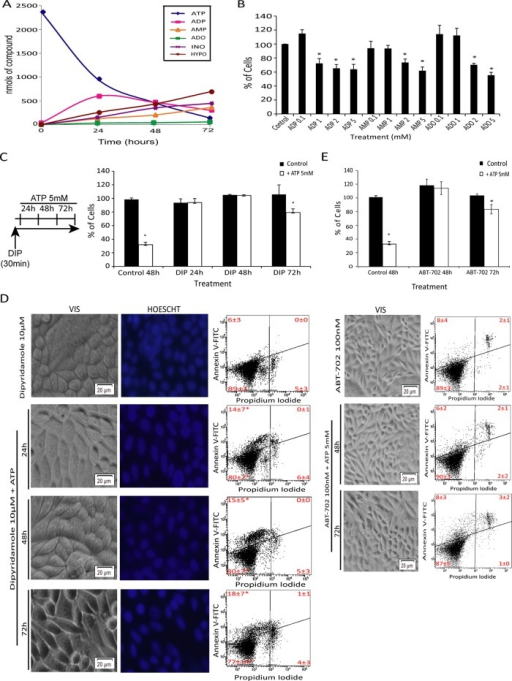 © Copyright Policy - creative-commons
getmorefigures.php?uid=PMC4230581&req=5
Mentions: Thus far our data suggest that P2×7 activation per se only eliminates cells with high expression levels of P2×7. To understand where the additional toxicity of ATP comes from, we turned our attention to adenine nucleotides and adenosine formed from ATP by the action of ectonucleotidases, which are expressed in human cervical cancer cells (Beckenkamp et al., 2014). Most of the extracellular ATP was degraded to its metabolites over 72 h (Figure 6A; see also Supplemental Table S1). All of the main metabolites of ATP had toxic effects in cervical cancer cell lines (SiHa, HeLa, and C33A) and a human epithelial cell line (HaCaT), with C33A and HeLa cells presenting a more resistant profile. Of importance, only adenosine significantly reduced cell viability in all cell lines (Figures 6B and Supplemental Figure S3A). Because several studies attributed a cytotoxic effect to adenosine in other cell types (Saitoh et al., 2004; Sai et al., 2006), we investigated whether uptake of extracellular adenosine formed by ATP degradation, which did not accumulate in extracellular medium (Supplemental Figure S5A), was responsible for apoptosis induction after ATP treatment. We treated SiHa cells with 10 μM dipyridamole (DIP), an inhibitor of adenosine transport, 30 min before ATP exposure (Figure 6C, left). DIP reduced cell shrinkage (Supplemental Figure S1), cell number reduction (Figure 6C, right), and annexin V staining (Figures 6D, right, and Supplemental Figure S1) induced by ATP treatment. Furthermore, phenotypic observation confirmed the reduction of apoptotic features such as cell shrinkage, membrane blebbing, and nuclear condensation and fragmentation (Figure 6D, left and middle), which were present after ATP treatment only (Figure 2C). After 72 h, there was a reduction of 20% in the cell number in DIP plus ATP treatment, which was not altered by DIP replacement each 24 h (unpublished data) but was by knockdown of the P2×7 receptor (Supplemental Figure S2), suggesting that this slight effect occurs through ATP-mediated P2×7 receptor activation and toxicity and is not due to the loss of action of DIP. Taken together, these results strongly suggest that adenosine uptake, formed by ATP degradation, is a central player in the cell death induced by extracellular ATP. In agreement, inhibition of adenosine kinase by ABT-702 completely reversed ATP-induced apoptosis (Figure 6E, bottom), indicating that intracellular adenosine phosphorylation and conversion to AMP is a key step in the toxicity of extracellular ATP. Indeed, as occurred with DIP plus ATP, there was a reduction of 20% in the number of cells after 72 h of treatment with ABT-702 plus ATP (Figure 6E, top), reinforcing the slight involvement of ATP-P2×7 in ATP-induced cell death and the importance of the metabolization of adenosine to AMP. Corroborating these data, sensitivity of cells to adenosine was strongly positively correlated (r = 0.9) with ATP cytotoxic effect in the four cell lines studied. On the other hand, ATP sensitivity at 24 h was not correlated with mRNA P2×7 levels (Supplemental Figure S3). Of interest, when cells were exposed to ATP for 48 or 72 h, the correlation between ATP sensitivity and mRNA P2×7 levels increased (unpublished data), suggesting that P2×7 activation could be important after a long exposure and thus could be involved with the cell death observed after DIP plus ATP at 72 h.