Continuous reassortments with local chicken H9N2 virus underlie the human-infecting influenza A (H7N9) virus in the new influenza season, Guangdong, China.
Affiliation: College of Veterinary Medicine, South China Agricultural University, Guangzhou, 510642, China.
, Since the first human infection of influenza A (H7N9) virus in Shanghai in February 2013 (Gao et al., ), the virus has rapidly spread out to 14 provinces of China and caused more than 139 cases of human infection with 47 deaths as of December 1, 2013 (Li et al., )... A number of studies have revealed that the H7N9 virus exhibited great diversity represented by both the surface protein-encoding genes and the internal genes during the first influenza season (Li et al., ; Liu et al., ; Shi et al., ; Wu et al., ; Wu et al., ; Wu and Gao, )... The following experiments of the virus virulence and cytokine induction in mice were also performed... As shown in Fig. 1A–C, the H7N9 isolate A/CK/GD/G1/2013 did not induce weight loss and any clinical signs, whereas the H9N2 isolate A/CK/GD/V/2008 caused severe weight loss and clinical signs including huddling, hunched posture and ruffled fur... And based on this classification, the six chicken isolates from Guangdong belonged to G0 and one chicken isolate belonged to G1.1... All these genotypes were found in the earlier outbreak, and the close related H9N2 internal genes to these genotypes were from Shanghai, Jiangsu and/or Zhejiang provinces (Cui et al., )... However, the human H7N9 viruses in Guangdong and Hong Kong were novel reassortants following the genetic reassortment with local poultry H9N2 viruses (Fig. 2)... The phylogenetics also suggests that the H9N2 virus gene pool also consists of viruses from adjacent provinces of Guangdong of China... The estimation of the reassortment date suggests that the reassortment events would have occurred following the H7N9 introduction to Guangdong... Therefore, the H7N9 virus has continued to undergo dynamic reassortments with local H9N2 virus and caused the human infections in Guangdong and Hong Kong during the new influenza season... It is intriguing that the dominant genotype of human isolates has changed from G0 to G4.5 and G5.4 after introduced into Guangdong, implying these new reassortants are more adaptive in both poultry and humans... The mechanism of the fitness needs further study, though Kai-Wang et al. pointed that the PA L336 M substitution would be one of the factors (Kai-Wang To et al., )... Poultry carrying the H9N2 virus are likely the incubators for the establishment of novel human-infecting avian influenza viruses, so that the live poultry markets and live poultry trade need to be extensively controlled (Gao, ; Liu et al., ).
Show MeSH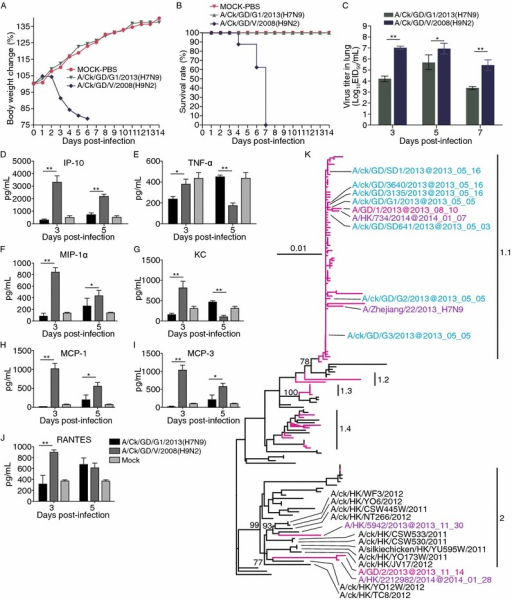 © Copyright Policy - OpenAccess
getmorefigures.php?uid=PMC4225483&req=5
Mentions: We isolated and sequenced H7N9 viruses from live poultry markets of Guangdong Provinces (GenBank accession: KJ395945-KJ395992). The following experiments of the virus virulence and cytokine induction in mice were also performed. As shown in Fig. 1A–C, the H7N9 isolate A/CK/GD/G1/2013 did not induce weight loss and any clinical signs, whereas the H9N2 isolate A/CK/GD/V/2008 caused severe weight loss and clinical signs including huddling, hunched posture and ruffled fur. The A/CK/GD/V/2008 virus caused 100% mortality until 7 dpi (days post-infection), whereas no mice died in the A/CK/GD/G1/2013 virus infected group. Both viruses were able to replicate in mouse lungs; however, the H9N2 virus grew to significant higher titers than the H7N9 virus. Moreover, cytokine dysregulation was associated with the pathogenicity of different subtype influence viruses, as shown by clinical, in vivo, and in vitro models (Fig. 1D–J). We analyzed 7 proinflammatory cytokines in the lungs from the mice infected by H7N9 and H9N2 viruses respectively. Lungs from the H7N9 infected mice exhibited lower levels of the proinflammatory cytokines IP-10, TNF-α, MIP-1α, KC, MCP-1, MCP-3 and RANTES at 3 dpi, but higher level of TNF-α, KC and RANTES at 5 dpi.Figure 1