Neural deletion of Tgfbr2 impairs angiogenesis through an altered secretome.
Bottom Line: Blood vessels exhibited an atypical, clustered appearance were less in number and displayed reduced branching.HUVEC showed reduced migration towards CM of mutants compared with controls.These findings will be useful to further elucidate neurovascular interaction in general and to understand pathologies of the blood vessel system such as intracerebral haemorrhages, hereditary haemorrhagic telangiectasia, Alzheimeŕs disease, cerebral amyloid angiopathy or tumour biology.
Affiliation: Department of Molecular Embryology, Institute of Anatomy and Cell Biology, University of Freiburg, 79104 Freiburg, Germany, Faculty of Biology, University of Freiburg, 79104 Freiburg, Germany.
Show MeSH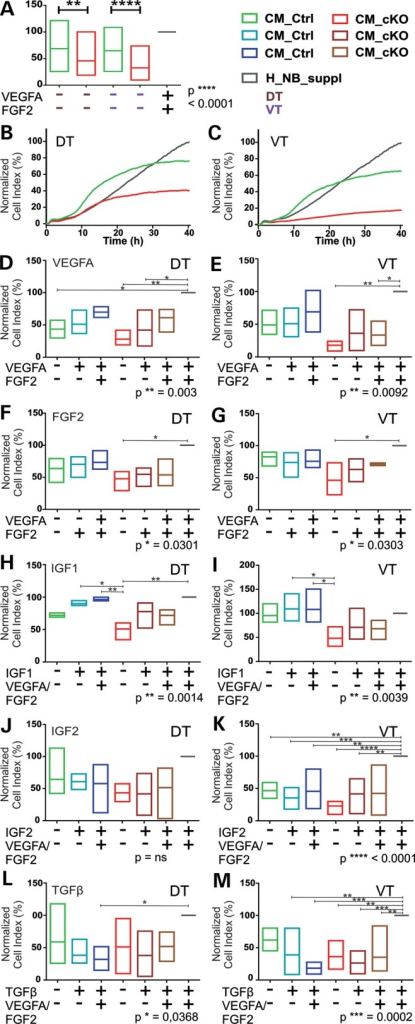 © Copyright Policy - creative-commons
License
getmorefigures.php?uid=PMC4222361&req=5
Mentions: Using real-time cell analysis (RTCA), we studied migration of HUVEC towards CM of both control and Tgfbr2-cKO and observed that migration was generally less compared with control conditions (H_NB_suppl) (Fig. 7A–C). HUVEC showed reduced chemotaxis towards Tgfbr2-cKO CM as compared with CM from controls. CM_cKO from VT interfered even more with migration in comparison with CM from DT (Fig. 7A–C). To study the contribution of several factors independently, we supplemented the CM with VEGFA, FGF2, IGF1, -2, TGFβ1, THBS2 and ADAMTS1, respectively, and assessed for potential restoration of HUVEC migration. End-point analyses of several independent RTCA experiments revealed that double supplementation with VEGFA and FGF2 significantly increased HUVEC migration towards CM_cKO and thus rescued the defect (Fig. 7D–G, Supplementary Material, Fig. S9Ca, b). Supplementation of CM from control cells with VEGFA and FGF2 together significantly improved migration in DT-derived cells as well, but had no effect on migration when applied to VT-derived cells. We also assessed the contribution of each factor individually. Addition of VEGFA improved migration towards DT—but not towards VT-derived CM from Tgfbr2-cKO. Supplementation of DT-derived CM_cKO resulted in near complete rescue onto the CM_Ctrl level (Fig. 7D and E, Supplementary Material, Fig. S9Cc, d). Addition of FGF2 alone improved migration to cKO_DT/VT, but not up to non-supplemented Ctrl_DT/VT conditions (Fig. 7F and G, Supplementary Material, Fig. S9Ce, f). Hence, the best condition to restore migration ability in Tgfbr2-cKO was a double supplementation with VEGFA and FGF2. Next, we supplemented the CM with IGF1 and -2, as we had observed increased expression of these factors in Tgfbr2-cKO in vivo. IGF1 increased migration of HUVEC only towards DT-derived medium, whereas addition to VT-derived medium had only a moderate effect. In DT-derived CM_cKO, but not in VT-derived CM_cKO, IGF1 supplementation rescued HUVEC migration even above CM_Ctrl condition (Fig. 7H and I, Supplementary Material, Fig. S9Cg, h). Addition of IGF2 had little effect under control conditions (CM_Ctrl_DT/VT). However, in accordance with existing literature (55), increasing amounts of IGF2 in CM_Ctrl_VT also displayed the pro-angiogenic effects of IGF2 using the RTCA assay (Supplementary Material, Fig. S9Aa, b). In CM from Tgfbr2_cKO, IGF2 improved migration towards VT-derived, but had no effect on DT-derived CM_cKO (Fig. 7J and K, Supplementary Material, Fig. S9Ci, j). In vivo, we discovered increased expression of IGF1 and -2 ligands. The potential to rescue the migration behaviour of HUVEC by addition of exogenous IGF in these experiments was therefore surprising. We hypothesized that bioavailability of the IGF ligands might be limited because of simultaneous increased expression levels of IGFBP2 and IGF2BP1, which might bind and sequester the IGF ligands. Addition of either IGFBP2 or IGF2BP1 did not have an observable impact on HUVEC migration towards mutant or control CM. Furthermore, the simultaneous addition of the ligands and binding proteins did not change migration behaviour (Supplementary Material, Fig. S9Da–d). These data suggested that the increased expression of IGFBP2 and IGF2BP1 did not contribute to impaired endothelial migration.Figure 7.