Different molecular levels of post-induction minimal residual disease may predict hematopoietic stem cell transplantation outcome in adult Philadelphia-negative acute lymphoblastic leukemia.
Affiliation: 1] UOC Ematologia, Ospedale dell'Angelo, Mestre-Venezia, Italy [2] USC Ematologia, Ospedale Papa Giovanni XXIII, Bergamo, Italy.
the risk-oriented application of allogeneic stem cell transplantation (allo-SCT) in patients who remain MRD-positive (MRD+) following induction and consolidation study by the strong statistical correlation between MRD TP1 and TP2/3 results... P=0.03), respectively... RI was 43% compared with 69% (n=11) (P=0.08 and 0.05), and a RI of 23% compared with 64% (P=0.09) (Figures MRD+ patients were rescued by an allo-SCT correlated with post-induction the last consolidation course... The study conclusions are that in terms of RI the outcome (MR2) did very badly even after an allo-SCT, although this was of transplantation failure, obtainable well ahead of SCT by studying post-induction MRD, and therefore most useful for an effective SCT planning, net of several confounding a MR2 profile, further intensification of chemotherapy is not expected to be
Show MeSH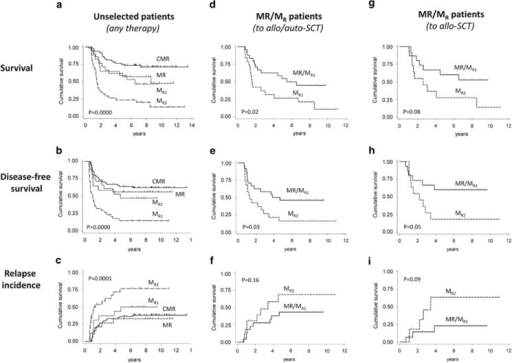 © Copyright Policy - open-access
License
getmorefigures.php?uid=PMC4219445&req=5
Mentions: The study enrolled 304 patients with Ph− ALL (Table1). Two-hundred fifty-eight entered CR (85%). Sensitive molecularprobe(s) were available for 200 CR patients (77.5%). Of these, 141 completedconsolidation (70.5%) and 59 did not because of early SCT (n=13),relapse (n=41) and treatment toxicity (n=5). One-hundredthirty-six of 141 evaluable patients completed the MRD study: 76 were classifiedMRD− (56%) and 60 MRD+ (44%) (Supplementary Figure S2). Forty-three of the 60 MRD+ patients(71.6%) underwent SCT as per protocol design (26 allo-SCT, 17'hypercycles' with auto-SCT) after a median of 2.2 months from the lastconsolidation cycle (range 0.5–15.4 months). Allo-SCT was from unrelated andsibling donors in 14 and 12 patients; and the stem cell source was bone marrow in 11,peripheral blood in 13 and cord blood in 2 patients, respectively. Long-term studyresults are available in Supplementary Figure S3,including outcomes according to clinical risk class. According to the current analysis,there were 64 CMR patients (47%), 21 MR patients (15.5%), 17MR1patients (12.5%) and 34 MR2 patients (25%). Notably, these wereall distinct subjects, summing up to the total of 136 MRD-evaluable cases, with nooverlapping across different MRD subgroups. Therefore, all CMR-negative patients wereMRD− at all evaluable TPs, and as such were excluded from allo-SCT by design(Table 1). Apart from that, a proportion of the remainingpatients could express lower MRD levels at some TP, a finding that was progressivelyless frequent from MR1 to MR2 patients (<10% CMR and20% MR at another TP) and affected mainly different individuals, suggestingconsistency of the MRD risk reclassification, as already indicated in this clinicalstudy by the strong statistical correlation between MRD TP1 and TP2/3results.2 After a minimum observation of4 years and a maximum close to 13.5 years, estimated 6-year survival and DFS ratesranged from 73% and 64% in CMR patients to 24% and 15% inMR2 patients, respectively, mostly in relation with an increasing RI(Figures 1a–c, all Ps <0.0001), exceptfor CMR and MR groups. Although 6-year DFS was improved following allo-SCT in MRD+patients (42% versus 18% with auto-SCT, P=0.035; Supplementary Figure S4), posttransplantation outcome wassensibly affected by post-induction MRD level (Figures1d–f). Notably, SCT results were superimposable in MR andMR1 groups (not shown), with a cumulative survival and DFS rate of46% and 50% (n=24) compared with 16% and 26%in MR2 patients (n=19) (P=0.02 andP=0.03), respectively. RI was 43% compared with 69%(P=0.16). The best overall results were observed after allo-SCT inMR/MR1 patients, with cumulative survival and DFS rates of 60%(n=15) compared with 27 and 18% in MR2 subset(n=11) (P=0.08 and 0.05), and a RI of 23%compared with 64% (P=0.09) (Figures1g–i).