Positive deviance: a different approach to achieving patient safety.
Affiliation: Bradford Institute for Health Research, Bradford Royal Infirmary, Bradford, UK Institute of Psychological Sciences, University of Leeds, Leeds, UK.
Mortality reviews, incident reporting systems and audits all focus attention on what goes wrong and how often, why errors occur, and who or what is at the root of the problem... The focus on error detection and its management has not produced the expected gains in patient safety, primarily because these methods are not well suited to a complex adaptive system such as healthcare... Behaviours that produce errors are variations on the same processes that produce success, so focusing on successful practices may be a more effective tactic... It became a source of pride to be labelled as such, elevating the importance of hand hygiene, and the prestige of those working to improve it... Although a limited study, this work illuminated the potential of such an approach to bring about improved safety outcomes... Patient safety initiatives still tend to focus mainly on the negative cases, and finding the problems, root causes, or the culprits responsible for adverse events (negative deviance), rather than attempting to identify unusually effective practice... In the modern patient safety paradigm, unlike the instantaneous, negative and often publicised response to an adverse event, the consistent delivery of well-executed safe care under typically difficult circumstances tends to go unrecognised; if, by chance, positively deviant individuals or teams are identified, they tend be labelled so retrospectively, after a successful enterprise has been proclaimed... Despite the accumulating evidence demonstrating its potential, engagement via a positive deviance approach is lacking, or intermittent at best... The spread of positively deviant behaviours to some degree relies on individuals, teams, or organisations to share their own successful practice with others, and be willing to consider adopting effective ideas from elsewhere... Harnessing strategies from the negative deviance approach applied to positive deviance might involve: allocating resources usually focussed on reporting and reducing error to spreading positive behaviours, recognising positively deviant teams, and creating a sense of urgency about spreading positive exemplars of practice... The myopic focus on errors, harm and near misses has been sending negative messages for a long time... Politicians, bureaucrats, managers, the media and those leading enquiries as far back as Bristol Royal Infirmary and earlier, and more recently Mid-Staffordshire in the UK, have essentially indicated to clinicians: you are prone to making mistakes, and we must insist that you reduce the harm or potential harm you cause; and if you do not, we will regulate your activities, tightening the rules over time... While no one would argue against the need to identify those people and organisations whose performance is consistently or deliberately negatively deviant, there is a clear obligation to recognise that healthcare is delivered in complex, uncertain settings, and although clinicians are time-pressured and resource-constrained, things go right very often, even in times of austerity... Now is the time to send more optimistic signals to clinicians, focusing on the behaviours, processes and systems contributing to resilient, safe care.
No MeSH data available.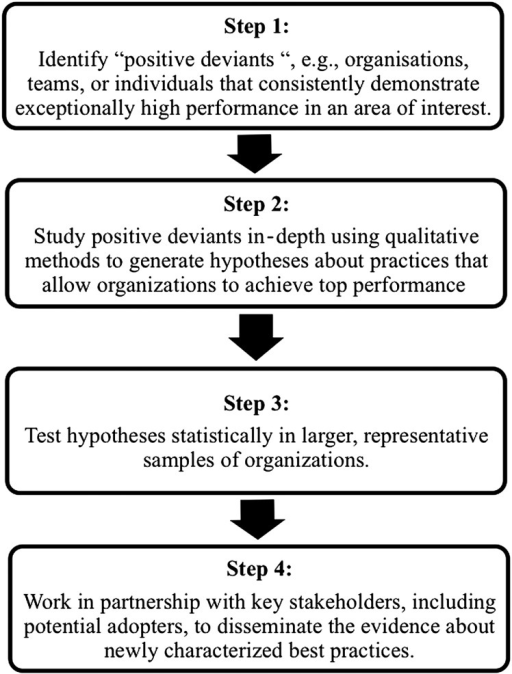 © Copyright Policy - open-access
License
getmorefigures.php?uid=PMC4215344&req=5
Mentions: One approach to focusing on success is positive deviance. While positive deviance can be used to describe the behaviour of an exemplary individual, the term can also be extended to describe the behaviours of successful teams and organisations. Originating in international public health projects,5 positive deviance has recently been embraced to improve quality and safety of healthcare delivered in organisations.67 The premise is that solutions to common problems mostly exist within clinical communities rather than externally with policy makers or managers, and that identifiable members of a community have tacit knowledge and wisdom that can be generalised. Moreover, because the solutions have been generated within a community, they tend to be more readily accepted and feasible within existing resources, thus increasing the likelihood of success and, potentially, of adoption elsewhere.8 The specific steps in the positive deviance approach, modified for our purposes to represent the organisation, team and individual, are outlined in figure 1.7