Self-association of the APC tumor suppressor is required for the assembly, stability, and activity of the Wnt signaling destruction complex.
Bottom Line: The tumor suppressor adenomatous polyposis coli (APC) is an essential negative regulator of Wnt signaling through its activity in the destruction complex with Axin, GSK3β, and CK1 that targets β-catenin/Armadillo (β-cat/Arm) for proteosomal degradation.The destruction complex forms macromolecular particles we termed the destructosome.These results suggest that APC proteins are required not only for the activity of the destructosome, but also for the assembly and stability of this macromolecular machine.
Affiliation: Department of Biological Sciences, Carnegie Mellon University, Pittsburgh, PA 15213.
Show MeSH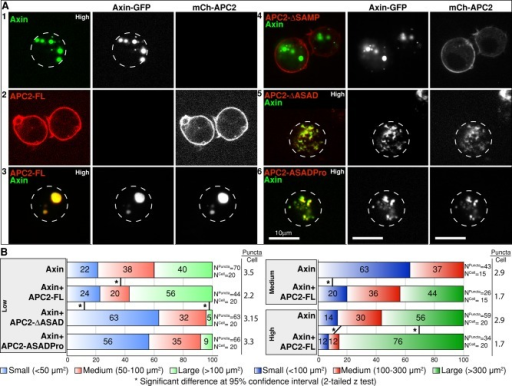 © Copyright Policy - creative-commons
getmorefigures.php?uid=PMC4214788&req=5
Mentions: The destructosome is typically visualized as cytoplasmic Axin puncta that are observed both endogenously and when Axin is overexpressed in cell culture and intact tissues (Fagotto et al., 1999; Schwarz-Romond et al., 2007b; Faux et al., 2008; Fiedler et al., 2011). Overexpressed Axin tagged with green fluorescent protein (GFP), FLAG, red fluorescent protein, myc, or hemagglutinin (HA) localizes to cytoplasmic puncta in a variety of vertebrate and fly cultured cells, including S2, SW480, HeLa, MDCK, and Cos-7. Overexpressed Axin has been shown to rescue β-cat destruction in colorectal cancer cell lines (Behrens et al., 1998; Hart et al., 1998; Nakamura et al., 1998; Roberts et al., 2011), and in Drosophila embryos, cytoplasmic Axin-GFP puncta become cortical when cells activate the Wnt pathway, suggesting that these overexpression puncta are responsive to Wnt pathway activation (Mendoza-Topaz et al., 2011). Axin can self-associate via its C-terminal DIX domain (also called DAX), which is essential for its function in β-cat destruction and for its ability to form puncta (Schwarz-Romond et al., 2007a, b). It was recently shown that APC is essential for destructosome assembly, as in the absence of APC, Axin failed to form functional destructosomes (Mendoza-Topaz et al., 2011). Like Axin, we predicted that APC2 contributes to the formation of the destructosome through its ability to self-associate and form larger macromolecular assemblages (Kunttas-Tatli et al., 2012). To test this hypothesis, we coexpressed Axin and APC2 in Drosophila S2 cells. When expressed alone, both Axin-GFP (Figure 3A1) and Axin-HA (Supplemental Figure S2A) formed cytoplasmic puncta, albeit smaller in the case of Axin-HA. Thus the GFP tag may have a slight effect on puncta size. On the other hand, mCh-APC2-FL localized primarily to the cell cortex (Figure 3A2; Zhou et al., 2011). When coexpressed with Axin-GFP, mCh-APC2-FL redistributed and localized primarily in the cytoplasmic Axin puncta (Figure 3A3). Deletion of the Axin-binding SAMP repeats from APC2 (APC2-∆SAMP) restored cortical localization of APC2 (Figure 3A4), indicating that the primary mechanism for APC2's incorporation into Axin puncta is its direct association with Axin (Roberts et al., 2011).