Paracoccidioides species complex: ecology, phylogeny, sexual reproduction, and virulence.
Affiliation: Departamento de Biologia Celular, Universidade de Brasília (UnB), Brasília, Brazil.
PCM can be caused by two species Paracoccidioides brasiliensis and P. lutzii On the other hand, P. brasiliensis contains a complex of at least four different cryptic species (S1, PS2, PS3 and PS4; Figure 1A The finding of the cryptic species in the genus Paracoccidioides has led us to explore the evolutionary mechanisms that were responsible for the current geographic distribution of its five phylogenetic species (S1, PS2, PS3, PS4, and P. lutzii)... Phylogeographic inferences from three different loci revealed simultaneous geographic expansions of S1 isolates... This represents a dispersal by distance, leading to a nonsexual population (PS3) that does not produce any gene flow between other species, and a long-distance colonization or a fragmentation resulting in the separation of Venezuelan PS4 species –,... The disease occurs in areas such as the central-western and northern regions of Brazil where agricultural activities are more commonly employed... Climatic anomalies, such as those triggered by the 1982–1983 El Niño event, have been associated with an excess of acute PCM cases when compared with the number of expected cases for the same period... For example, the S1 and PS2 sympatric cryptic species of P. brasiliensis occur at a disproportional rate of approximately 9∶1 in both patient and armadillo isolates... Recombination events were detected in both P. lutzii and P. brasiliensis (S1 and PS2), and the P. brasiliensis PS3 population was considered clonal, ... Features related to sexual reproduction, such as coiled constricted hyphae and knob-like structures, were observed in Paracoccidioides species, indicating the formation of young ascocarps... In addition, multiple nuclei were found in coiled constricted hyphae, possibly as a consequence of nuclear migration during mating... This possibility should not be ruled out and must be fully investigated in order to verify possible associations of cryptic species and different clinical manifestations of PCM... In addition to clinical manifestation, issues addressed to treatment have been raised by Hahn et al. who found that patients infected with P. lutzii had good responses to trimethoprim-sulfamethoxazole while those infected with P. brasiliensis relapsed with the same drug administration... Recently, serological tests confirm that sera from patients with PCM due to P. lutzii are able to recognize cell-free antigens from P. lutzii; however, sera from patients with PCM due to P. brasiliensis could not recognize any P. lutzii antigens... Undoubtedly, these issues are critical and need an urgent mobilization to improve the methods of diagnosis and therapy that can specifically detect and effectively combat the Paracoccidioides species of a given patient with PCM.
No MeSH data available.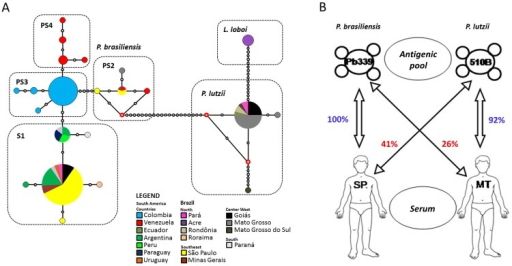 © Copyright Policy
License
getmorefigures.php?uid=PMC4214758&req=5
Mentions: Molecular evolutionary studies place the genus Paracoccidioides in the thermodimorphic fungal pathogen clade related to the family Ajellomycetaceae (Ascomycetes), which includes the Blastomyces, Histoplasma, and Emmonsia genera, and with which it shares a common ancestor, Lacazia loboi. PCM can be caused by two species Paracoccidioides brasiliensis and P. lutzii[3]. P. brasiliensis has been considered a single species since its discovery, although several studies including molecular and morphological data support the split of P. brasiliensis into two species [3], [4]. P. lutzii is composed of a single monophyletic and recombining population so far found in central, southwest, and north Brazil and Ecuador [3]–[5]. On the other hand, P. brasiliensis contains a complex of at least four different cryptic species (S1, PS2, PS3 and PS4; Figure 1A[6]). P. brasiliensis S1 represents a monophyletic and recombining population widely distributed in South America and has been associated with the majority of cases of PCM detected up until the present time. Strains belonging to P. brasiliensis S1 have previously been recovered from armadillos, soil, and penguin feces [6]. P. brasiliensis PS2 is a paraphyletic and recombining population identified so far only in Brazil and Venezuela [6]. P. brasiliensis PS3 is comprised of a monophyletic and clonal population that has been recovered in humans and armadillos in endemic regions of Colombia [6]. P. brasiliensis PS4 was recently identified and is composed of a monophyletic population of clinical isolates from Venezuela [5], [7]. Besides the typical bicorn cocked hat– and barrel-shaped conidia produced by both species, P. lutzii frequently produces elongated rod-shaped conidia, a characteristic feature that may be used for species identification [3]. Because of the difficulties of conidia production in the laboratory and slight morphological differences among species, molecular identification of Paracoccidioides species has become the most common tool of choice. Several molecular markers have already been applied in population studies of the Pararacoccidioides genus, and for multilocus sequencing typing, gp43, arf, β-tub, and hsp70 loci are the best choices for species delineation [4], [6].