Parallel evolution of tetrodotoxin resistance in three voltage-gated sodium channel genes in the garter snake Thamnophis sirtalis.
Bottom Line: These sites are fixed across populations, suggesting that the resistant peripheral nerves antedate resistant muscle.In contrast, three sodium channels expressed solely in the central nervous system (Nav1.1-1.3) showed no evidence of TTX resistance, consistent with protection from toxins by the blood-brain barrier.Our results demonstrate that the molecular basis of adaptation may be both repeatable across members of a gene family and predictable based on functional considerations.
Affiliation: Department of Biological Sciences, Virginia Tech, Blacksburg, VA Department of Biology, University of Virginia joelmcg@vt.edu.
Show MeSH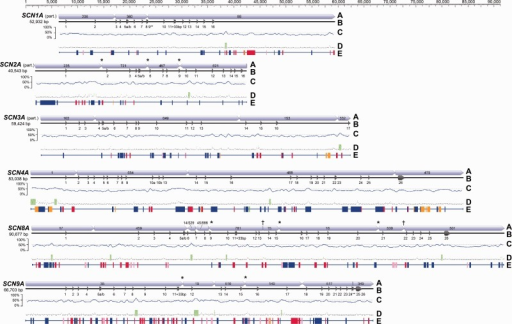 © Copyright Policy - creative-commons
License
getmorefigures.php?uid=PMC4209135&req=5
Mentions: Sequences were obtained from a BAC library constructed using an individual Th. sirtalis from Benton County, OR, a population with medium-high resistance to TTX that coexists with the most highly tetrodotoxic population of Taricha newts known (Brodie et al. 2002; Hanifin et al. 2008). Complete or nearly complete genomic sequences were obtained for three paralogs: SCN4A (at least 65.1 kb from start codon to stop codon), SCN8A (73.8 kb), and SCN9A (56.8 kb) (fig. 1). Despite the recent publication of two snake genomes (Castoe et al. 2013; Vonk et al. 2013), to our knowledge these sodium channel genes represent the first snake genes to be presented and analyzed at the genomic sequence level. Full coding sequences (CDSs) were obtained for SCN3A (6,009 bp, 2,003 amino acids), 4A (5,625 bp, 1,875 amino acids), 8A (5,961 bp, 1,987 amino acids), and 9A (5,892 bp, 1,964 amino acids) (supplementary table S1, Supplementary Material online). The CDS obtained for SCN4A was identical to the previously published sequence of the same gene from Benton County, OR, except for a single nucleotide substitution (A3427C) that led to an amino acid difference (I1143L) (Geffeney et al. 2005). Other published SCN4A sequences of Th. sirtalis from other populations have C3427/L1143 as well (Feldman et al. 2010). The CDS lengths of these four genes were comparable to their orthologs in Rattus and Anolis. Partial CDSs were obtained for SCN1A (5,542 bp, 1,847 amino acids) and 2A (5,747 bp, 1,915 amino acids). Alignment of the SCN1A and 2A CDS with Rattus and Anolis orthologs suggested that 483–486 bp (161–162 amino acids) and 279 bp (93 amino acids), respectively, were missing from the 3′-ends of the snake version of these genes.Fig. 1.