Atypical CSF findings in West Nile neuroinvasive disease: A diagnostic and therapeutic conundrum.
Affiliation: Department of Neurology, Washington University School of Medicine, St. Louis, MO.
West Nile virus (WNV) infections are typically asymptomatic... Less than 1% present with meningitis, encephalitis, myelitis, or acute flaccid paralysis, collectively coined West Nile neuroinvasive disease (WNND)... Full-body PET/CT and additional workup for underlying inflammatory, neoplastic, or metabolic processes were unremarkable... Symptoms progressed, resulting in a flaccid left leg and new proximal right leg weakness... At this point CSF testing for WNV was still pending... Although supportive care is the mainstay of therapy, a benefit of high-dose steroids in WNND has been reported... Prior analysis of CSF in 250 patients with WNND documented a mean CSF protein of 101 mg/dL (range 32–295 mg/dL) in those with encephalitis, levels higher than those in patients with only meningitis... Repeat CSF analysis 8 days after the first showed a protein of 1,011 mg/dL, a value much higher than previously reported in WNND and other infectious motor neuronopathies such as poliomyelitis... In retrospect, this patient was the first case of WNND in Missouri during the 2012 outbreak... In conclusion, this case demonstrates that a markedly elevated CSF protein (in excess of 1 g/dL) can be observed in the setting of WNND... It also emphasizes how delays in critical test results can result in additional, sometimes unnecessary, diagnostic and therapeutic endeavors... Soon after this case, our institution switched the laboratory used for WNV testing, resulting in a drop in turnaround time from 2–3 weeks to 48–72 hours for CSF and serum antibody results.
No MeSH data available.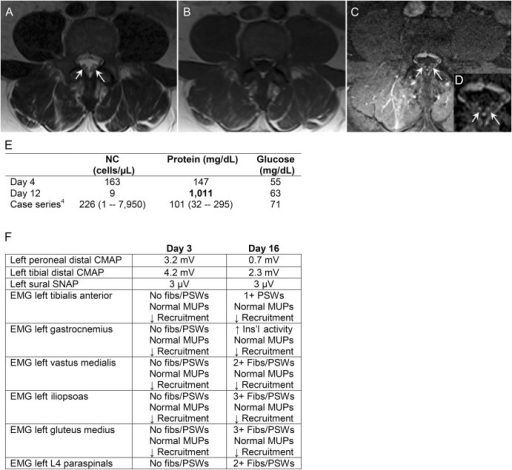 © Copyright Policy - open-access
getmorefigures.php?uid=PMC4202667&req=5
Mentions: A 59-year-old man presented in August 2012 with fever to 39.2°C, bifrontal headache, and 3 days of proximal left leg weakness without sensory complaints. He denied travel, lived in an urban setting, and reported no tick/mosquito bites. Neurologic examination was notable only for proximal left leg weakness and left leg areflexia. There was no rash or lymphadenopathy. EMG–nerve conduction studies (NCS) showed evidence of an acute left lumbosacral radiculopathy, anterior horn cell disease, and/or plexopathy (figure, F). Lumbar spine/lumbosacral plexus MRI revealed diffuse nerve root enhancement (figure, A–D). Brain MRI was normal. CSF analysis showed 163 nucleated cells/µL with 89% lymphocytes and 8% "atypical cells," later designated plasma cells by a hematopathologist, and a protein of 147 mg/dL (figure, E). WNV antibody testing was sent while tests for other infectious etiologies (Gram stain, aerobic and fungal cultures, cryptococcal antigen, herpes simplex virus, varicella-zoster virus, cytomegalovirus, HIV, and tuberculosis) returned negative. Lyme serologies were not checked and empiric antimicrobial therapy was not initiated. Flow cytometry showed a small lambda-predominant CD19+ B-cell population (0.3% of total cells). Further workup for lymphoma showed a serum lactate dehydrogenase of 253 IU/L (normal 100–250 IU/L); however, serum creatine kinase was 825 IU/L, suggesting a myogenic source. CSF on hospital day 12 once again showed a small population of CD19 B cells, this time negative for surface light chains. The second CSF sample showed a markedly elevated protein of 1,011 mg/dL with 9 nucleated cells/µL and a lymphocytic predominance (96%) (figure, E). Full-body PET/CT and additional workup for underlying inflammatory, neoplastic, or metabolic processes were unremarkable.