Extensive gene remodeling in the viral world: new evidence for nongradual evolution in the mobilome network.
Bottom Line: Complex nongradual evolutionary processes such as gene remodeling are difficult to model, to visualize, and to investigate systematically.Although viral genome mosaicism has been well-described, the extent of gene mosaicism and its rules of emergence remain largely unexplored.This latter discovery provides novel evidence for the existence of a large and complex mobilome network, which appears partly bound by the sharing of genetic information and by the formation of composite genes between mobile entities with different genetic material.
Affiliation: UMR CNRS 7138 Evolution Paris Seine, IBPS, Université Pierre et Marie Curie, Paris, France.
Show MeSH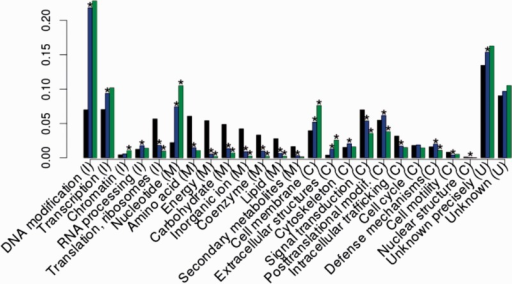 © Copyright Policy - creative-commons
License
getmorefigures.php?uid=PMC4202312&req=5
Mentions: Composite genes were found in all functional categories in different proportions (fig. 3), confirming that they broadly contribute to the range of genetic diversity in viruses. Due to the strong selective pressures acting on viral genomes, one could argue that most of these composite genes are likely adaptative, as viruses have large population sizes these composite genes would be eliminated. One could also argue that some neutral ratchet-like mechanism (a form of constructive neutral evolution) (Gray et al. 2010) is responsible for the fixation of composite genes in viral genomes. One argument in favor of the adaptive interpretation of this extended distribution of composite genes is provided by the fact that these genes are overrepresented in specific functional categories, that is, the fixation is nonrandom. More precisely, we defined functional classes as important for viruses using a larger comparative data set including cellular organisms from all branches of life for a total of 740,842 sequences (supplementary table S1, Supplementary Material online). The comparison with this data set showed functional categories enriched in viruses with respect to cellular organisms. Such categories include replication, recombination and repair (DNA modifications), transcription, RNA processing and modification, chromatin structure and dynamics, posttranslational modification, protein turnover and chaperones, nucleotide transport and metabolism, cytoskeleton, cell wall/membrane/envelope biogenesis, extracellular structures, defense mechanisms, and unknown or precisely unknown functions. Remarkably, most of the categories that are functionally important for viruses were also enriched in viral composite genes (with the exception of posttranslational modification, protein turnover and chaperones, RNA processing and modification, defense mechanisms, and cytoskeleton). This trend of enrichment in viral composite sequences in functional categories important for viruses was most significant (P = 0.05) for chromatin structure and dynamics, nucleotide transport and metabolism, cell wall/membrane/envelope biogenesis, and extracellular structures. Therefore, the fixation of composite genes in viruses is biased with respect to functional categories, and composite genes for the most part belong to functions that are essential for the completion of the viral cycle. Noteworthy, several functions particularly enriched in composite genes (e.g., ribonucleotide reductase and thymidylate synthase) are encoded by genomes from large and giant DNA viruses (Boyer et al. 2010). Other composite genes of note encode ankyrin repeat containing proteins that are known to mimic or manipulate various host functions (Al-Khodor et al. 2010).Fig. 3.—