Toxicology of chemically modified graphene-based materials for medical application.
Bottom Line: Graphene is one of the most promising nanomaterials due to unique physicochemical properties including enhanced optical, thermal, and electrically conductive behavior in addition to mechanical strength and high surface-to-volume ratio.In this review, we highlight the most recent studies of graphene-based nanomaterials and outline their unique properties, which determine their interactions under a range of environmental conditions.The advent of graphene technology has led to many promising new opportunities for future applications in the field of electronics, biotechnology, and nanomedicine to aid in the diagnosis and treatment of a variety of debilitating diseases.
Affiliation: UCL Centre for Nanotechnology and Regeneration Medicine, Division of Surgery and Interventional Science, University College London, London, UK, toktam.nezakati.11@ucl.ac.uk.
ABSTRACT
---
This review article aims to provide an overview of chemically modified graphene, and graphene oxide (GO), and their impact on toxicology when present in biological systems. Graphene is one of the most promising nanomaterials due to unique physicochemical properties including enhanced optical, thermal, and electrically conductive behavior in addition to mechanical strength and high surface-to-volume ratio. Graphene-based nanomaterials have received much attention over the last 5 years in the biomedical field ranging from their use as polymeric conduits for nerve regeneration, carriers for targeted drug delivery and in the treatment of cancer via photo-thermal therapy. Both in vitro and in vivo biological studies of graphene-based nanomaterials help understand their relative toxicity and biocompatibility when used for biomedical applications. Several studies investigating important material properties such as surface charge, concentration, shape, size, structural defects, and chemical functional groups relate to their safety profile and influence cyto- and geno-toxicology. In this review, we highlight the most recent studies of graphene-based nanomaterials and outline their unique properties, which determine their interactions under a range of environmental conditions. The advent of graphene technology has led to many promising new opportunities for future applications in the field of electronics, biotechnology, and nanomedicine to aid in the diagnosis and treatment of a variety of debilitating diseases. Show MeSH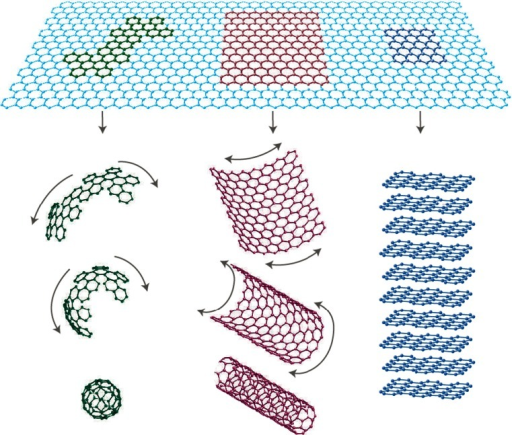 © Copyright Policy - OpenAccess
getmorefigures.php?uid=PMC4201927&req=5
Mentions: Graphene is composed of single-carbon atoms forming a sheet of close-packed hexagonal array of SP2 hybridized bonds and can be considered as large aromatic molecule. As such, they have attracted a significant amount of attention in recent times, especially in various areas of biophysics and biotechnological applications (Mao et al. 2013b). The two-dimensional, graphene flat sheets can be formed into different geometries, which can be wrapped into spherical structures (0D fullerenes, C20, C40, C60), rolled into 1D structures as a single-sheet CNTs, or stacked into 3D-layered structures such as graphite (Fig. 1) (Geim and Novoselov 2007). This is due to their exceptional material properties giving rise to unique chemical, electrical and thermal conductivity (~5,000 Wm−1 K−1), mechanical, optical transmittance (~97.7 %), structural, and thermal behavior, and has shown great promise for many application areas relating to electronics, semiconductor fabrication, and the biomedical industry (Zhu et al. 2010; Compton and Nguyen 2010; Rao et al. 2009). Graphene has a number of fascinating physical characteristics such as the highest surface area (~2,600 m2/g) (Li et al. 2008) and a relatively high Young's modulus (<1 TPa) among all known materials (Lee et al. 2008), and capable of mass production through a number of chemical manufacturing and material processing such as non-covalent and covalent surface modification using surfactants, and biofunctionalization to exploit their unique properties (Shao et al. 2010). Moreover, graphene consists of a layer of π-conjugated systems usually involving six-atom rings. This planar structure offers an excellent capability to interact with a variety of aromatic compounds through π–π stacking interactions in the manufacture of nanocomposite materials and in the immobilisation of biomolecules such as peptides, antibodies, and other therapeutic agents (Boehm 1986; Wintterlin and Bocquet 2009; Van Bommel et al. 1975; Lu et al. 1999a, b; Novoselov et al. 2004). Therefore, graphene has generated great interest in the field of nanomedicine and has been successfully applied in biosensing applications via targeted and selective delivery (Shao et al. 2010; Akhavan et al. 2012b), bioimaging, cell culture, cancer detection, gene delivery (Boehm 1986; Wintterlin and Bocquet 2009; Van Bommel et al. 1975; Lu et al. 1999a, b; Novoselov et al. 2004; Berger et al. 2004; Li et al. 2009; Stankovich et al. 2006), disease diagnosis (Mohanty and Berry 2008), anti-bacterial compounds (Akhavan and Ghaderi 2009, 2010, 2012; Hu et al. 2010; Ma et al. 2011; Akhavan et al. 2011), anti-viral materials (Akhavan et al. 2012c), photo-thermal therapy (Yang et al. 2012b; Zhang et al. 2011a; Akhavan et al. 2012a), drug delivery (Sun et al. 2008; Liu et al. 2008, Li et al. 2011; Zhang et al. 2010a), and tissue engineering applications (Park et al. 2010; Agarwal et al. 2010; Heo et al. 2011). Therefore, all of their interesting material properties propel graphene from the research laboratory to real-life biological and clinical applications and show great potential for further exploitation and use within the biomedical industry ready for clinical use.Fig. 1