Epigenetic dysregulation: a novel pathway of oncogenesis in pediatric brain tumors.
Bottom Line: Herein, we will use as examples of this novel hallmark of oncogenesis high-grade astrocytomas, including glioblastoma, and a subgroup of embryonal tumors, embryonal tumor with multilayered rosettes (ETMR) to describe the novel molecular defects uncovered in these deadly tumors.We will further discuss evidence for their profound effects on the epigenome.The relative genetic simplicity of these tumors promises general insights into how mutations in the chromatin machinery modify downstream epigenetic signatures to drive transformation, and how to target this plastic genetic/epigenetic interface.
Affiliation: Division of Experimental Medicine, Montreal Children's Hospital, McGill University and McGill University Health Centre, 4060 Ste Catherine West, PT239, Montreal, QC, H3Z 2Z3, Canada.
ABSTRACT
---
A remarkably large number of "epigenetic regulators" have been recently identified to be altered in cancers and a rapidly expanding body of literature points to "epigenetic addiction" (an aberrant epigenetic state to which a tumor is addicted) as a new previously unsuspected mechanism of oncogenesis. Although mutations are also found in canonical signaling pathway genes, we and others identified chromatin-associated proteins to be more commonly altered by somatic alterations than any other class of oncoprotein in several subgroups of childhood high-grade brain tumors. Furthermore, as these childhood malignancies carry fewer non-synonymous somatic mutations per case in contrast to most adult cancers, these mutations are likely drivers in these tumors. Herein, we will use as examples of this novel hallmark of oncogenesis high-grade astrocytomas, including glioblastoma, and a subgroup of embryonal tumors, embryonal tumor with multilayered rosettes (ETMR) to describe the novel molecular defects uncovered in these deadly tumors. We will further discuss evidence for their profound effects on the epigenome. The relative genetic simplicity of these tumors promises general insights into how mutations in the chromatin machinery modify downstream epigenetic signatures to drive transformation, and how to target this plastic genetic/epigenetic interface. Show MeSH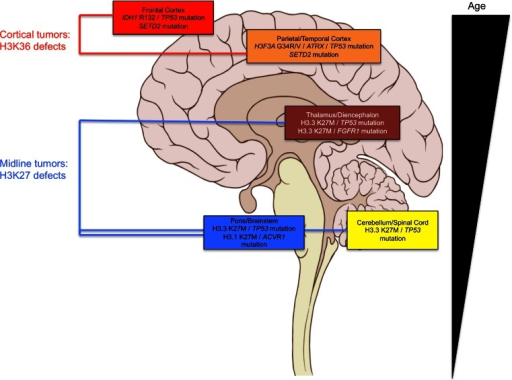 © Copyright Policy - OpenAccess
getmorefigures.php?uid=PMC4201756&req=5
Mentions: NGS studies have uncovered a prevalence of H3.3 and H3.1 K27M mutations in HGA tumors arising in regions along the neuroanatomical midline and hindbrain [37, 63, 66, 75]. These include diffuse intrinsic pontine glioma (DIPG, HGA occurring in the pons), cerebellar, spinal and thalamic HGA, which are notoriously difficult areas for surgical resection and stereotactic biopsy. Recently, four concurrent studies helped further shape the genomic landscape of midline HGA [9, 19, 67, 76]. K27M mutations arising in genes encoding the canonical histone H3.1 (HIST1H3B or HIST1H3C) account for ~20 % of DIPG, and in a dataset of 40 midline HGA tumors, K27M mutations across H3.3 and H3.1 were present in 93 % of tumors in the midline compartment [19, 75]. H3.1 K27M mutations affect younger children (mean age of 3–5 years) and occur exclusively in the brainstem in conjunction with recurrent gain-of-function somatic mutations in the activin A receptor, type I (ACVR1). The mutated amino acid residues in ACVR1, which encodes a serine threonine kinase, ALK2, have previously been reported as germline mutations causing fibrodysplasia ossificans progressiva (FOP), an inherited musculoskeletal disease [64]. They result in ligand-independent activation of the kinase leading to increase of bone morphogenetic protein (BMP) signaling and increased phospho-SMAD1/5/8 production in tissues [9, 19, 67, 76]. The lack of reported CNS tumor development in FOP patients or Acvr1/Alk2 mouse models suggests that aberrant activation of this pathway is not sufficient for tumorigenesis [22]. ACVR1 mutations may act in concert with H3 K27M mutations and other associated alterations identified in the PI3K pathway to induce tumorigenesis [19]. Interestingly, in rare cases, somatic-activating ACVR1 mutations are identified without association with H3 K27M mutations [76], inferring their importance in tumor formation, even though their exact role remains unknown. K27M in H3.3 occurs mainly in association with somatic loss-of-function genetic TP53 alterations [19, 63]. They represent the vast majority of pediatric midline HGA in the thalamus (80 %), cerebellum and spine (most tumors) or the pons (60 %) (Fig. 3). The recently uncovered hotspot mutations in the fibroblast growth factor receptor 1 (FGFR1), leading to hyperactivity along the MAPK axis identified in PA, are also identified in a rare subset of pediatric HGA of the thalamus and notably seem invariably associated with H3.3 K27M mutations [35]. In addition, DIPGs and HGA from other sites have previously been associated with activation of PDGFRA through genomic amplification or activating mutations [55, 79]. The gain-of-function alterations in these three growth factor receptors, ACVR1, FGFR1 and PDGFRA, associate with H3 K27M variants in midline HGA and are not seen concurrently. ACVR1 and FGFR1 mutations are mutually exclusive with TP53 alterations and occur in specific locations within the midline of the brain (Fig. 3) [19]. K27M mutations appear to correlate with poorer overall survival [37]. A glimpse of the complexity that lies in exploring H3K27 mutations is suggested by their inherent nature to alter global levels of H3K27me3, even though in the case of H3.3K27M mutations H3.3 is a minimal contributor to total histone H3 levels [43]. Independent studies have reported global loss in H3K27me3 associated with K27M mutations in HGA (Fig. 4) [10, 43, 71]. K27M appears to affect endogenous levels of H3K27me3 in human tumor samples, as well as decrease H3K27me3 levels when expressed ectopically (as H3.3 or H3.1 K27M) in a variety of cell types [10, 43]. Interestingly, in tissue samples, this decrease in H3K27me3 is not associated with differences in the levels of EZH2 expression [71]. This phenomenon was explored directly by Lewis and colleagues utilizing in vitro histone methyltransferase assays in the presence of synthesized H3K27M peptides that demonstrated that the K27M moiety was a potent inhibitor of EZH2 H3K27 tri- and di-methyltransferase activity [43]. Specific amino acid identities at the K27 position are critical to the ability of mutated H3K27 to block EZH2 activity, with methionine (M27) and isoleucine (I27) substitutions demonstrating potent inhibition of the enzyme, hypothesized to result from hydrophobic interactions with the EZH2 active site mediated by their side chains [43] (reviewed in [48]). Interestingly, although H3K27me3 levels are decreased in the presence of K27M mutations, Chan and colleagues demonstrate that there is a striking increase of H3K27me3 marks in association with sequences also marked by H3K4me3 [10]. These include so-called bivalent genes which are potentially poised for expression following removal of the repressive histone methyl mark at K27 [10]. One possible hypothesis is that these dually marked bivalent genes represent a gene signature specific to K27 mutant tumors. This is supported by their Gene Ontology (GO) analysis which suggests they represent genes with significance of cancer pathways as well as developmental pathways involved in pattern specification and morphogenesis [10]. Future experimentation and modeling of individual genes and pathways aberrantly regulated in K27M-mutant tumors are necessary to determine the ones important in specifying tumorigenesis in midline brain regions, where these mutations arise. Introducing K27M expression specifically to various regions in mice, or in cell models derived from these regions of the brain, such as cortical, brainstem or cerebellar astrocytes or neural stem cells will potentially allow further insight into its oncogenic effect. These studies have been performed in the context of low-grade glioma biology studies of KIAA1549-BRAF fusion, which arises most commonly in pilocytic astrocytoma tumors of the cerebellum [34]. The introduction of the KIAA1549-BRAF fusion gene was shown to specifically alter growth in cerebellar neural stem cells [36]. Such effects may not be limited to developing or immature astrocytes or stem cells, as lentiviral introduction of specific oncogenes has been shown to lead to re-programming and tumorigenesis of mature neurons and astrocytes [21]. Results demonstrating the global implication of K27M mutations and aberrant levels and distribution of H3K27me3 marks in pediatric brain tumors in specific regions further accentuate the core of this disease in the childhood years as epigenomic in nature (reviewed in [48, 65]). Of importance, H3K27 methylation alterations do not seem to be limited to tumors of the astrocytic lineage, with pediatric medulloblastoma tumors, which are neuronal in origin and occur in the cerebellum, demonstrating H3K27 post-translational modifications through increased EZH2 expression or loss-of-function mutations in KDM6A, which encodes a H3K27me3-specific demethylase [17, 51, 59]. Further to this, recent reports of posterior fossa ependymoma group A (PFA) tumors primarily affecting infants in the lateral cerebellum, demonstrate heavy involvement of epigenetic defects revolving around aberrantly regulated H3K27me3 rather than recurrent SNVs; a very unique finding among cancers sequenced to date [47]. The question then becomes: why do tumors in these midline regions harbor K27M mutations and aberrant H3K27 methylation so frequently? What genes are de-regulated by these alterations preferentially in cells of these areas that may contribute to tumorigenesis? Is aberrant H3K27 methylation, shown to be affected by H3.3 and H3.1 K27M mutations, central to tumorigenesis of these areas? If not what accompanying mutations/alterations are required in certain cases? Further experimentation and modeling of these mutations are absolutely essential to answering these questions.Fig. 3