Epigenetic dysregulation: a novel pathway of oncogenesis in pediatric brain tumors.
Bottom Line: Although mutations are also found in canonical signaling pathway genes, we and others identified chromatin-associated proteins to be more commonly altered by somatic alterations than any other class of oncoprotein in several subgroups of childhood high-grade brain tumors.Herein, we will use as examples of this novel hallmark of oncogenesis high-grade astrocytomas, including glioblastoma, and a subgroup of embryonal tumors, embryonal tumor with multilayered rosettes (ETMR) to describe the novel molecular defects uncovered in these deadly tumors.We will further discuss evidence for their profound effects on the epigenome.
Affiliation: Division of Experimental Medicine, Montreal Children's Hospital, McGill University and McGill University Health Centre, 4060 Ste Catherine West, PT239, Montreal, QC, H3Z 2Z3, Canada.
ABSTRACT
---
A remarkably large number of "epigenetic regulators" have been recently identified to be altered in cancers and a rapidly expanding body of literature points to "epigenetic addiction" (an aberrant epigenetic state to which a tumor is addicted) as a new previously unsuspected mechanism of oncogenesis. Although mutations are also found in canonical signaling pathway genes, we and others identified chromatin-associated proteins to be more commonly altered by somatic alterations than any other class of oncoprotein in several subgroups of childhood high-grade brain tumors. Furthermore, as these childhood malignancies carry fewer non-synonymous somatic mutations per case in contrast to most adult cancers, these mutations are likely drivers in these tumors. Herein, we will use as examples of this novel hallmark of oncogenesis high-grade astrocytomas, including glioblastoma, and a subgroup of embryonal tumors, embryonal tumor with multilayered rosettes (ETMR) to describe the novel molecular defects uncovered in these deadly tumors. We will further discuss evidence for their profound effects on the epigenome. The relative genetic simplicity of these tumors promises general insights into how mutations in the chromatin machinery modify downstream epigenetic signatures to drive transformation, and how to target this plastic genetic/epigenetic interface. Show MeSH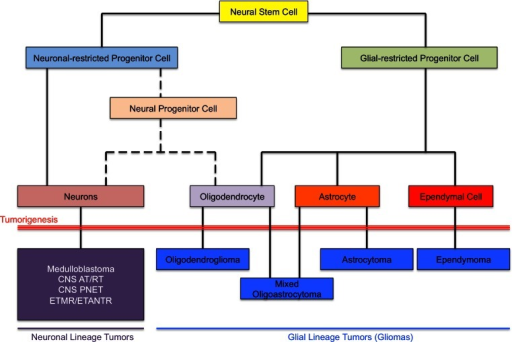 © Copyright Policy - OpenAccess
getmorefigures.php?uid=PMC4201756&req=5
Mentions: According to the most recent reports published in 2014, one in every 285 children will be diagnosed with cancer before the age of 20 years [73]. Overall survival has improved substantially over the last three decades for specific cancer types, mainly childhood leukemia, partly based on better stratification of patients using molecular tools. In contrast, a subset of tumors remains incurable today and includes subgroups of brain tumors, a leading cause of cancer-related morbidity and mortality in the pediatric years. Several impediments to effective treatment exist and hamper the design and outcome of needed novel clinical trials. Diagnosis still relies mainly on standard pathology that characterizes tumors according to the World Health Organization (WHO) classification. Tumors are classified according to their presumed cell of origin and then are further divided into distinct histological grades, ranging from WHO grade I to WHO grade IV based on cytologic and histologic features (Fig. 1). Moreover, these tumors are often studied and treated as if they were analogous to adult tumors. However, pediatric brain tumors of most pathological types appear to harbor unique molecular alterations compared to these very same tumors occurring in the adult years, although under the microscope they are indistinguishable [18, 20, 50, 56, 63, 66]. Indeed, we and others have shown that they represent unique molecular entities and may require distinct therapeutic approaches [1, 2, 11, 18, 23, 26, 27, 30, 31, 50, 58, 69]. Supporting this is the predilection for pediatric and adult tumors to occur in different brain regions, with tumors arising in particular areas harboring distinct genetic alterations [63, 66, 75]. Last but not least, in the context of high-grade tumors, recent work enabled by next-generation sequencing (NGS) technologies has begun to point us in the direction of the epigenome as a major driver of cancer development [63, 75]. Recent findings from several groups including ours point to the epigenome as a previously under-appreciated hallmark of oncogenesis that drives several groups of intractable high-grade pediatric brain tumors. These mutations directly affect histone genes, the core component of chromatin, or post-translational modifications affecting specific residues within the histone tail as well as enzymes mediating DNA methylation. Consequently, better stratification of patients based on tumor biology, improved identification of relevant therapeutic targets, and the design of experimental models to test compounds affecting specific genetic/molecular drivers are essential for therapeutic breakthroughs in these deadly diseases. Moreover, epigenetic alterations observed in high-grade pediatric brain tumors result in a previously unforeseen homogeneity within tumors and across tumors sharing the same mutational spectrum. This leads us to raise the concept of "epigenetic addiction" that will be further elaborated herein using pediatric high-grade astrocytomas and a subgroup of embryonal brain tumors as examples.Fig. 1