Complex cooperative functions of heparan sulfate proteoglycans shape nervous system development in Caenorhabditis elegans.
Bottom Line: Specifically, lon-2/glypican and unc-52/perlecan act in parallel genetic pathways and display synergistic interactions with sdn-1/syndecan to mediate kal-1 function.Because all of these heparan sulfate core proteins have been shown to act in different tissues, these studies indicate that KAL-1/anosmin-1 requires heparan sulfate with distinct modification patterns of different cellular origin for function.Our results support a model in which a three-dimensional scaffold of heparan sulfate mediates KAL-1/anosmin-1 and intercellular communication through complex and cooperative interactions.
Affiliation: Department of Genetics, Albert Einstein College of Medicine, Bronx, New York, 10461.
Show MeSH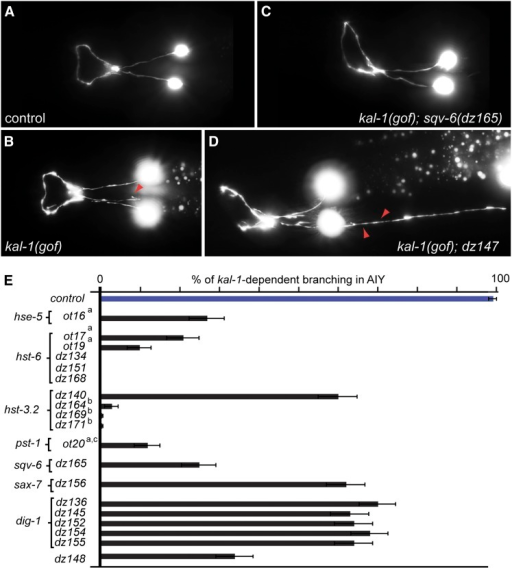 © Copyright Policy - open-access
License
getmorefigures.php?uid=PMC4199693&req=5
Mentions: Modifier mutants were isolated from an extension of a pilot F1 clonal screen using ethyl methanesulfonate (EMS) as the mutagen (Bülow et al. 2002). A total of 3652 additional haploid genomes were screened. The strain OH125 (mgIs18; otIs35), which has a 100% penetrant axon branching defect in AIY, was mutagenized with EMS and the F1s were singled-out in individual plates. Four days later, the population of F2s was scored for the suppression/enhancement of the kal-1-dependent branches in AIY interneurons. The worms were anesthetized with 10 mM sodium azide and mounted on 5% agarose pads for phenotypic analysis on a Zeiss Axioimager Z1 compound microscope. At least 20 adult animals were scored per plate. Isolated mutants were mapped/cloned by a combination of single nucleotide polymorphisms (SNPs) based approaches (Wicks et al. 2001), whole genome sequencing (Doitsidou et al. 2010), or by complementation tests with previously identified mutants as indicated below. Three point mutant alleles of the HS-6-O-sulfotransferase were fully recessive, showed linkage to the X chromosome, complemented hst-3.2(tm3006), and failed to complement the deletion allele hst-6(ok273). One allele contained a nonsense mutation, resulting in a stop codon after 127 amino acids (dz134). Another allele contained a missense mutation (dz151), changing a well-conserved negative charge in the 3′ phosphoadenosyl-phophosulfate (PAPS) substrate-binding site to a positive charge (E185K). The third allele introduced a mutation of the splice donor site in exon 1 (Figure 2, Figure S3, Table 2). Three point mutant alleles of the HS-3-O-sulfotransferase type II (hst-3.2) behaved recessively, displayed X-linkage, but complemented hst-6(ok273). These alleles have been described in detail elsewhere (Tecle et al. 2013). A fourth allele, hst-3.2(dz140), contained a mutation in a splice site donor and failed to complement hst-3.2(dz171). This hst-3.2(dz140) allele is likely a hypomorphic allele because it only weakly suppressed kal-1-dependent branching (Figure 2, Table 2). One allele of the xylosyltransferase sqv-6 (Hwang et al. 2003) displayed linkage to chromosome V and mapping and whole genome sequencing identified the responsible mutation on the left arm of chromosome V (Figure S3) as a mutation in the splice site acceptor of exon 5 (Figure 2, Table 2). This allele, dz165, behaved recessively and failed to complement an allele of pst-1(ot20) (Bhattacharya et al. 2009) but did complement hse-5(tm472). Five alleles of dig-1, dz136, dz145, dz152, dz154, and dz155, behaved recessively and all but dz136 exhibited an AIY cell body misplacement defect. SNP mapping (Wicks et al. 2001) placed dz152 in the center of chromosome III (data not shown). The dz152 allele failed to complement an AIY cell body misplacement defect with dz136, dz145, dz154, and dz155, and two independently obtained alleles, dig-1(ky188) and dig-1(n1321). The dz136 allele was identified by a combination of mapping and whole genomes sequencing and contained a mutation in a splice site. The molecular lesion of the other dig-1 alleles has not been investigated. One mutant allele of sax-7 was identified based on linkage to chromosome IV, a penetrant cell positioning defect and noncomplementation with the known sax-7(nj48) allele (Figure 2, Table 2, Table S1). Finally, the dz148 allele behaved recessively, showed no obvious linkage to chromosome X, IV, or V, and complemented all previously identified mutants. Moreover, no mutation was identified in the coding region of other genes known to be involved in the HS biosynthetic/modification machinery. The enhancer allele dz147 behaved recessively, showed linkage to chromosome V, and failed to complement the previously identified enhancer ot21 (Figure 2, Table 2).