Cancer-selective targeting of the NF-κB survival pathway with GADD45β/MKK7 inhibitors.
Bottom Line: Using a drug-discovery strategy, we developed DTP3, a D-tripeptide, which disrupts the GADD45β/MKK7 complex, kills MM cells effectively, and, importantly, lacks toxicity to normal cells.Notably, DTP3 ablates myeloma xenografts in mice with no apparent side effects at the effective doses.Hence, cancer-selective targeting of the NF-κB pathway is possible and, at least for myeloma patients, promises a profound benefit.
Affiliation: Department of Medicine, Centre for Cell Signalling and Inflammation, Imperial College London, London W12 0NN, UK.
Show MeSH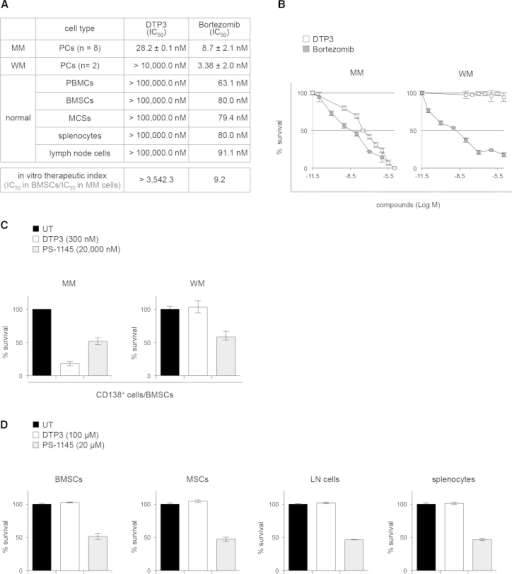 © Copyright Policy
getmorefigures.php?uid=PMC4197335&req=5
Mentions: To verify the suitability of DTP3 for the treatment of human diseases, we tested its activity and selectivity in MM PCs from patients. As seen with the active D-tetrapeptides (Figure 4D, left), DTP3 effectively killed primary MM PCs at low nanomolar concentrations (Figures 6A and 6B). Importantly, it retained potent and selective cytotoxic activity in these cells upon stimulation with interleukin-6 or insulin growth factor 1 or coculture with bone marrow stromal cells (BMSCs) (Figure 6C; Figures S6A and S6B), which promote the survival of MM cells (Hideshima et al., 2005). In order to compare the efficacy and cancer cell specificity of DTP3 with the corresponding parameters of bortezomib, the current gold-standard treatment for MM (Chen et al., 2011), we defined an "in vitro therapeutic index" (Figure 6A, bottom). As shown in Figure 6A (top), DTP3 had a similar IC50 value to bortezomib in primary MM PCs but, importantly, unlike bortezomib, which barely discriminated between malignant and normal cells, had no toxicity to normal cells. Strikingly, because of this cancer cell selective target specificity, DTP3 had an in vitro therapeutic index that was greater, by more than two orders of magnitude, than that of bortezomib (Figure 6A, bottom). DTP3, in fact, could also distinguish between PCs from MM and Waldenström's macroglobulinemia (WM) patients (Kyle and Rajkumar, 2009), in line with the GADD45B expression levels in these cells, whereas bortezomib could not (Figures 6A and 6B; Figure S6C). Similarly, DTP3 displayed far more potent activity in primary MM PCs and far less toxicity to normal cells than the IKKβ inhibitor, PS-1145 (Figures 6C and 6D; Figures S6A and S6B; note the different concentrations of DTP3 and PS-1145 used). Because the standard MM treatment consists of combination therapy, and nearly all patients will relapse and/or develop drug resistance at some point, we evaluated the potential of DTP3 to operate in these settings. As shown in Figures S6D and S6E, DTP3 displayed synergistic activity with bortezomib in two different MM cell lines, exhibiting a combination index of 0.21 in U266 cells and of 0.56 in KMS-12 cells, suggesting that it could find indication in the clinic in combination with bortezomib (Chou, 2006). Importantly, DTP3 also retained full therapeutic efficacy in MM cell lines that were resistant to conventional MM treatments, such as dexamethasone, bortezomib, and lenalidomide (Bjorklund et al., 2011, 2014, Rückrich et al., 2009) (Figures S6F and S6G). Together, these results provide compelling evidence of the high therapeutic potential of DTP3 in MM patients.