Arrestins function in cAR1 GPCR-mediated signaling and cAR1 internalization in the development of Dictyostelium discoideum.
Bottom Line: At the aggregation stage of Dictyostelium discoideum development, the chemoattractant cAMP is synthesized and released at 6-min intervals, directing cell migration.The adcB(-)C(-) cells also have a shorter period of transient ERK2 activity and precociously reactivate ERK2 in response to cAMP stimulation.In addition, ligand-induced cAR1 internalization is compromised in adcB(-)C(-) cells, suggesting that arrestins are involved in elimination of high-affinity cAR1 receptors from cell surface after the aggregation stage of multicellular development.
Affiliation: Shanghai Institute of Immunology, Shanghai Jiao Tong University School of Medicine, Shanghai 200025, China.
Show MeSH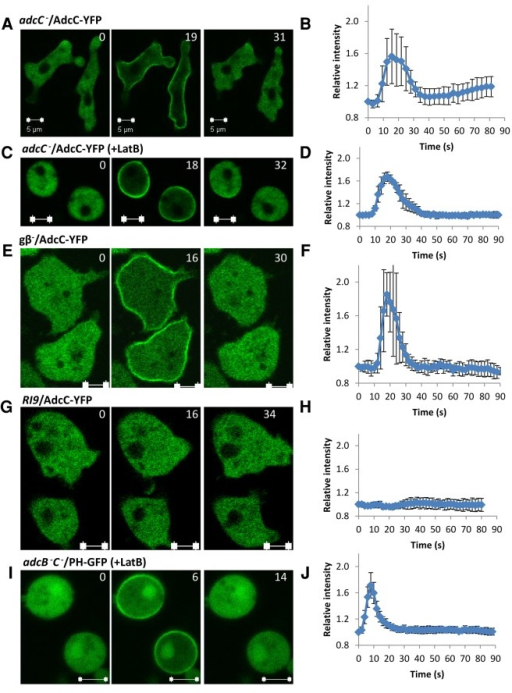 © Copyright Policy - creative-commons
getmorefigures.php?uid=PMC4196870&req=5
Mentions: To test whether activation of cAR1 GPCR controls the functions of arrestins, we observed the cellular localization of AdcC-YFP upon cAMP stimulation (Figure 2). Before stimulation, AdcC-YFP was localized in the cytosol of the cells. On cAMP stimulation, AdcC-YFP transiently translocated to a region proximal to the plasma membrane in adcC− cells expressing AdcC-YFP (adcC−/AdcC-YFP; Figure 2, A and B); however, cAMP-induced translocation was not observed for AdcB-YFP, indicating that these proteins do not have completely redundant functions (Supplemental Figure S4). The transient relocalization of certain proteins to the intracellular face of the plasma membrane requires actin reorganization (Yan et al., 2012). To test whether actin dynamics is required for the translocation of AdcC, we pretreated cells with latrunculin B, an inhibitor of actin polymerization. On stimulation, no effect was observed on AdcC-YFP dynamics in the presence of latrunculin B (Figure 2, C and D). In addition, cAMP-induced membrane recruitment of AdcC-YFP occurred in cells lacking functional heterotrimeric G-proteins (gβ−/AdcC-YFP; Figure 2, E and F) but not in RI9 cells, which lack the cAMP receptors cAR1 and cAR3 (Insall et al., 1994; Figure 2, G and H), indicating that activation of cAR1 triggers G protein–independent membrane recruitment of AdcC-YFP. Activation of cAR1 receptors not only triggers G protein–independent signaling events but also induces dissociation of heterotrimeric G protein into Gα2 and Gβγ subunits, which regulate multiple signaling transduction pathways controlling the actin cytoskeleton (Janetopoulos et al., 2001). The cAR1/Gα2Gβγ machinery regulates a pathway involving the small G protein Ras, phosphoinositide 3-kinase, and phosphatase and tensin homologue to control phosphatidylinositol (3,4,5)-trisphosphate (PIP3) during chemotaxis (Parent et al., 1998; Funamoto et al., 2001, 2002; Iijima and Devreotes, 2002; Sasaki et al., 2004). The changes in the level of PIP3 were monitored in vivo by the PIP3-binding fluorescent probe PHCRAC-GFP (Parent et al., 1998; Xu et al., 2005). We found that cAR1-mediated PIP3 responses to cAMP stimulation was normal in adcB−C− cells as monitored by the transient translocation of PHCrac-GFP to the plasma membrane (Figure 2, I and J). Thus activation of cAR1 induces membrane recruitment of AdcC, but the arrestins AdcB and AdcC do not play essential roles in cAR1/Gα2Gβγ-controlled pathways, many of which are essential for chemotaxis of D. discoideum, which is consistent with our observations.