The actin regulators Enabled and Diaphanous direct distinct protrusive behaviors in different tissues during Drosophila development.
Bottom Line: The actin elongation factors Diaphanous and Enabled both promote barbed-end actin polymerization and can stimulate filopodia in cultured cells.We hypothesized that differing Enabled and/or Diaphanous activity drives these differences.Combining gain- and loss-of-function with quantitative approaches revealed that Diaphanous and Enabled each regulate filopodial behavior in vivo and defined a quantitative "fingerprint"--the protrusive profile--which our data suggest is characteristic of each actin regulator.
Affiliation: Department of Biology, University of North Carolina at Chapel Hill, Chapel Hill, NC 27599.
Show MeSH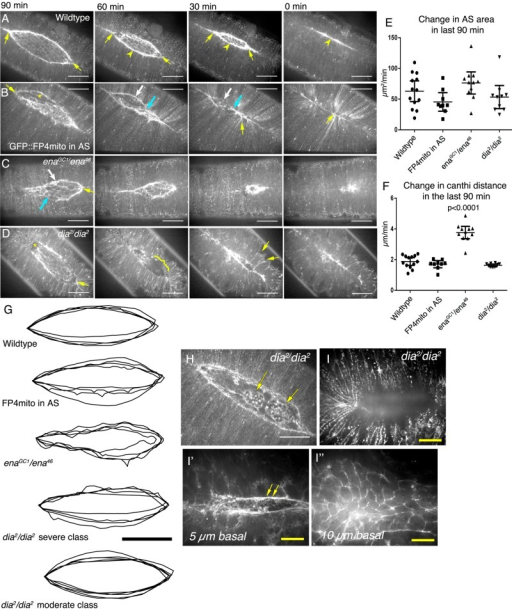 © Copyright Policy - creative-commons
getmorefigures.php?uid=PMC4196866&req=5
Mentions: To explore the hypothesis that AS cell protrusions are also important for dorsal closure, we assessed morphogenetic movements and dorsal closure timing in embryos expressing FP4mito in the AS. These embryos completed dorsal closure and hatched, as lethality was negligible (96% embryonic viable, n = 327), suggesting that either the few remaining filopodia are sufficient or filopodia in the AS are not essential for dorsal closure. However, our movies revealed substantial alterations in the process. In wild type, the advancing epidermis encloses an eye-shaped opening (Figure 6A; Figure 6Gdisplays four representative examples of the LE at the same stage of closure) with zippering occurring at the canthi (Figure 6A, arrows) and a straight leading edge (Figure 6A, arrowhead, and G). In contrast, embryos expressing FP4mito had abnormally shaped openings (Figure 6, B and G), with apparent difficulties in zippering at the canthi (Figure 6B, arrow). Some regions along the leading edge progressed toward the dorsal midline more rapidly than others (Figure 6B, 60 and 30 min, white vs. blue arrows), and, as closure was completed, the epidermis was puckered (Figure 6B, 30 and 0 min, yellow arrows). In a subset of embryos, there was ripping between the AS and LE (two of eight embryos; Figure 6B, asterisk), although this was repaired and closure completed. Ripping between the AS and LE is also characteristic of mutants lacking the integrin βPS subunit in both tissues (Narasimha and Brown, 2004; Gorfinkiel et al., 2009). Finally, in a subset of embryos expressing FP4mito in the AS, there was a slight delay in dorsal closure. In normal development, dorsal closure precedes initiation of muscle constriction. If dorsal closure is delayed, muscles begin to twitch before the epidermis fully encloses the embryo. Whereas muscle contraction never precedes closure in wild type (n = 13), in embryos expressing FP4mito in the AS, muscles started to twitch just before closure in half of the embryos (three of six; Supplemental Movie S7—twitching begins at 1 h, 50 min); this delay is likely restricted to early stages, as mean rates of area change and canthi advancement in late closure were not significantly altered (Figure 6, E and F, and Supplemental Movie S7). Thus depleting Ena plus Dia substantially alters dorsal closure, but the robustness of the morphogenesis program allows closure to go to completion despite their depletion.