ATP insertion opposite 8-oxo-deoxyguanosine by Pol4 mediates error-free tolerance in Schizosaccharomyces pombe.
Bottom Line: In cell extracts, misincorporation of ATP opposite 8oxodG was shown to be SpPol4-specific, although RNase H2 efficiently recognized the 8oxodG:AMP mispair to remove AMP and trigger error-free incorporation of dCTP.Moreover, we demonstrate that purified SpPol4 uses 8oxo-dGTP and 8oxo-GTP as substrates for DNA polymerization, although with poor efficiency compared to the incorporation of undamaged nucleotides opposite either 8oxodG or undamaged templates.This suggests that SpPol4 is specialized in tolerating 8oxodG as a DNA template, without contributing significantly to the accumulation of this lesion in the DNA.
Affiliation: Centro de Biología Molecular "Severo Ochoa" (CSIC-UAM), Universidad Autónoma, 28049 Madrid, Spain.
Show MeSH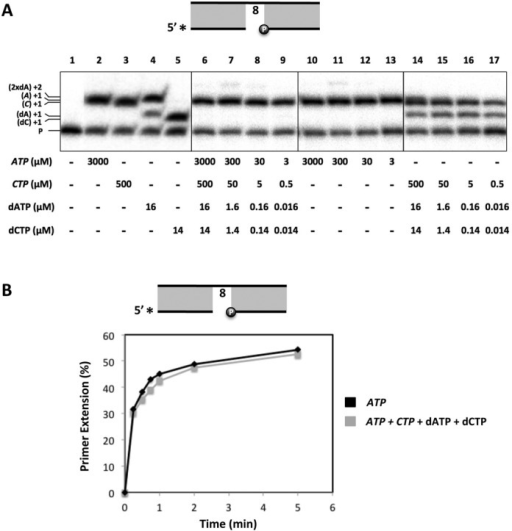 © Copyright Policy - creative-commons
License
getmorefigures.php?uid=PMC4150805&req=5
Mentions: Cellular concentrations of NTPs significantly exceed those of dNTPs, being the levels of ATP particularly elevated. In both budding yeast and human cells, concentration of nucleotide pools is very similar (36,37), but in S. pombe it has not been precisely determined, although some studies have estimated dNTP concentrations as a percentage of either total NTP concentration (38) or ATP concentration (39). Remarkably, these studies demonstrate that, likewise in S. cerevisiae, dATP and dCTP concentrations are very similar in S. pombe, and represent around only 0.4% of the total ATP concentration (39). Thus, 8oxodG tolerance by SpPol4 was evaluated using the gapped DNA molecule previously used (Figure 1) and the nucleotide concentrations described for S. cerevisiae in vivo. Competitive incorporation of NTPs versus dNTPs could be evaluated since they have different molecular weights, and the different +1 extended primers can be separated by gel electrophoresis, as shown in Figure 2A (first panel). Therefore, when a mix of ATP, CTP, dATP and dCTP was provided at their putative physiological concentrations (3 mM ATP; 0.5 mM CTP; 16 μM dATP; 14 μM dCTP), or at lower but proportional concentrations, SpPol4 generated only one product (Figure 2A, second panel) whose electrophoretic mobility was compatible with the incorporation of a ribonucleotide, perhaps ATP, according to the specific mobility of each independent +1 product (see Figure 2A, first panel). In fact, when ATP was provided alone, SpPol4 generated the same polymerization product, even with an ATP concentration as low as 3 μM (Figure 2A, third panel). Conversely, when ATP was removed from the nucleotide mix, SpPol4 generated three distinct products (Figure 2A, fourth panel), two of them corresponding to the incorporation of CTP and dATP, and a minor band likely corresponding to the incorporation of two dATP units (see also Figure 2A first panel) occurring through strand-displacement, due to the presence of a dT templating base contiguous to the 8oxodG lesion (Supplementary Figure S1); interestingly, no band corresponding to incorporation of dCTP was observed, perhaps suggesting a strong and direct competition with CTP. In the presence of all the nucleotides (ATP, CTP, dATP and dCTP) at the physiological concentrations, only ATP appeared to be incorporated, suggesting that all the alternative nucleotides were outcompeted (see also Supplementary Figure S2).