Genome-wide mapping of unexplored essential regions in the Saccharomyces cerevisiae genome: evidence for hidden synthetic lethal combinations in a genetic interaction network.
Bottom Line: Fifty-six of the 67 regions were found to be essential for cell growth, and 49 of these carried co-lethal gene pair(s) that were not previously been detected by synthetic genetic array analysis.This result implies that regions harboring only non-essential genes contain unidentified synthetic lethal combinations at an unexpectedly high frequency, revealing a novel landscape of genetic interactions in the S. cerevisiae genome.Furthermore, this study indicates that segmental deletion might be exploited for not only revealing genome function but also breeding stress-tolerant strains.
Affiliation: Department of Biotechnology, Graduate School of Engineering, Osaka University, 2-1 Yamadaoka, Suita-shi, Osaka 565-0871, Japan.
Show MeSH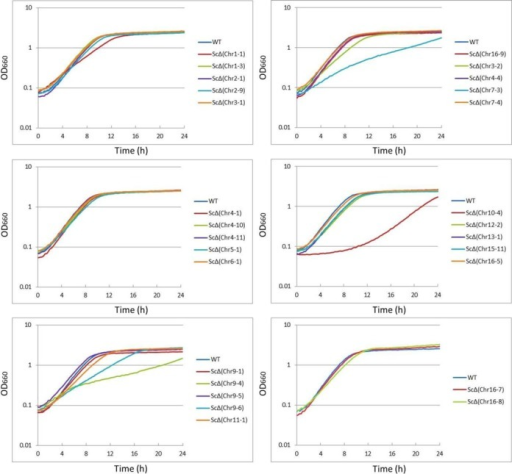 © Copyright Policy - creative-commons
License
getmorefigures.php?uid=PMC4150759&req=5
Mentions: Among the 44 deletable regions (33 identified by PCD and 11 identified by PCS), phenotypic information for 17 regions could be derived from previous studies (13,14,17,23). To evaluate the consequences of deleting the non-essential chromosomal regions on cell growth, 27 deletion strains, each containing one of the remaining deletable regions, i.e. ScΔ(Chr 1-1), ScΔ(Chr 1-3), ScΔ(Chr 2-1), ScΔ(Chr 2-9), ScΔ(Chr 3-1), ScΔ(Chr 3-2), ScΔ(Chr 4-1), ScΔ(Chr 4-4), ScΔ(Chr 4-10), ScΔ(Chr 4-11), ScΔ(Chr 5-1), ScΔ(Chr 6-1), ScΔ(Chr 7-3), ScΔ(Chr 7-4), ScΔ(Chr 9-1), ScΔ(Chr 9-4), ScΔ(Chr 9-5), ScΔ(Chr 9-6), ScΔ(Chr 10-4), ScΔ(Chr 11-1), ScΔ(Chr 12-2), ScΔ(Chr 13-1), ScΔ(Chr 15-11), ScΔ(Chr 16-5), ScΔ(Chr 16-7), ScΔ(Chr 16-8) and ScΔ(Chr 16-9), were constructed for the first time subjected to phenotypic analysis. Different culture conditions were used for phenotypic analysis including YPDA (incubated at 13, 30 and 41°C) and YPDA supplemented with 4, 6 and 8% ethanol, 4, 5 and 6% lactic acid, sulfuric acid (pH 2.5, pH 2.4 and pH 2.3), 0.02% SDS, 80 mM acetic acid, 36 mM formic acid, 1.8 M NaCl, 150 mM CaCl2, 10 mM furfural and 2.0 M sorbitol. In addition, to investigate the effect of deleting the non-essential chromosomal region on cell growth in liquid culture, deletion strains were observed to grow on YPDA broth (Figure 6).