Definite ocular sarcoidosis using endobronchial ultrasonography with transbronchial needle aspiration.
Bottom Line: Purpose.Histocytopathological findings revealed aggregates of epithelioid histiocytes forming a noncaseous granuloma, a hallmark of sarcoidosis.Conclusion.
Affiliation: Department of Ophthalmology, Ramathibodi Hospital Faculty, Mahidol University, Rama 6 Rd., Rajthevi, Phyathai, Bangkok 10400, Thailand.
ABSTRACT
---
Purpose. To introduce a minimally invasive procedure, endobronchial ultrasound-guided transbronchial needle aspiration (EBUS-TBNA), to obtain a pathologic evidence of a definite ocular sarcoidosis in a patient who initially presented with presumed ocular sarcoidosis with pulmonary involvement. Methods. An EBUS-TBNA procedure was performed at perihilar lymph nodes, subcarina, and right paratrachea of the patient and specimen obtained was sent for histocytopathological studies. Result. Histocytopathological findings revealed aggregates of epithelioid histiocytes forming a noncaseous granuloma, a hallmark of sarcoidosis. Conclusion. EBUS-TBNA should be considered an alternative procedure to provide cytohistopathology proven diagnosis of definite ocular sarcoidosis.

No MeSH data available.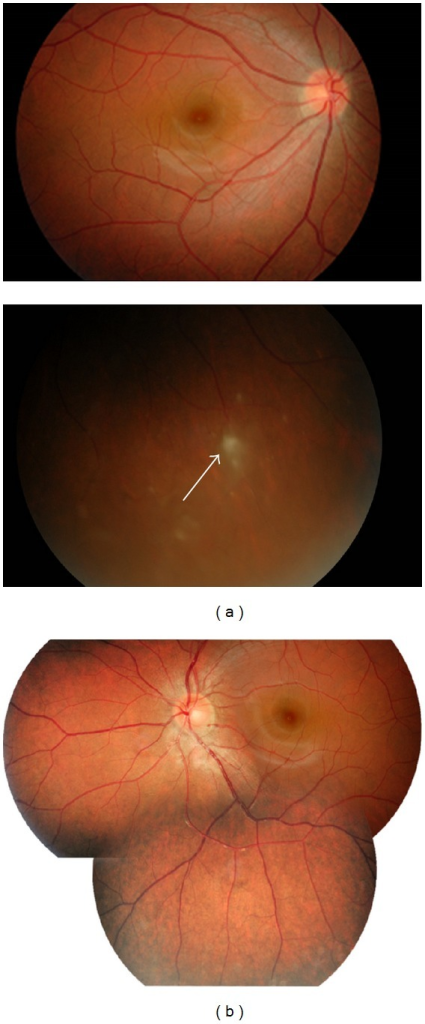 © Copyright Policy - open-access
getmorefigures.php?uid=PMC4150430&req=5
Mentions: A 25-year-old female complained of blurring vision and noticed several small floaters in the right eye of about one month's duration. Initial ocular examination revealed best corrected distant visual acuity of 20/40 in the right eye and 20/20 in the left. Slit lamp biomicroscopy revealed fine mutton fat KPs and trace cells in the anterior chamber bilaterally. Dilated fundus examination disclosed blurred disc margin in both eyes. Multiple vitreous clumping and small yellow spots of retinitis with deposits along the venous wall were seen at the inferior retina, more intense in the right eye than in the left (Figures 1(a) and 1(b)). No external ocular involvement, that is, the conjunctiva, the episclera, the orbit, and sclera, was found, nor were there any skin lesions or palpebral lymphadenopathy. Chest X-ray PA upright (Figure 2(a)) and computerized scan of the chest (Figures 2(b) and 2(c)) demonstrated widening mediastinum with abnormal peribronchial thickening, bilateral hilar nodes enlargement, and normal lung parenchyma. Consultation to pulmonologist was made and discussion with the patient whether an attempted biopsy proven diagnosis of pulmonary sarcoidosis should be performed. The patient approved a biopsy procedure. EBUS-TBNA of the perihilar lymph nodes, subcarina, and right paratrachea was performed. The bronchoscope that was used (BF-UC160F-OL8/BF-UC260F-OL8; Olympus Medical Systems Corp., Tokyo, Japan) had an outer diameter of 6.9 mm, a 2.0 mm instrument channel, and 35-degree forward oblique-viewing optics. Scanning was performed at a frequency of 7.5 MHZ and allowed a tissue penetration of 20 to 50 mm. Image processing was performed by an endoscopic ultrasound center (EU-C60/EU-C2000; Olympus Medical Systems Corp., Tokyo, Japan). A dedicated 22-gauge needle (NA-201SX-4022 Olympus Medical Systems Corp., Tokyo, Japan) was equipped with a stylet, which was withdrawn after passing the bronchial wall, avoiding contamination during the process. Fine needle aspiration was performed by passing the needle through the airway wall and into the lymph nodes under real-time ultrasound control. Integrated color power Doppler mode was used to identify intervening vessels immediately before needle puncture. The overall operating time was 30 minutes. Cytopathology of the specimens obtained from an EBUS-TBNA of the mediastinal lymph nodes revealed microscopic aggregates of epithelioid histiocytes forming a noncaseous granuloma with a small number of reactive lymphocytes, benign bronchial epithelial cells, and few histiocytes in the background (Figures 3(a) and 3(b)). During the first 4 weeks, the patient was treated with prednisolone (Predsomed, MedicPharma, Thailand) 0.5–1 mg/kg body weight daily based on vitritis and chorioretinitis activity. The patient also received corticosteroid inhalant (Pulmicort 200 mcg/puff, Astrazeneca, Sweden) inhaled twice daily for local pulmonary treatment. For local eye treatment, the patient received prednisolone acetate 1% (Predforte, Allergan, Ireland) four times a day for 4 weeks and topical mydriatic agent, tropicamide 1% (Mydriacyl ophthalmic solution, Alcon-Couvreur, Belgium), twice daily in both eyes for 2 weeks. As posterior segment inflammation was still active but the patient could not tolerate the side effects of corticosteroid, pulmonologist decided to use another drug. Low dose cyclophosphamide (Endoxan, Dexter, Germany) in combination with low dose prednisolone 10 mg daily was given until 3 months. In a followup at 3 months, chest film (Figure 4) showed a decrease in size of superior mediastinal node (5.2 cm) and both hilar nodes (2.0 × 5.9 and 4 × 2 cm). The blurring disc margins, vitritis, and chorioretinitis improved (Figure 5). The patient was maintained with oral prednisolone 5 mg daily on alternate days until 6 months. Yearly follow-up examination for 5 visits revealed that visual acuity of 20/20 was achieved in both eyes, and the eye as well as the lung had no recurrent exacerbation.