A theory of power laws in human reaction times: insights from an information-processing approach.
Affiliation: Departamento de Óptica, Facultad de Ciencias, Universidad de Granada Granada, Spain.
RT has been a fundamental measure of the sensory-motor latency at suprathreshold conditions for more than a century and is one of the hallmarks of human performance in everyday tasks (Luce, ; Meyer et al., )... Some examples are the measurement of RTs in sports science, driving safety or in aging... The probability density function (pdf) is often heavy-tailed and can lead to an asymptotic power-law distribution in the right tail (Holden et al., ; Moscoso del Prado Martín, ; Sigman et al., ). (2) RT variability (e.g., variance) is not bounded and usually shows a power relation with the mean, with an exponent β close to unity (Luce, ; Wagenmakers and Brown, ; Holden et al., ; Medina and Díaz,, )... And (3), the mean RTs decay as the stimulus strength increases (Cattell, ), an issue that is well-described by a truncated power function written in the form of Piéron's law (Piéron,, ; Luce, ): tn + 1 indicates the mean RT, S is the stimulus strength (e.g., loudness intensity, odor concentration, etc.), tn represents the asymptotic component of the mean RT reached at very high stimulus strength and d and p are two parameters (Luce, )... The H-function evolves from a previous state of maximum uncertainty reached at the encoding time t0, H (1/t0), to a final adapting stage with a lower uncertainty H (1/tn + 1) where a reaction occurs, (tn + 1 >t0)... Maximum production of entropy and then, a reduction of uncertainty in ΔH as a function of time are concepts introduced from statistical physics, the latter as expressed by Boltzmann (Norwich, )... The exponent p usually takes non-integer values and could indicate a signature of self-organized criticality in a phase transition (Kinouchi and Copelli, )... Here the concept of phase transition does not deal with the classical view of different states of matter in thermodynamics (e.g., liquid vs. gas), but with different states of connectivity between neurons as modeled by branching processes (Kinouchi and Copelli, )... If RTs are longer than the asymptotic term, tn, the RT pdf is distributed as a power law with an exponent γ that depends on the exponent p of Piéron's law (Medina, ):γ = 1 + (c/p), c being a constant... Two different regimes are observed: for those values p > 0.6 the central moments diverge and if p ≤ 0.6 they are finite (Medina, )... Therefore, long RTs compared to the asymptotic term tn are considered intermittent events over time... Third property, the reciprocal of Piéron's law is invariant under rescaling (Chater and Brown, ; Medina, )... Taking the reciprocal of the mean RT, R = 1/tn + 1. and the reciprocal of the irreducible asymptotic term, Rmax = 1/tn in Equation (4), then, R = Rmax [1 + (S0/S)]... A power law relationship between variance and mean of the stimulus population has been proposed in the H-function (Norwich, ) and this relationship could be compatible with the RT variance-mean relationship in the regime around p > 0.6 (Medina,, ).
No MeSH data available.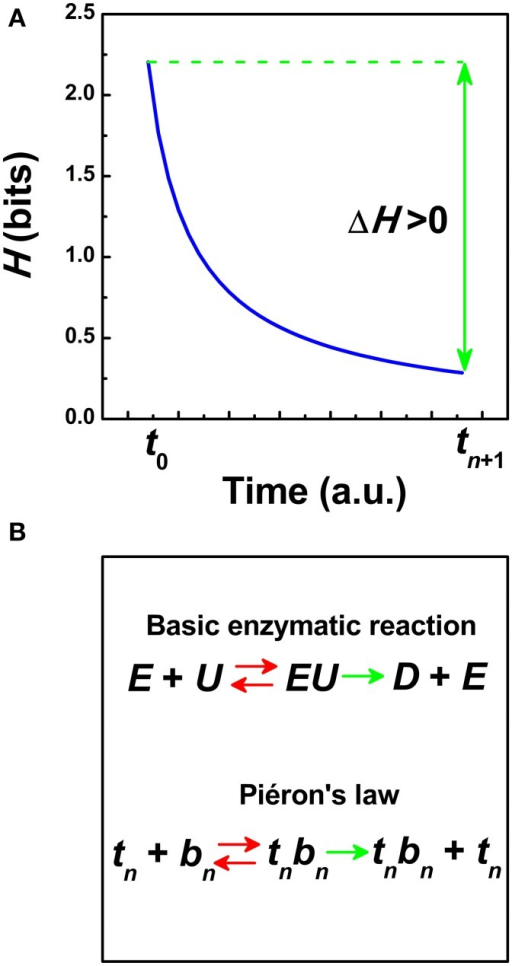 © Copyright Policy - open-access
License
getmorefigures.php?uid=PMC4129233&req=5
Mentions: Figure 1A represents the entropy function H in Equation (2). At least two stages can be differentiated. The H-function evolves from a previous state of maximum uncertainty reached at the encoding time t0, H (1/t0), to a final adapting stage with a lower uncertainty H (1/tn + 1) where a reaction occurs, (tn + 1 >t0). Maximum production of entropy and then, a reduction of uncertainty in ΔH as a function of time are concepts introduced from statistical physics, the latter as expressed by Boltzmann (Norwich, 1993). Based on an analytical model of the H-function (Norwich, 1993), the gain of information ΔH is connected with the formation of an internal threshold in Equation (1) (Norwich et al., 1989; Medina, 2009):