Host-directed antimicrobial drugs with broad-spectrum efficacy against intracellular bacterial pathogens.
Bottom Line: Combining host- and pathogen-directed treatments is a strategy to decrease the emergence of drug-resistant intracellular bacterial pathogens.Importance: Although antibiotic treatment is often successful, it is becoming clear that alternatives to conventional pathogen-directed therapy must be developed in the face of increasing antibiotic resistance.Moreover, the costs and timing associated with the development of novel antimicrobials make repurposed FDA-approved drugs attractive host-targeted therapeutics.
Affiliation: Howard Taylor Ricketts Laboratory, University of Chicago, Argonne National Laboratory, Lemont, Illinois, USA Department of Microbiology, University of Chicago, Chicago, Illinois, USA.
Show MeSH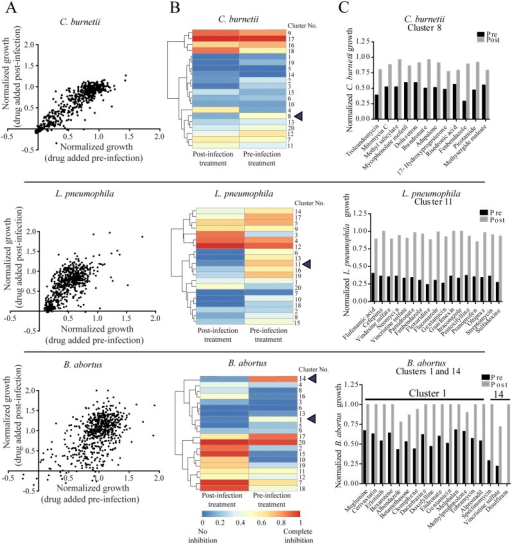 © Copyright Policy - open-access
License
getmorefigures.php?uid=PMC4128363&req=5
Mentions: In the foregoing studies, drugs were added to cells prior to infection. In order to determine whether the compounds prevent pathogen uptake or subsequent growth, we examined the effects of adding the compounds 4 h after infection. A strong correlation was observed between the levels of inhibition of intracellular growth when the compounds were added before and after infection (Fig. 5A), suggesting that the effect of most agents is on growth rather than entry. The correlation was strongest for C. burnetii. In contrast, we found that for L. pneumophila and, especially, B. abortus, several agents were more effective when added prior to, rather than after, infection, suggesting that they block pathogen entry. We therefore grouped agents showing similar effects on pathogen growth when applied pre- and postinfection using K-means complete clustering (K = 20). Clustering highlighted the differences between the effects of the two groups of agents (Fig. 5B). The relative inhibitory effects of these drugs are presented in Fig. 5C. For C. burnetii, cluster 8 contains 12 drugs that were significantly more effective when added before rather than after infection (Fig. 5C, top). In the case of L. pneumophila, cluster 11 contains 17 drugs that exceeded 60% inhibition of intracellular growth when applied prior to infection but had little effect when applied postinfection (Fig. 5C, middle). Similarly, for B. abortus, the compounds in clusters 1 and 14 were highly inhibitory prior to infection but not afterward. Three of these drugs, vincristine sulfate, albendazole, and disulfiram, are known inhibitors of microtubule polymerization (28–30). Indeed, inhibitors of microtubules have been shown to block the internalization of B. abortus (31). We infer that some agents in each cluster inhibit bacterial entry. For therapeutic applications, interest should be focused on the most potent drugs that act after infection, in particular, HDADs that inhibit a broad range of bacterial species. These include trifluoperazine, lomerizine, bepridil, loperamide, butaclamol, aripiprazole, trifluperidol, clemastine, and nisoldipine.