Vision of the first EPMA center for predictive, preventive and personalized medicine in Europe
No MeSH data available.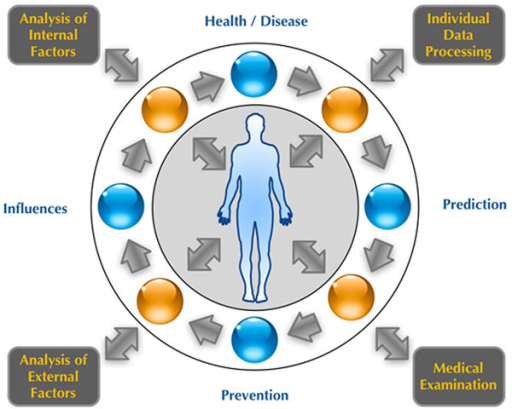 © Copyright Policy - open-access
License 1 - License 2


getmorefigures.php?uid=PMC4125751&req=5

Mentions: Predictive, preventive and personalized medicine (PPPM) represents twilight of the new era in medicine of the 21st century [2] and leads us to the vision of building a novel type of a complex healthcare facility consisting of several entangled units such as medical unit, clinical laboratories, imaging techniques, bioinformatics and specific computer models [3,4], healthy nutrition, analytical laboratories, and other health-related synergy units (Fig. 1) with integrated components that are essential for the evidence-based early prediction of the health problems, preventive action and personalized attitude in apparently healthy individuals who care about their own health in order to avoid the state of ever being called "a patient". PPPM Center, visioned as an ecosystem utilizing renewable resources, will offer an excellent opportunity for an interdisciplinary cooperation and health-related frontier science research and its real-time application in healthcare. The center will support innovation, open mind, invention, expertise, international cooperation, ethics and networking with established facilities sharing the same values. Supported by the new EU legislation, it will be aimed at promoting PPPM and all related technologies and philosophies, such as integrative medicine, technological medicine, complementary and alternative medicine, laboratory medicine, knowledge mining, healthy life style, health education, to name but a few that EPMA finds essential for healthcare of the 21st century.