Ischaemia-related cell damage in extracorporeal preserved tissue - new findings with a novel perfusion model.
Bottom Line: Expression of Caspase-3 after 60 min. was reduced in all groups compared to the control group.Oxygenation leads to higher oxygen levels at the venous branch compared to groups without oxygenation.Complete depletion of oxygen at the venous branch can be prevented by oxygenation of the perfusate with ambient air.
Affiliation: Department of Plastic and Hand Surgery, Friedrich-Alexander-University of Erlangen-Nürnberg, Erlangen, Germany.
Show MeSH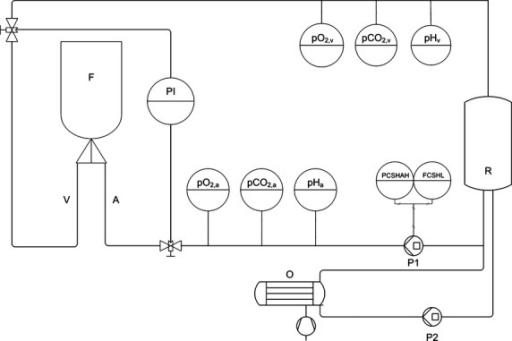 © Copyright Policy - open-access
License
getmorefigures.php?uid=PMC4119394&req=5
Mentions: N = 24 muscle flaps were used in this study (Table 1). After harvesting, the four flaps of group I were stored under room temperature without any further treatment (control group). The artery and vein of the five flaps in group II were cannulated with needles (arterial needles: 22-gauge, 0.9 mm in diameter, 25 mm long, flow rate of 36 ml/min., venous needles: 18-gauge, 1.30 mm in diameter, 45 mm long, flow rate of 100 ml/min.) and connected to the perfusion and oxygenation system. All needles were fixed with Perma-Hand Silk Suture 6-0 (Ethicon Inc., Johnson & Johnson, Norderstedt, Germany). Figure 1 shows a schematic model of the experimental set-up, which is an enhanced version of a previously described perfusion system [16]. Constant perfusion was performed with a flow rate (flow controlled switch high and low/FCSHL) and pressure (pressure controlled switch high and alarm high/PCSHAH) regulating pump (Fig. 1, P1; Infusomat® Space P; Braun Melsungen, Melsungen, Germany) and a flow of 10 ml/min. as previously tested [13]. Arterial and venous pressures were continuously monitored as described before [13]. The flaps of group II were perfused with a cardioplegic solution (Histidine-tryptophan-ketoglutarate Solution, HTK, Custodiol® Dr. Franz Köhler Chemie GmbH, Bensheim, Germany) for 60 min. directly after harvesting. In group III, five muscles received an arterial needle as described and were treated with a singular flush of 10 ml of the cardioplegic solution directly after harvesting and then left untreated. In group IV, five flaps were cannulated both arterially and venously to allow connection to our perfusion and oxygenation system. The additional oxygenation with ambient air was performed through a neonatal oxygenator (Fig. 1, O; SAFE Micro®, Polystan, Denmark) in a secondary circuit. Its microporous polypropylene membrane has an exchange surface of 0.33 m2. The primary circuit drew freshly oxygenated perfusate from the secondary circuit, which had an own pump (Fig. 1, P2). The flaps in group IV were perfused and oxygenated with a heparinized crystalloid fluid with an osmolarity of 291 mOsm/litre (Jonosteril®; Fresenius Kabi, Bad Homburg, Germany; 500 IU heparin/100 ml fluid, Ratiopharm, Ulm, Germany). In group V, five flaps were perfused and oxygenated simular to group IV with heparinized cardioplegic solution.