The CD2 isoform of protocadherin-15 is an essential component of the tip-link complex in mature auditory hair cells.
Bottom Line: The finding, in the homozygous or compound heterozygous state, of a PCDH15 frameshift mutation (p.P1515Tfs*4) that affects only Pcdh15-CD2, in profoundly deaf children from two unrelated families, extends this conclusion to humans.These results provide key information for identification of new components of the mature auditory mechano-electrical transduction machinery.This will also serve as a basis for the development of gene therapy for deafness caused by PCDH15 defects.
Affiliation: Unité de Génétique et Physiologie de l'Audition, Institut Pasteur, Paris, France UMRS 1120, Institut National de la Santé et de la Recherche Médicale (INSERM), Paris, France Université Pierre et Marie Curie (Paris VI), Paris, France.
Show MeSH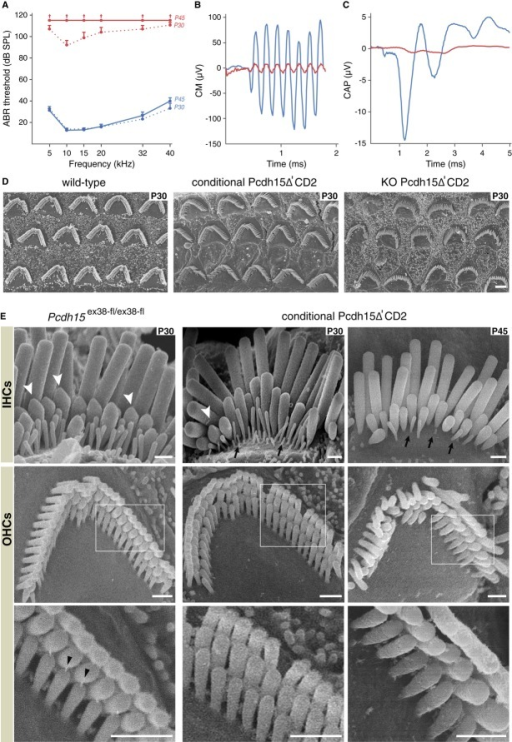 © Copyright Policy - open-access
License
getmorefigures.php?uid=PMC4119359&req=5
Mentions: To probe the role of Pcdh15-CD2 in mature hair bundles, a post-natal hair cell-specific conditional knockout mouse model, Pcdh15ex38-fl/ex38-flMyo15-cre+/− mice, was generated. Conditional post-natal deletion of exon 38, specific to the Pcdh15-CD2 isoform, circumvented the early morphogenetic defects caused by the absence of this isoform during hair-bundle development (Webb et al, 2011; see Methods and Supplementary Fig S4). The auditory function of these mutant mice was probed by in vivo audiometric tests, which explore the activities of IHCs and OHCs. At the onset of hearing, on P15, auditory function, measured as auditory brainstem responses (ABRs), was identical in Pcdh15ex38-fl/ex38-flMyo15-cre+/−mice (referred to as conditional Pcdh15Δ'CD2 mice) and their Pcdh15ex38-fl/ex38-fl littermate controls. By P17, ABR thresholds in the mutants started to increase, and by P30, they were above 90 dB SPL across the frequency spectrum tested (5–40 kHz). By P45, the conditional Pcdh15Δ'CD2 mice lacked any identifiable ABR response to loud sound stimulation (115 dB SPL), indicating complete hearing loss and fully defective IHCs. Distortion-product otoacoustic emissions (DPOAEs), which involve OHC MET channel function (Avan et al, 2013), increased in threshold and decreased in amplitude from P24 onwards, had almost disappeared by P30 and were completely absent on P45. Cochlear microphonic (CM) potentials, phasic extracellular potentials reflecting MET currents in the OHCs of the basal region of the cochlea (Patuzzi et al, 1989), had an amplitude reduced to 4% of that in controls by P30, indicating a loss of MET in OHCs. As ABR thresholds were 40 dB higher on P21 despite normal DPOAEs, this indicates that IHC function was already impaired at this age. Consistent with this, the amplitude of compound action potentials [representing synchronous firing of afferent neurons innervating the IHCs (Spoendlin & Baumgartner, 1977)] in response to loud sound stimuli (105 dB SPL, the processing of which relies only on IHC function) on P30 was only 3% of that in controls (Fig 2A–C and Supplementary Fig S5). Thus, MET, whilst initially normal in both IHCs and OHCs in conditional Pcdh15Δ'CD2 mice, is totally abolished by P45. In contrast, conditional Pcdh15Δ'CD2 mice explored by behavioural tests (see Methods) did not show vestibular dysfunction, as is the case for PCDH15-ΔCD2 mice (Webb et al, 2011).