Transposon-mediated directed mutation controlled by DNA binding proteins in Escherichia coli.
Affiliation: Division of Biological Sciences, Department of Molecular Biology, University of California at San Diego La Jolla, CA, USA.
The concept of directed mutation, defined as genetic change that is specifically induced by the stress conditions that the mutation relieves (Cairns et al., ), challenges this principle (Foster, ; Rosenberg, ; Wright, )... Part of the justifiable skepticism concerning directed mutation resulted from experiments that were purported to demonstrate this phenomenon, but were subsequently shown to be explainable by classical genetics (Roth et al., )... Mutation proved to be due to IS5 hopping to a discrete site, between base pairs 126 and 127 upstream of the transcriptional start site, and always in the same orientation... The increase in mutation rate was specific to the glpFK operon and did not occur in three other operons examined (Zhang and Saier, )... The numbers of Glp cells arising was 10-fold higher in the crp glpR double mutant than in the crp mutant when glycerol was absent... In the presence of glycerol, the loss of GlpR was without effect... There are four GlpR binding sites, O1–O4, in the upstream glpFK operon regulatory region (see Figure 1A), identified by DNA footprinting (Freedberg and Lin, ; Zeng et al., )... We mutated the far upstream site (O1) and the far downstream site (O4) so they no longer could bind GlpR, and compared the effects on glpFK expression using a lacZ reporter gene fusion construct vs. mutation rate to Glp during growth in LB medium... Initial attempts in our laboratory and elsewhere to isolate such mutants in a wild type genetic background proved unsuccessful (Ibarra et al., ; Honisch et al., ; Fong et al., ; Zhang and Saier,, unpublished observations; Cheng et al., )... Since crp mutants are not found in nature, this brought into question the suggestion that our discovery of directed mutation in a crp mutant of E. coli was relevant to the wild type situation, and hence whether it had actually evolved under the pressures of natural selection... Although the mechanism was not established, the frequency of IS5 insertion clearly increased under swarming conditions in soft agar compared to growth in liquid medium or on solid agar plates where swarming does not occur (Wang and Wood, )... We have confirmed and extended their results (Zhang et al., )... Directed mutation has been defined as genetic change that is specifically induced by the stress conditions that the mutation relieves, but until recently, in no case had such a mechanism been established... It appears to be a genuine example of directed mutation, with mutations arising at a greater rate under conditions that allow benefit to the organism... The fact that mutation rate is influenced by the presence of glycerol in a process mediated by the glycerol repressor, and by cAMP in a process mediated by CRP, provides mechanistic explanations for IS5-mediated directed mutational control.
No MeSH data available.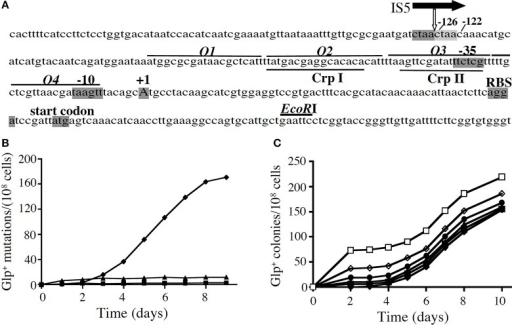 © Copyright Policy - open-access
License
getmorefigures.php?uid=PMC4117983&req=5
Mentions: The E. coli glycerol (glp) regulon consists of five operons, two of which (glpFK and glpD) are required for aerobic growth on glycerol (Lin, 1976). Both operons are subject to negative control by the DNA-binding glp regulon repressor, GlpR (Zeng et al., 1996), which also binds glycerol-3-phosphate, the inducer of the glp regulon. The glpFK operon is additionally subject to positive regulation by the cyclic AMP receptor protein (CRP) complexed with cyclic adenosine monophosphate (cAMP; Freedberg and Lin, 1973; Campos et al., 2013), although glpD is not appreciably subject to regulation by this mediator of catabolite repression (Weissenborn et al., 1992). The glpFK regulatory region contains four GlpR binding sites, O1–O4, and two CRP binding sites, CrpI and CrpII, which overlap O2 and O3, respectively, (Figure 1A). The strong CRP dependency of glpFK transcription is reflected by the fact that crp and cya (adenylate cyclase) mutant cells are unable to utilize glycerol (Zhang and Saier, 2009a). We have found that binding of GlpR and the cAMP-CRP complex to the glpFK upstream control region negatively influences IS5 hopping specifically into the single site that strongly activates glpFK promoter activity (Zhang and Saier, 2009a, unpublished observations).