Compartmental modeling of whole-body vitamin A kinetics in unsupplemented and vitamin A-retinoic acid-supplemented neonatal rats.
Bottom Line: First, compartmental models for retinol kinetics were developed for individual tissues, and then an integrated compartmental model incorporating all tissues was developed for both groups.VARA increased CM retinyl ester uptake by lung, carcass, and intestine; decreased the release into plasma of retinol that had been cleared by liver and lung as CM retinyl esters; stimulated the uptake of retinol from plasma holo-retinol binding protein into carcass; and decreased the retinol turnover out of the liver.Overall, neonatal VA trafficking differed from that previously described for adult animals, with a larger contribution of extrahepatic tissues to CM clearance, especially after VA supplementation, and a significant amount of VA distributed in extrahepatic tissues.
Affiliation: Graduate Program in Nutrition, The Pennsylvania State University, University Park, PA 16802 Department of Nutritional Sciences, The Pennsylvania State University, University Park, PA 16802.
No MeSH data available.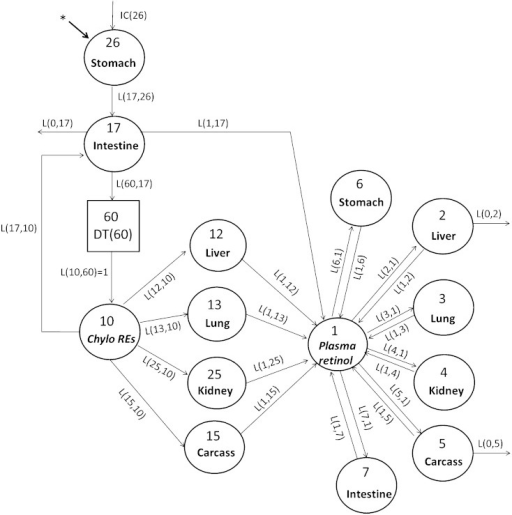 © Copyright Policy - open-access
License
getmorefigures.php?uid=PMC4109768&req=5
Mentions: After the organs were modeled individually, the plasma forcing function was released, and all data including tracer data for plasma and tissues (liver, lung, kidney, stomach, intestine, and carcass) were modeled simultaneously for both the control group and VARA group. Our proposed model is shown in Fig. 5. All of the compartment numbers, except compartment 26 and the delay element 60, are the same as in model 1 and have the same representation. Compartment 26 is the same as compartment 16 in model 1, representing the processing of newly ingested VA in the stomach, and 17 represents its processing in intestine. Compartment 10 represents plasma retinyl ester in CM/CM remnants. Delay element 60 describes the time needed for the production of CMs before their appearance in the plasma. Compartments 12, 13, 25, and 15 represent the uptake of plasma retinyl ester from CM/CM remnants into liver, lung, kidney, and carcass, respectively. The model indicates that, after being processed, plasma retinol, presumably as holo-RBP, is secreted from these tissues into compartment 1, the plasma retinol pool. Compartments 2, 3, 4, 5, 6, and 7 represent VA pools in liver, lung, kidney, carcass, stomach, and intestine, respectively, that exchange VA with retinol in compartment 1. The tracer data for plasma, liver, lung, kidney, carcass, stomach, and intestine were assigned to compartment 10 plus 1, 12 plus 2, 13 plus 3, 25 plus 4, 15 plus 5, 26 plus 6, and 17 plus 7, respectively. Liver (compartment 2) and carcass (compartment 5) were two sites of irreversible loss of retinol (9, 14, 15). A good fit to plasma and organ/tissue tracer data was obtained only when the output was from compartment 2 and compartment 5 (14).