Compartmental modeling of whole-body vitamin A kinetics in unsupplemented and vitamin A-retinoic acid-supplemented neonatal rats.
Bottom Line: First, compartmental models for retinol kinetics were developed for individual tissues, and then an integrated compartmental model incorporating all tissues was developed for both groups.VARA increased CM retinyl ester uptake by lung, carcass, and intestine; decreased the release into plasma of retinol that had been cleared by liver and lung as CM retinyl esters; stimulated the uptake of retinol from plasma holo-retinol binding protein into carcass; and decreased the retinol turnover out of the liver.Overall, neonatal VA trafficking differed from that previously described for adult animals, with a larger contribution of extrahepatic tissues to CM clearance, especially after VA supplementation, and a significant amount of VA distributed in extrahepatic tissues.
Affiliation: Graduate Program in Nutrition, The Pennsylvania State University, University Park, PA 16802 Department of Nutritional Sciences, The Pennsylvania State University, University Park, PA 16802.
No MeSH data available.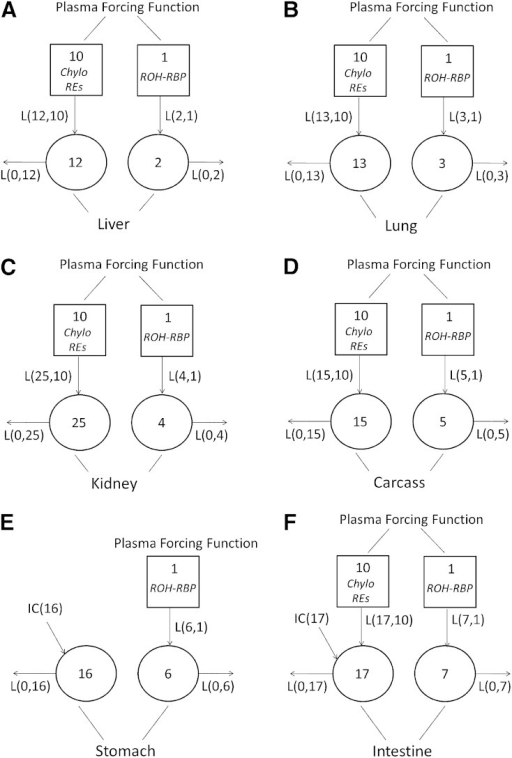 © Copyright Policy - open-access
License
getmorefigures.php?uid=PMC4109768&req=5
Mentions: Compartmental model 1 with the forcing function applied, shown in Fig. 3, is composed of six individual models for neonatal liver, lung, kidney, carcass, stomach, and intestine. Because the fraction of ingested dose found in thymus, heart, and spleen was very low throughout the study period, tracer data for these three tissues were incorporated into that of the carcass for the purpose of model development. Models established for liver, lung, kidney, and carcass (Fig. 3A–D) are similar. For these tissues, plasma is the sole source of VA input. Models were developed based on the assumption that, because the dose was given orally, there are two possible inputs that affect VA kinetics in each tissue: the uptake of retinyl ester, likely in plasma CM/CM remnants by tissues, and the turnover of retinol, >95% of which is bound to retinol binding protein (RBP) (26) in plasma, between tissues and plasma. The model developed for liver (Fig. 3A) will be presented as an example. Compartment 12 represents retinyl ester that is taken up by the liver from plasma CM remnants (compartment 10), and compartment 2 represents liver VA that exchanges with plasma retinol (compartment 1). The tracer data for liver were assigned to compartment 12 plus compartment 2. Because the forcing function was applied, compartments 10 and 1, which represent CM retinyl ester and plasma retinol, respectively, were included in the model to indicate the source of VA for the liver. L(12,10) (Fig. 2A) represents the fraction of retinyl ester that is cleared from CM remnants by liver each day. L(2,1) is the fraction of retinol that is transferred from plasma into liver each day. These models do not show any recycling of retinol back to plasma because the plasma tracer response is fixed as input when the forcing function is applied. As a result, L(0,12), the fraction of retinol that entered from CM retinyl ester and leaves the liver each day, includes the fraction of retinol that is secreted from liver into plasma after processing. L(0,2), the fraction of retinol that leaves the liver each day, includes the irreversible loss of retinol from liver and the fraction that recycles back to plasma.