Metazoan parasite infection in the swordfish, Xiphias gladius, from the Mediterranean Sea and comparison with Atlantic populations: implications for its stock characterization.
Bottom Line: A stepwise Linear Discriminant Analysis of the individual fish examined showed a separation among three groups: one including fish from the Mediterranean Sea (CTS, STS, and IOS); one consisting of fish from the Central South (CS), Eastern Tropical (ET), and Equatorial (TEQ) Atlantic; and a third comprising the fish sampled from the North-West Atlantic (NW); the CN Atlantic sample was more similar to the first group rather than to the other Atlantic ones.Finally, H. corrugatum, A. simplex (s.s.), Rhadinorhynchus pristis, and Bolbosoma vasculosum were related to the fish from the North-West (NW) Atlantic area.These results indicate that some parasites, particularly Anisakis spp. larvae identified by genetic markers, could be used as "biological tags" and support the existence of a Mediterranean swordfish stock.
Affiliation: Department of Public Health and Infectious Diseases, Section of Parasitology, "Sapienza" University of Rome, P.le Aldo Moro, 5, 00185 Rome, Italy.
Show MeSH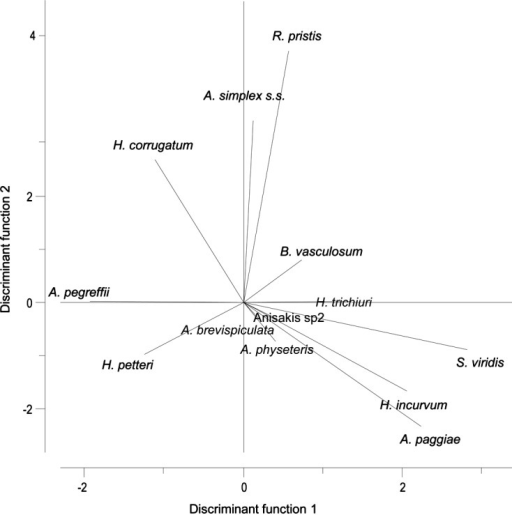 © Copyright Policy - open-access
License
getmorefigures.php?uid=PMC4109596&req=5
Mentions: Thirteen parasites chosen, among the parasites detected, as potential biological tags helped in discriminating the Mediterranean population of X. gladius versus its Atlantic ones. The selected parasites included: two trypanorhynch species, H. trichiuri and S. viridis, two acanthocephalans, R. pristis and B. vasculosum, and the larval nematodes A. pegreffii, A. simplex (s.s.), A. physeteris, A. brevispiculata, A. paggiae, Anisakis sp. 2, and adults of H. incurvum, H. corrugatum and H. petteri (Table 2). The remaining taxa recovered from the Mediterranean samples were not considered as possible biological markers versus the Atlantic ones, due to the very low level of infection (O. melanocephala), unidentified species problems (Prosorhynchoides sp. and Tetraphyllidea spp.), their temporary presence in the fish host (T. coccineum, T. integrum and F. plicatus), and its high pathogenic role (P. instructa). In fact, the monogeneans T. coccineum and T. integrum, and the adult cestode F. plicatus have a short lifespan in swordfish, surviving less than 1 year [67]. The multivariate LDA (Fig. 3) carried out on those parasites (n = 13) chosen as biological markers of Mediterranean and Atlantic swordfish populations (Table 2) showed that the first two discriminant functions explained 81.2% of the variance, accounting for 47.3% (eigenvalue = 1.793) and 33.9% (eigenvalue = 1.287), respectively. A statistically significant group effect was found (Wilks λ = 0.081, F15.106, P < 0.01). The spatial distribution of individual fish, represented by the sample scores and the group means, showed a separation among three distinct groups (Fig. 2): (1) fish from the Mediterranean Sea (CTS, STS, and IOS); (2) fish from the North-West (NW) Atlantic, with fish from the Central North area (CN) being more similar to the Mediterranean Sea samples (CTS, STS, and IOS) rather than to those from Atlantic ones; and, finally, (3) fish from the Southern Atlantic areas (ET, TEQ, CS) (Fig. 3).Figure 3.