Can we talk about microglia without neurons? A discussion of microglial cell autonomous properties in culture.
Affiliation: Neuroprotection and Neurogenesis in Brain Repair Group, Center for Neuroscience and Cell Biology, University of Coimbra Coimbra, Portugal.
Microglial cells originate from precursor cells located in the yolk sac that migrate into the developing central nervous system (CNS) around E8.5-10 in mice... In adulthood and under certain conditions, monocytes may penetrate the blood brain barrier, reach the CNS and become non-resident brain macrophages... Microglia phagocytic control of synaptic pruning is mediated by the complement pathway (Schafer et al., ) and fractalkine signaling (Paolicelli et al., )... Microglial cells show regional differences in the brain in terms of density, molecular characteristics, morphology, and responsiveness (Olah et al., ; Butovsky et al., )... Interleukine-34, a ligand of CSF1R, is mainly expressed by neurons in specific regions of the brain (cortex, hippocampus, striatum, and anterior olfactory nucleus) where it promotes microglial survival (Greter et al., ; Wang et al., )... Similarly, high levels of fractalkine expression have been found in neurons of the amygdala, striatum, globus pallidus, thalamus, olfactory bulb, hippocampus, and cerebral cortex (Tarozzo et al., ; Kim et al., )... Our opinion paper aims to provoke reflection and is in no way intended to despise the value of prior studies that, using isolated microglial cells or cell lines, have contributed to the current knowledge of microglial cell biology... It is important to note that isolated microglia do not display, in cell cultures, the highly ramified structure that is typically observed in the normal, healthy CNS... Fractalkine treatment also increased the number of phagocyting (Figures 1D–F) and migrating N9 cells (Figures 1G,H)... Furthermore, fractalkine was also able to reduce the expression of interleukin-1β (IL-1β) and tumor necrosis factor-α (TNF-α) mRNAs induced by LPS treatment (Figures 1I,J) while maintaining elevated levels of phagocytic and migratory activity in N9 cells... Butovsky et al. observed that adult microglia cultured in the presence of MCSF (macrophage colony-stimulating factor) and TGF-β 1 showed a molecular expression pattern similar to freshly sorted adult microglia... Nevertheless, treatment of N9 and BV2 cells with these factors did not induce the expression of such microglial molecular pattern (Butovsky et al., ), indicating the limitations of microglial cell lines... As previously mentioned, the binding of fractalkine to its receptor controls microglial surveillance state but also mediates their role on the modulation of synaptic function, a specific characteristic that emerges through their interaction with neurons... Therefore, the study of intrinsic features (maybe shared with other cell types) and specific characteristics of microglia that emerge through their interaction with other components of the CNS are equally important to understand the nature of these cells... Obviously, these two ways of studying microglia will benefit in different grades from distinct experimental approaches, ranging from the examination of isolated cells in vitro to their analysis in their natural environment in vivo.
No MeSH data available.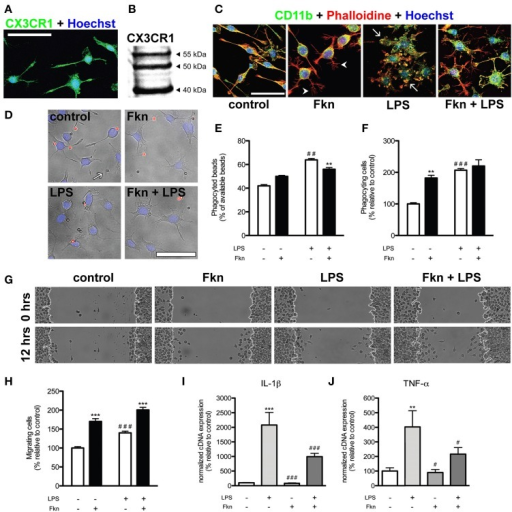 © Copyright Policy - open-access
License
getmorefigures.php?uid=PMC4109436&req=5
Mentions: It is important to note that isolated microglia do not display, in cell cultures, the highly ramified structure that is typically observed in the normal, healthy CNS. Ex vivo microglial cells analyzed immediately upon isolation resemble reactive amoeboid microglia, probably due to the isolation process itself. Nevertheless, this activation seems to wane with time and cell passages, reaching an approximation to the typical "resting" morphology. Immortalized microglial cell lines are an alternative to the use of primary microglial cell cultures, which are costly and time consuming. Several microglial cell lines derived from rat (HAPI), mouse (BV2, N9, EOC), and also human (HMO6), have been used. These cell lines exhibit characteristic microglial/macrophage cell markers and behaviors (cytokine release, migration, and phagocytosis) in the presence of endotoxins such as the gram-negative bacteria lipopolysaccharide (LPS, Figure 1). However, the immortalization renders these cells different from primary microglia; in terms of molecular expression (Butovsky et al., 2014), morphology, proliferation, and adhesion (reviewed in Stansley et al., 2012).