2,2,2-Trifluoroethyl 6-thio-β-D-glucopyranoside as a selective tag for cysteines in proteins.
Bottom Line: A synthetic route to a trifluoromethyl and thiol containing glucose derivative (2,2,2-trifluoroethyl 6-thio-β-D-glucopyranoside) is presented, which is based on microwave-assisted Fischer glycosylation under increased pressure.This tag has been applied to determine the redox-state of two cysteine residues in a bacterial transcription activator.Qualitative information about the solvent accessibility can be obtained from F-19 solvent PREs.
Affiliation: Institute of Chemistry/Organic and Bioorganic Chemistry, University of Graz, Heinrichstrasse 28, A-8010 Graz, Austria.
Show MeSH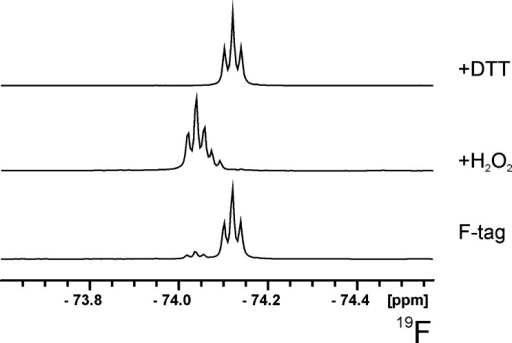 © Copyright Policy
License
getmorefigures.php?uid=PMC4067056&req=5
Mentions: The reaction rate acceleration by means of microwave irradiation is known for the Fischer glycosylation.17 Therefore, we performed the synthesis in a sealed pressurized tube in a microwave reactor at temperatures above the melting point of d-glucose and obtained a conversion to the expected mixture of four trifluoroethyl glucosides (Scheme 1) with the anomeric pair of pyranosides 1 being the predominant product (∼75%). Although 2′,2′,2′-trifluoroethyl α-d-glucopyranoside α-1 was the major product (60%) the only isomer that could be isolated with satisfactory purity was found to be the β-anomer β-1. The other isomers could not be separated by silica-gel flash chromatography. The stereochemistry of α-1, β-1 and its subsequent derivatives was supported by HMBC and NOESY NMR experiments. The primary hydroxy group in β-1 was selectively converted with 2,4,6-trisisopropyl-benzenesulfonic chloride into sulfonate 3 in 73% yield. Although a successful substitution of the leaving group on carbon-6 with potassium thioacetate has been published by Ramström and co-workers for methyl 6-tosyl-α-d-mannopyranoside,18 applying this method to the 6-O-tosyl analog of 3 led to the same difficulty, which was also reported by the aforementioned group, where the conversion of methyl β-d-galactopyranoside had failed.19 As described, this problem was circumvented by acetylation of the remaining three hydroxy groups prior to the substitution reaction with potassium thioacetate. Acetylation of 3 in pyridine and acetic anhydride gave 4 in quantitative yield. The displacement with thioacetate afforded 5 in very good yield (92%). Finally, the global deprotection with sodium methoxide in methanol yielded thiol compound 6 as a white crystalline powder in 71% yield. When stored at air for several days, the 19F NMR spectrum of 6 contains two signals (see Fig. 1) where the larger one at −74.12 ppm corresponds to the tag in the reduced state and the smaller peak at −74.04 ppm to the oxidized tag. This was confirmed by reaction with DTT or H2O2 which results in spectra containing only the reduced or oxidized tag, respectively (Fig. 1). Compound 6 was attached to free thiol groups of reduced cysteines of the Vibrio cholerae transcription activator ToxR. Due to very inefficient direct reaction of 6 with free thiol groups, the latter were first activated with Ellman's reagent 5,5′-dithiobis(2-nitrobenzoic acid) (DTNB).20,21 The better leaving group 5-thio-2-nitrobenzoic acid allows much higher yields by disulfide interchange. Without activation, tagging with 6 gave less than 5% yield on the model compound glutathione (not shown), while after activation with DTNB the reaction gave 90–95% of the desired tagged compound. This procedure was applied to investigate the redox state of ToxR. It has been speculated that ToxR forms dimers through disulfide bond formation in its initial activation step, which finally leads to cholera toxin production.22 However, recently a preformed intramolecular disulfide bond has been postulated.23 To determine the redox state and solvent accessibility of the two cysteines of ToxR the protein was incubated with DTNB and then 6 both with and without prior treatment with d,l-dithiothreitol (DTT) to reduce any cysteine disulfide bonds. After chromatographic separation from the majority of excess tag 6, 19F NMR spectra were recorded. The fluorine spectrum of ToxR without prior DTT treatment (Fig. 2) only shows signals from the free tag and oxidized free tag which is always present and obviously not separated completely by the short gel filtration chromatography step. After reduction by DTT two additional broad signals appear downfield (Fig. 2) which belong to 6 attached to the two cysteine residues at positions 236 and 293 in ToxR. The additional two fluorine signals in the 19F NMR spectrum of ToxR previously treated with DTT are much broader than the one from the free tag and no scalar coupling to the neighboring CH2-group can be seen. This is a result of the slow tumbling of the protein and therefore faster T2 relaxation. In contrast, the signals of free tag and oxidized tag are much sharper and the scalar coupling to the neighboring CH2-group of 6 leads to triplets in the 19F NMR spectra. To assign the two broad protein-bound fluorine signals, single cysteine mutants (C236S and C293S) were constructed. Both mutants were much less soluble than the wild-type protein and only C293S was stable at a concentration that allowed the acquisition of a 19F spectrum. The 19F NMR spectrum of this tagged mutant is shown in the Supplementary data and contains beside free tag only the low-field signal at −73.80 ppm. Therefore, the peak at −73.95 ppm has to belong to cysteine 236. Treatment of ToxR with DTT is necessary to enable the attachment of DTNB and subsequently the fluorine tag. Therefore, both cysteines exist in the oxidized state in native ToxR, which is in accordance with the recently proposed intramolecular disulfide bond of ToxR23 and in contradiction with the previously hypothesized disulfide bond formation after interaction with ToxS.22 Considering that the two cysteines of ToxR are located in the oxidative environment of the periplasm, the formation of a disulfide seems even more realistic. To check if oxidation by oxygen during protein expression and/or purification could have produced the cysteine disulfide in ToxR, we artificially reduced ToxR by DTT and let it stand at air. Even after several weeks only very minor amounts of oxidized ToxR were found.