Insights into how Spt5 functions in transcription elongation and repressing transcription coupled DNA repair.
Bottom Line: Through its KOW4-5 domains, Spt5 extensively interacts with Rpb4/7.Deletion of Spt5 KOW4-5 domains decreases transcription elongation and derepresses TCR.Our findings suggest that Spt5 is a key coordinator for holding the RNAP II complex in a closed conformation that is highly competent for transcription elongation but repressive to TCR.
Affiliation: Department of Comparative Biomedical Sciences, School of Veterinary Medicine, Louisiana State University, Baton Rouge, LA, USA.
Show MeSH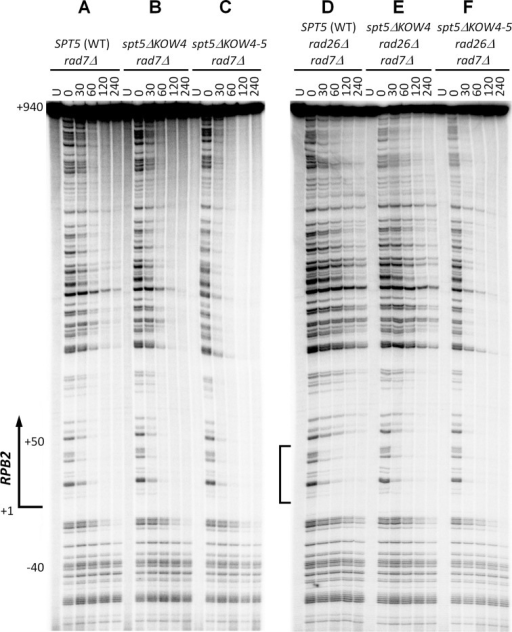 © Copyright Policy - creative-commons
License
getmorefigures.php?uid=PMC4066765&req=5
Mentions: The closed conformation of RNAP II, which can be stabilized by Spt5 and is highly competent for transcription elongation, may trap a DNA lesion in the central cleft and repress TCR. If this is the case, disruption of the interactions between Spt5 and the Rpb4/7 stalk may derepress TCR. To test this idea, we analyzed the effects of Spt5 KOW4 and KOW4-5 deletions on TCR. In yeast, Rad7 and its interaction partner Rad16 are essential for global genomic repair (GGR) but play no role in TCR (49). Therefore, TCR can be unambiguously analyzed in rad7Δ or rad16Δ cells. A nucleotide resolution method that uses streptavidin magnetic beads and biotinylated oligonucleotides to facilitate isolation and strand-specific end-labeling of DNA fragments of interest was used for the analysis (29,30). TCR, which initiates about 40 nucleotides upstream of the TSS of the RPB2 gene, could be seen in rad7Δ cells (Figure 6A). As expected, the additional deletion of RAD26 (rad7Δ rad26Δ) decreased TCR in the transcribed region of the gene (Figure 6, compare panels A and D), except for a region of ∼50 nucleotides immediately downstream of the TSS (Figure 6D, marked with the bracket). Our results agree with previous studies showing that TCR in a short region (20–50 nucleotide long) immediately downstream of the TSS of a gene is rapid and less dependent on Rad26 in yeast (21,50) or CSA and CSB in mammalian (51,52) cells, indicating that the short region is less repressed even in the absence of Rad26, CSA or CSB. While the Spt5 KOW4 deletion slightly enhanced TCR, the Spt5 KOW4-5 deletion dramatically enhanced the repair event throughout the transcribed region of the RPB2 gene in both rad7Δ and rad7Δ rad26Δ cells (Figure 6, compare panels B and C with A, and E and F with D; Figure 7A and B). Note that the TCR speed in rad7Δ rad26Δ spt5ΔKOW4-5 cells was even faster than that in rad7Δ (RAD26+ and SPT5+) cells, especially in the region ∼50 nucleotides downstream of the TSS (Figure 6, compare panels A and F; Figure 7A and B). The enhancement of TCR by deletion of the Spt5 KOW4-5 is similar to that by deletion of Rpb4 (21) but more dramatic than that by deletion of Spt4 (22), the Spt5 CTR (23) or subunits of PAFc (24). Also, in contrast to deletions of Spt4, the Spt5 CTR and subunits of PAFc, which enhance TCR only in the absence but not in the presence of Rad26, deletion of the Spt5 KOW4-5 (or Rpb4) enhances TCR in the absence or presence of Rad26. The dramatic enhancement of TCR in spt5ΔKOW4-5 cells is not due to a change in Rad26 levels in the cell, as deletion of Spt5 KOW4 or KOW4-5 did not significantly affect the cellular levels of Rad26 (Figure 4B). Rather, it is likely that the full-length Spt5, by coordinating with Rpb4/7, strongly represses TCR and Rad26 can only partially antagonize its repression effect. On the other hand, Rad26 appears to be able to completely antagonize the repression effects of Spt4, the Spt5 CTR and PAFc. Spt5 (along with Spt4) is loaded to RNAP II by binding to the nascent transcript only after it reaches to 30–50 nucleotides in length (53), which may explain why TCR in the short region immediately downstream of the TSS is not significantly repressed by Spt5.