Genome-wide evolutionary characterization and expression analyses of WRKY family genes in Brachypodium distachyon.
Bottom Line: Combining the analysis of phylogenetic tree of BdWRKY genes and the result of expression profiling, results showed that most of clustered gene pairs had higher similarities in the WRKY domain, suggesting that they might be functionally redundant.Neighbour-joining analysis of 301 WRKY domains from Oryza sativa, Arabidopsis thaliana, and B. distachyon suggested that BdWRKY domains are evolutionarily more closely related to O. sativa WRKY domains than those of A. thaliana.The results showed that the expression of BdWRKY genes was rapidly regulated by stresses and phytohormones, and there was a strong correlation between promoter cis-elements and the phytohormones-induced BdWRKY gene expression.
Affiliation: Shanghai Chenshan Plant Science Research Center, Shanghai Institutes for Biological Sciences, Chinese Academy of Sciences (CAS), Shanghai Chenshan Botanic Garden, 3888 Chenhua Road, Songjiang, Shanghai 201602, China.
Show MeSH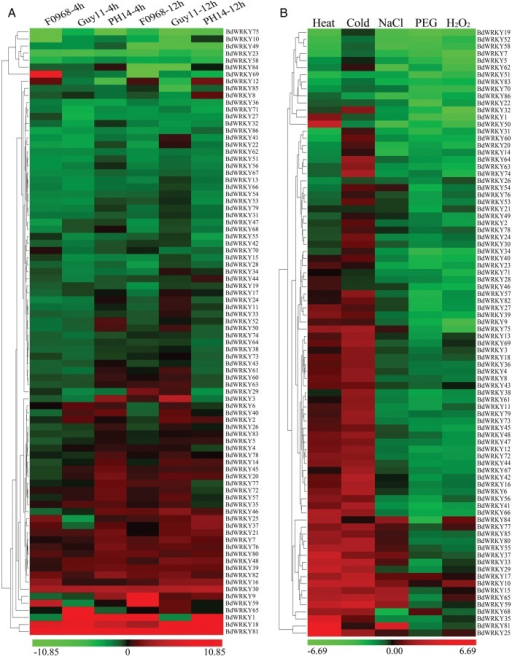 © Copyright Policy - creative-commons
License
getmorefigures.php?uid=PMC4060952&req=5
Mentions: It has been demonstrated that WRKY genes were not only involved in the activation of plant defence systems,48 but also played key roles in the control of plants' response to environmental stimuli.3 Since it has been thought that BdWRKY genes are responsive to plant defence-related phytohormones, we investigated the expression profiles of the WRKY family genes in B. distachyon after phytopathogen treatments. A total of three phytopathogens, including F. graminearum (F0968) and two strains of M. grisea (Guy11, avirulent ACE1 genotype; PH14, virulent ACE1 genotype), were used to inoculate Bd21 seedling in this study. The expression profiles of the BdWRKY family genes at 4 hpi (hour post-inoculation) and 12 hpi were shown in Fig. 5A. The data demonstrated that a large number of BdWRKY genes were rapidly and significantly up-regulated after inoculation of phytopathogen within 4 h. At least 15 BdWRKY genes were up-regulated by all three phytopathogens treated, while nine BdWRKY genes were induced after single phytopathogen inoculation, such as BdWRKY8, −34, −50, −69, −70, and so on. As shown in Fig. 5A, the expression levels of BdWRKY21, −37, −69, and −70 increased remarkably at 4 hpi, and decreased at 12 hpi after F0968 treatment. However, several BdWRKY genes (BdWRKY1, −9, −29, etc.) were up-regulated 12 h after F0968 inoculation. These data suggested that BdWRKY21, −37, −69, and −70 were the early response TFs upon phytopathogen F0968 attack, while BdWRKY1, −9 and −29 were induced at the second stage of the F0968 infection. Interestingly, numbers of BdWRKY genes (e.g. BdWRKY3, −72 and -77) were induced faster by PH14 than by Guy11. They were up-regulated at 4 hpi after infection by PH14, but at 12 hpi, they were down-regulated by PH14 and up-regulated by Guy11. Since the pathogenic ability of virulent ACE1 genotype (PH14) was stronger than the wild-type Guy11, these results suggested that the expression of BdWRKY genes were very sensitive to biotic stress and the regulation of BdWRKYs were important to plant defence. BdWRKY as TF genes were first induced or repressed by phytopathogen, and then, were involved in the regulation of plant defence gene expression.Figure 5.