Comprehensive expression analysis of rice Armadillo gene family during abiotic stress and development.
Bottom Line: Previous studies have confirmed that Armadillo proteins constitute a multigene family in Arabidopsis.Phylogenetic study classified them into several arbitrary groups based on a varying number of non-conserved ARM repeats and accessory domain(s) associated with them.The non-synonymous and synonymous substitutions per site ratios (Ka/Ks) of duplicated gene pairs indicate a purifying selection.
Affiliation: Department of Plant Molecular Biology, University of Delhi South Campus, Benito Juarez Road, Dhaula Kuan, New Delhi 110021, India.
Show MeSH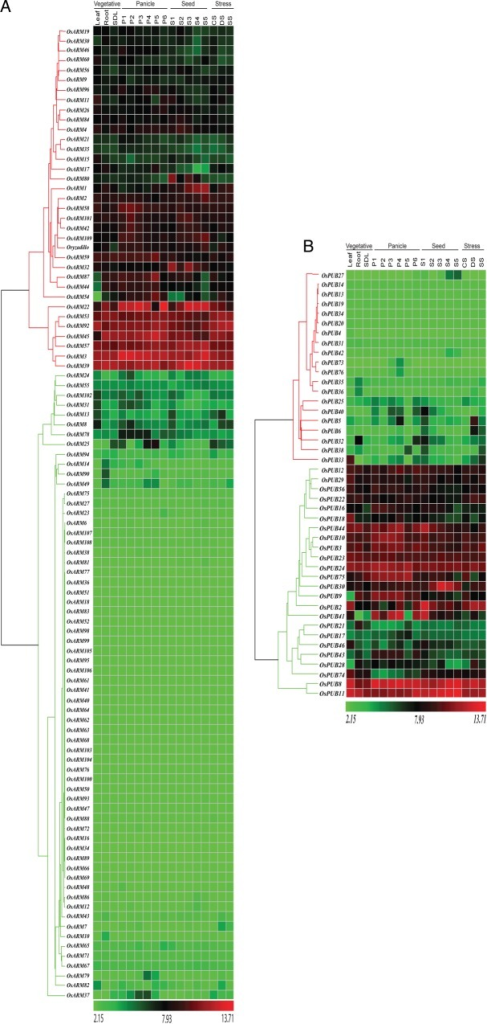 © Copyright Policy - creative-commons
License
getmorefigures.php?uid=PMC4060948&req=5
Mentions: The microarray data for OsARM genes were generated using Affymetrix rice genome arrays for 7-day-old rice seedlings. Out of 158 genes, probe sets for 14 genes were not available on Affymetrix gene chip array. Unique probe sets were found for 105 genes, 2 for 32 genes, 3 for 6 genes, and 4 for 1 gene. In the case of multiple probe sets, one with the highest baseline expression in the array was chosen for the analysis. Expression profile of 144 OsARM genes was analysed under three abiotic stress conditions (salt, cold, and drought) (FigsΒ 3 and 4 and Supplementary Table S5). After defining a criterion of fold change value of β‰₯2 (either up- or down-regulated) for experimental samples in comparison to control untreated 7-day-old seedlings, 36 OsARM genes showed differential expression, with 26 of them being up-regulated and 10 were found to be down-regulated in any of the above given conditions. Four genes (OsPUB33, OsPUB41, OsPUB2, and OsPUB39) were found to be up-regulated and a single gene OsARM14 was found to be down-regulated in all three stress conditions together. Notably, out of 26 up-regulated genes, 7 (OsPUB8, OsARM82, OsPUB22, OsARM54, OsARM11, OsPUB43, and OsPUB28) exhibited higher expression under drought stress, whereas 5 genes (OsARM1, OsPUB38, OsPUB40, OsPUB3, and OsPUB46) were up-regulated under salt stress, specifically. Eight genes (OsARM7, OsPUB30, OsPUB32, Oryzadillo, OsARM8, OsARM92, OsPUB5, and OsPUB6) were up-regulated under salt and drought stresses together. Whereas, only a single gene (OsARM13) was found to be up-regulated under cold and drought stresses together. Interestingly, one gene (OsPUB28) was found to be up-regulated in drought and down-regulated under cold stress simultaneously.FigureΒ 3.