Formation of adherens junctions leads to the emergence of a tissue-level tension in epithelial monolayers.
Bottom Line: Adherens junctions and desmosomes integrate the cytoskeletons of adjacent cells into a mechanical syncitium.Though much is known about the biological mechanisms underlying junction formation, little is known about how tissue-scale mechanical properties are established.As a consequence, inhibition of any of the molecular mechanisms participating in adherens junction initiation, remodelling and maturation significantly impeded the emergence of tissue-level tension in monolayers.
Affiliation: London Centre for Nanotechnology, University College London, London WC1H 0AH, UK Department of Physics, University College London, London WC1E 6BT, UK Engineering Doctorate Program, Department of Chemistry, University College London, London WC1H 0AJ, UK.
Show MeSH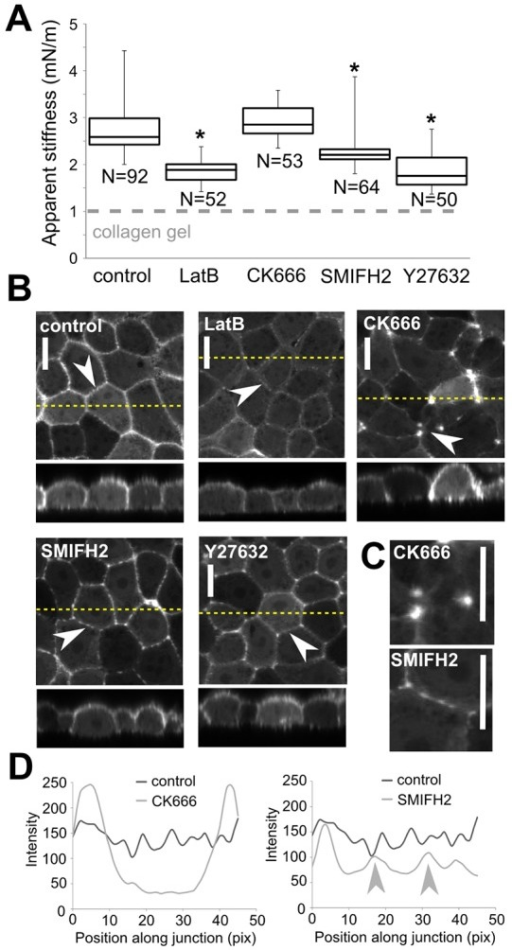 © Copyright Policy - open-access
License
getmorefigures.php?uid=PMC4043320&req=5
Mentions: As the biological mechanisms involved in maintaining tensional homeostasis in the monolayer might be different from those leading to the establishment of tension, we examined the impact of cytoskeletal perturbations on the apparent stiffness of monolayers grown overnight under control conditions. Traction force microscopy experiments have shown that, far from the boundaries of cell colonies, traction stresses are small (Mertz et al., 2013); hence, in mature monolayers, intercellular tension should be the main determinant of apparent stiffness. F-actin depolymerisation with latrunculin only led to partial loss of junctional F-actin (Fig. 7B), consistent with previous reports of the existence of a subpopulation of latrunculin-resistant actin filaments at junctions (Abe and Takeichi, 2008; Cavey et al., 2008; Tang and Brieher, 2012; Yamada et al., 2004). Latrunculin treatment was, nevertheless, accompanied by a sharp decrease in monolayer apparent stiffness (Fig. 7A). Treatment of mature monolayers with the formin inhibitor SMIFH2 led to the loss of basal stress fibres, which are assembled from formin-nucleated F-actin (Watanabe et al., 1999) (supplementary material Fig. S4C), consistent with previous results (Tang and Brieher, 2012). SMIFH2 also increased heterogeneity in junctional F-actin fluorescence intensity (Fig. 7B,C). Concomitant with these changes in F-actin organisation, monolayer apparent stiffness decreased significantly (Fig. 7A), consistent with the role of formins in generating linear actin arrays that are necessary to support contractility. Inhibition of Arp2/3 resulted in a decrease in junctional F-actin, an increase in F-actin accumulation at tricellular junctions (Fig. 7B,C) and loss of Arp2/3 localisation to intercellular junctions (supplementary material Fig. S4D), consistent with previous reports (Tang and Brieher, 2012). Despite these changes, Arp2/3 inhibition by treatment with CK666 did not decrease apparent stiffness (Fig. 7A, P = 0.029), suggesting that the junctional F-actin network generated by the Arp2/3 complex (Kovacs et al., 2002; Kovacs et al., 2011; Verma et al., 2012) does not participate in the generation of tension in mature MDCK monolayers. Finally, inhibition of Rho kinase by Y-27632 did not significantly affect junctional F-actin appearance (Fig. 7B), but did result in decreased apparent stiffness (Fig. 7A), indicating that myosin contractility is essential to maintain tensional homeostasis in mature monolayers.