Formation of adherens junctions leads to the emergence of a tissue-level tension in epithelial monolayers.
Bottom Line: Adherens junctions and desmosomes integrate the cytoskeletons of adjacent cells into a mechanical syncitium.Though much is known about the biological mechanisms underlying junction formation, little is known about how tissue-scale mechanical properties are established.As a consequence, inhibition of any of the molecular mechanisms participating in adherens junction initiation, remodelling and maturation significantly impeded the emergence of tissue-level tension in monolayers.
Affiliation: London Centre for Nanotechnology, University College London, London WC1H 0AH, UK Department of Physics, University College London, London WC1E 6BT, UK Engineering Doctorate Program, Department of Chemistry, University College London, London WC1H 0AJ, UK.
Show MeSH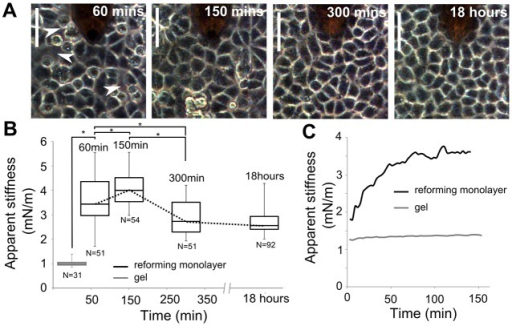 © Copyright Policy - open-access
License
getmorefigures.php?uid=PMC4043320&req=5
Mentions: Using deep AFM indentation, we investigated how monolayer tension evolved during the formation of intercellular junctions. To do this, we seeded dissociated epithelial cells onto collagen gels at densities sufficient to give rise to confluent monolayers immediately upon formation of intercellular junctions. Shortly after seeding, cells started to establish intercellular contacts. By 60 min, cells aggregated into small groups with many gaps subsisting in between (Fig. 2A, arrowheads). After 150 min, a quasi-confluent monolayer had reformed, and the final gaps were being closed (Fig. 2A). By 300 min, the monolayer appeared morphologically indistinguishable from monolayers left to mature overnight (Fig. 2A). Based on the timecourse of monolayer formation observed by phase-contrast imaging, we decided to sample the apparent stiffness of the monolayer at 60 min, 150 min, 300 min and 18 h after replating. In all experiments, the evolution of monolayer apparent stiffness shared the same characteristics; after 60 min, the monolayer apparent stiffness was approximately threefold greater than the stiffness of collagen gels alone (K60 min = 3.6±1.0 mN/m, Kgel = 1.0±0.1 mN/m, P<0.01), a maximum stiffness was reached at 150 min (K150 min = 4.1±0.8 mN/m, P<0.01 when compared with K60 min), then the stiffness decreased significantly after 300 min (Fig. 2B, K300 min = 3.0±0.8 mN/m, P<0.01 when compared with K60 min or K150 min). Monolayers left to grow overnight did not display any further decrease in apparent stiffness (K300 min = 3.0±0.8 mN/m, Kmature = 2.8±0.6 mN/m, P = 0.06), suggesting that a homeostatic tissue tension had been established by 300 min. To gain further insight into the rapid change observed during the first 200 min after replating, we measured apparent stiffness at 2 min intervals after plating. Two distinct phases could be distinguished in all experiments (Fig. 2C, n = 3 experiments, black line); apparent stiffness first increased steadily for ∼120 min before reaching a maximum at ∼150 min after replating. The decrease in apparent stiffness observed after 150 min was intriguing (Fig. 2B). As no gaps were visible between cells after 150 min (Fig. 2A) and cell density increased significantly between 150 and 300 min (supplementary material Fig. S3A), we hypothesised that the increased density might relieve tension and that this could be due to cell divisions (Ranft et al., 2010), neighbour exchanges through which cells minimise intercellular stress (Tambe et al., 2011) or morphological changes accompanying junction maturation. Under our experimental conditions, few cell divisions or rearrangements were observed during the first 300 min (supplementary material Movie 2). During monolayer formation, cell spreading is initially required to establish intercellular junctions; then, as cell contacts mature, they increase in height and cell morphology switches from spread to cuboidal. To investigate whether such morphological changes occurred in our experiments, we measured the temporal evolution of the average cell projected area. We found that the cell area first increased significantly between 60 and 150 min before decreasing significantly after 300 min (supplementary material Fig. S3B, black line; Movie 2). These data are consistent with the idea that the cellular morphological changes that accompany junction maturation contribute to changes in apparent stiffness at long times. As apparent stiffness probes the tension generated by the monolayer, these data suggested that the biological mechanisms underlying intercellular junction formation and maturation might govern the temporal changes in apparent stiffness observed during monolayer formation.