Description of Medwayella independencia (Siphonaptera, Stivaliidae), a new species of flea from Mindanao Island, the Philippines and their phoretic mites, and miscellaneous flea records from the Malay Archipelago.
Bottom Line: A key to the male sex of Medwayella is provided.Phoretic mites of the genus Psylloglyphus (family Winterschmidtiidae) were present under the abdominal sclerites of several male and female specimens of M. independencia.This is the second report of a phoretic mite on a species of Medwayella Traub.
Affiliation: Monte L. Bean Life Science Museum, Brigham Young University, Provo, Utah, U.S.A.
ABSTRACT
---
Medwayella independencia, a new species of flea, is described from the tupaiid host Urogale everetti (Thomas) from Mindanao Island, Philippines. Several other species of fleas are also recorded from the Philippines including a single male of Lentistivalius philippinensis Hastriter and Bush, 2013 (previously known only from two males), the bat fleas Thaumapsylla breviceps orientalis Smit and Thaumapsylla longiforceps Traub, a single unidentified female species of Macrostylophora Ewing collected from the murid Bullimus bagobos Mearns, and a pair of Medwayella robinsoni ssp. from Sundasciurus hoogstraali (Sanborn) from Busuanga Island, Philippines. Representatives of Medwayella Traub, 1972 and Macrostylophora have not previously been recorded from the Philippines. A key to the male sex of Medwayella is provided. Phoretic mites of the genus Psylloglyphus (family Winterschmidtiidae) were present under the abdominal sclerites of several male and female specimens of M. independencia. This is the second report of a phoretic mite on a species of Medwayella Traub. The co-evolutionary implications between phoretic mites and fleas are discussed.

No MeSH data available.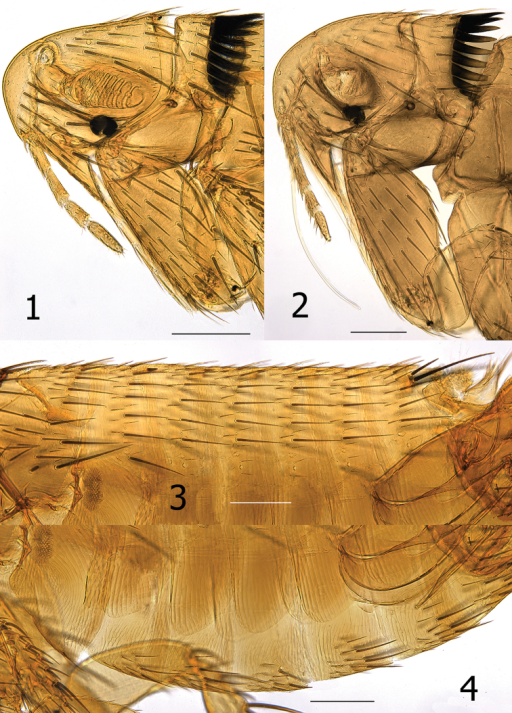 © Copyright Policy - creative-commons-attribution
License
getmorefigures.php?uid=PMC4042829&req=5
Mentions: Numbers of setae represent one side of the flea unless otherwise stated. Head (Figs 1–2). Frons evenly rounded from antennal falx to oral angle; falx slightly indicated in male, more so and longer in female. Two placoid discs in pre-antennal area and three in occipital area. Pre-antennal area with four vertical rows of long setae (6, 3, 4, and 3); second row in female with upper setae long and lower three much weaker. A small patch of 4–5 setae between second and third rows of setae. Area anterior to first (front) row of setae delineated by minute punctuations (differing from smooth area behind anterior row of setae). Maxillary palpus 4 segmented; penultimate segment shortest. Maxillae long and acutely sharp at apex. Labial palpus of 5 segments extended to middle of trochanter: apical segment longest. Antennal scape with oblique row of 5–6 short setae, pedicel fringed with 5 short setae, none extending onto clavus. Clavus of male symmetrical, extended to margin of head. Clavus of female short and asymmetrical, only 6 visible segments with basal 4 apparently fused. Numerous setulae along dorsal margin of antennal fossa; group of multiple setulae at each end of marginal row of setulae. Eye large, darkly pigmented, sinuate, fused to gena, and dorsum bulging into antennal fossa. Occipital area with four rows of setae (male: 5, 7, 1 and 7 with intercalaries; female: 6, 7, 1 and 6 with intercalaries). Intercalaries are extended posteriad to that of posterior row in lower setae. Thorax (Fig. 9). Pronotal ctenidia longer than pronotum in male, sub-equal in female; both sexes with total of 18 regular ctenidia plus the last spine about ¼ the length of more dorsal spines. Lateral pronotal ctenidia slightly curved (concave upper, convex lower margins). Pronotum with two rows of setae; main row complete, anterior row incomplete. Lowest seta of main row twice length of other setae. Prosternosome without notch for cervical link plate. First thoracic link plate robust and housing spiracle; second thoracic link plate with ventral sclerite protruding down from anterior apex (fused with wall of mesepimeron). Meso- and metanota each with three rows of setae; main row with intercalaries. Metanotum with single pseudoseta under metanotal collar; unusual among other taxa in that the seta is stout and spine-like. Mesepisternum with three closely spaced short setae and one long seta. Mesepimeron with 7 setae in male, 5 in female; each sex with alveoli of one seta situated directly over spiracle (spiracle opens beneath pleuron of mesepimeron. Pleural rod bifurcate. Lateral metanotal area separated from metepimeron by suture; metepimeron with single long seta. Pleural arch and pleural ridge robust. Squamulum present; long. Metasternum rounded. Setae on metepimeron variable in number and arrangement: 10–16 long setae and 1–7 small setae in male; 11–12 long setae and 4–8 small setae in female. Differs from side to side in same specimen. All setae below level of spiracle on metepimeron. Legs. Fore coxa with numerous scattered setae on upper ⅓; setae on lower ⅔ arranged in two rows more or less with 6–7 setae in each row. Suture of mesocoxa complete. Setae confined to anterior margin and apical ½ of meso- and meta-coxae. Ten to 12 small lateral setae on fore femur. Single long stout seta at femoral-tibial joint of fore tibia; short lateral spiniform seta and long stout mesal seta at femoral-tibial joints of meso- and metatibiae. All tibiae with seven dorsal notches: setae per notch of fore tibia (2, 2, 2, 2, 2, 2, 2), meso- and metatibiae (2, 2, 2, 2, 2, 2, 3); notch three with one of two setae minute. Lateral surface of all tibiae clad with numerous setae. First tarsal segment of fore leg with fringe of 4 large setae on caudal margin. Setae on basal portion of first tarsi of meso- and metatarsi small and un-pigmented; more distal setae distinctly more spiniform and darkly pigmented. Distotarsomeres with six lateral plantar bristles; basal three stouter than distal three pairs. Fore and meso-distotarsomeres with four spiniform pre-apical plantar bristles and meta-distotarsomere with two stout sharp pre-apical plantar bristles in male; female with two pre-apical plantar bristles on each distotarsomere. Mesal surface of tarsal claws on hind leg serrate; claws of anterior legs not serrate. All claws with stout basal lobe. Unmodified Abdominal Segments, male (Figs 3–4). Tergites I–VII each with three rows setae; T-II–V with single spinelet per side. Single seta of main row of each tergite below level of spiracles II–VII. Two antesensilial bristles; mesal bristle half length of lateral. Tergum VIII reduced with 4 small setae and large eighth abdominal spiracle. Sensilium convexly globular; brush-like setae surrounding 16–18 sensilial pits. Base of sensilium with sclerotized projection bearing several minute setae at apex. Dorsal anal lobe pointed with 5–6 long setae. Ventral anal lobe conical with two long setae near apex. Sternum I with 2 small ventral setae; group of multiple minute leuco discs on lateral surface. Sterna III–VII with main row of three long setae; anterior scattered setae. Modified Abdominal Segments, male (Figs 5–8). Dorsal and ventral margins of manubrium nearly parallel; upturned at apex. Stiva of telomere developed; with marginal group of four stout long setae ventrad to stiva and three smaller setae below main group. Telomere with oblique lateral row of minute setae. Dorso-anterior angle of telomere with two un-pigmented small spiniform setae. Base of telomere twice its narrowest width near group of four setae. Basimere with single triangular lobe bearing one long apical acetabular bristle and a smaller bristle dorsal to apex. Base of telomere extended to condyle hinging at base of fulcral sclerite. Proximal arm of S-IX expanded at apex; connected to and integrally associated with fulcral sclerite and base of telomere. Distal arm of S-IX, hyaline along basal dorsal margin with minute spicules. Similar hyaline spiculated area on dorsal surface pre-apically. Spiculated area subtended by a sinus that is as deep as wide. Subapical lobe below sinus pointed with 3–4 caudally directed setae. Ventro-apical margin with five short spiniform setae; medial to these are 6–7 small setae, subtended by two long, darkly pigmented setae. The lower ventral portion of the distal arm without setae; paired distal arms are fused from base to near apex. Sternum VIII quadrate and oblique at apex; ~40 long lateral setae. Lumacaudate process mesal to S-VIII with numerous short, light spiniform setae and one longer darkly pigmented spiniform seta. Median lamella of aedeagus broader than lateral lamella; proximal laminar margin deeply excised from short crescent sclerite to half the distance to the apex of the aedeagal apodeme. Aedeagal apodeme with slight convexity at mid dorsal area; margin sclerotized to arched median dorsal lobe near apex. Hood extended laterally to envelop Ford's sclerite. Fords sclerite well developed with a caudally directed thumb-like process, with elongate thin upper arm of securifer and lobular lower arm of securifer. Deltoid flap covers sclerotized inner tube, large phylax, and quasi crochet. Sclerotized inner tube long, narrow, straight ribbed at apical ¼ with minute backward pointing spines. A long spur is present on the dorsal surface on the basal ⅓ of the sclerotized inner tube. Pivotal ridge appears fused with dorsal margin of phylax; body of quasi crochet fused with ventral margin of Ford's sclerite. Quasi crochet blunt at apex; dorso-apical angle rounded, ventro-apical angle moderately acutely angled. Penis rods barely reaching apex of aedeagal apodeme. Ventral wall of aedeagal pouch heavily sclerotized. Unmodified Abdominal Segments, female. Tergites I–VI indistinguishable from male, except T-II with one seta below level of spiracle, T-III–V with two or three, and T-VI with one. Mesal antesensilial bristle half length of lateral bristle (opposite of male). Triangular lobe on margin of T-VII immediately below antesensilial setae; bearing single long seta almost contiguous with lateral antesensilial seta. Lobe extends between pairs of antesensilial bristles; with two stout setae between lobe and mesal antesensilial bristle. Lateral surface S-II with group of four to eight short setae; ventral margin with single setae. Sterna III–V with four setae in main rows, S-VI with five setae in main row and numerous scattered setae anterior to main rows. Modified Abdominal Segments, female (Figs 10–12). Tergum VIII with six to eight setae anterior to "L" shaped eighth spiracle. Tergum VIII large, laterally expanded with caudal triangular process; four marginal long setae dorsal to process and main row of eight long setae sub-marginally with scattered anterior smaller setae. Internal incrassation present on T-VIII. Sternum VII with broad lobe on caudal margin subtended by deep sinus and ventral truncate lobe. Three long setae below sinus on ventral lobe (one out of line) and two similar sized setae above sinus; row of seven or eight medium setae anterior to main row with additional scattered smaller setae anterior to these. Convex sensilium with ventral margin nearly contiguous with dorsal anal lobe; with 16 sensilial pits. Dorsal anal lobe with two very long setae on each side of anal stylet; several smaller setae anterior to base of anal stylet. Anal stylet with single robust seta; two minute setae at base of seta. Ventral anal lobe with basal lobe bearing about six long setae and apical pair of long setae; these interrupted by space without setae. Sternum VIII reduced; narrowing from base to pointed apex that bears several un-pigmented stout setae. Hilla of spermatheca inserted into bulga and perpendicular to linear axis of bulga. Proximal end of bulga wider than distal portion. Perula with expanded hood; ventral portion slightly sclerotized. Duct of spermatheca dilated from perula of bursa for distance about equal to length of bulga. Bursa copulatrix and glandula vaginalis expanded, duplacatura vaginalis distinctly recurved.