The olfactory neuron AWC promotes avoidance of normally palatable food following chronic dietary restriction.
Bottom Line: Food avoidance is enhanced by increased population density and is reduced if the animals are unable to correctly interpret their nutritional state as a result of defects in the AMP kinase or TOR/S6kinase pathways.The TGF-β/DBL-1 pathway suppresses food avoidance and the cellular basis for this is distinct from its role in aversive olfactory learning of harmful food.This study suggests that nutritional state feedback via nutrient sensors, population size and olfactory neurons guides food preference in C. elegans.
Affiliation: MRC Laboratory of Molecular Biology, Cambridge CB2 0QH, UK Department of Zoology, University of Cambridge, Cambridge CB2 3EJ, UK olofsson@mrc-lmb.cam.ac.uk.
Show MeSH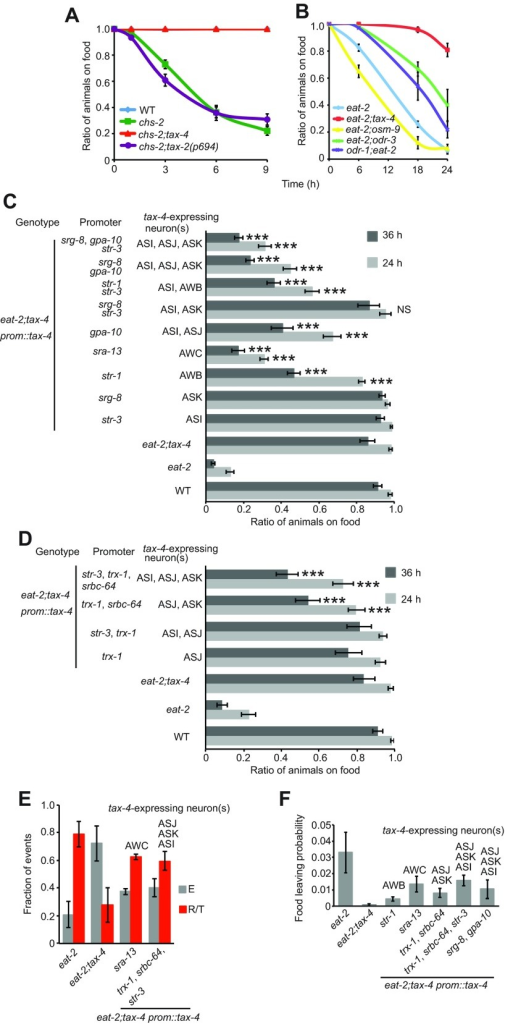 © Copyright Policy - open-access
License
getmorefigures.php?uid=PMC4020945&req=5
Mentions: Although eat-2 and chs-2 animals accumulated off the bacterial food they nevertheless remain close to it, often forming a ring just outside the bacterial lawn (Fig. 1F). This behavior suggested that the animals retained some long-range attraction to food. By contrast, the increased reversals and turns when chronically underfed worms approached food indicated that some aversive cues from the food dominate in the balance between attraction and avoidance at short range. In C. elegans, food-associated cues like odors and tastants are sensed predominantly by sensory neurons in the amphids. To dissect food-avoidance behavior in chronically underfed animals at a sensory level, I constructed double mutants defective in eat-2 or chs-2 and in genes required for specific neural functions. Mutants in tax-4, encoding an α-subunit of a cGMP-gated ion channel, are defective in the function of 14 neuron pairs (Komatsu et al., 1996). tax-4 mutations suppressed food avoidance in both eat-2 and chs-2 mutant animals (Fig. 3A,B). The tax-2 gene encodes the β-subunit of the TAX-4-containing cGMP-channel and functions in the same 14 neurons. For tax-2, a promoter mutation, tax-2(p694), is available that selectively disrupts tax-2 expression in six of the 14 neurons (Coburn and Bargmann, 1996; Coates and de Bono, 2002; Bretscher et al., 2011). The tax-2(p694) mutation failed to suppress chs-2 food avoidance, suggesting that one or more of the remaining tax-2/tax-4-expressing neurons promoted this behavior. These include the AWB and AWC olfactory neurons, and the ASG, ASI, ASJ and ASK gustatory neurons. I used cell-specific promoters to express tax-4 cDNA in these neurons singly or in combination (except ASG, for which no cell-specific promoter has been described), and asked where tax-4 expression was required to restore food-avoidance behavior to eat-2;tax-4 mutant animals. tax-4 expression in AWC neurons almost fully rescued the avoidance phenotype (Fig. 3C). Partial rescue was observed when tax-4 expression was restored to AWB neurons and there was a strong rescue of the avoidance phenotype when tax-4 was expressed in a combination of three neurons: ASI, ASJ and ASK with the gpa-10 and srg-8 promoters (Fig. 3C). As the gpa-10 promoter drives expression in ASI and ASJ (and several more non-tax-4-expressing neurons (Jansen et al., 1999), I sought to test all neurons individually. There was no rescue of avoidance behavior when tax-4 was individually expressed in ASI, ASJ or ASK (Fig. 3C,D) or in combinations in ASI and ASJ or ASI and ASK. Food-avoidance behavior was only restored in eat-2;tax-4 animals with combined expression in ASJ and ASK (Fig. 3D). Similarly, the strong phenotype in eat-2;tax-4 animals in reducing reversals and turns was restored upon expressing the tax-4 transgene in AWC or a combination of ASJ and ASK (and ASI) (Fig. 3E). As tax-4 also regulates food leaving (Milward et al., 2011), the food-leaving behavior of eat-2;tax-4 was analyzed. In agreement with our previous findings, tax-4 suppressed eat-2 food leaving. Partial rescue was observed when tax-4 expression was restored in the sensory neurons that rescued food avoidance of eat-2;tax-4 (Fig. 3F), indicating that AWB, AWC and ASJ and ASK likely promote food-leaving behavior (Fig. 3F). Hence, tax-4 and cGMP signaling promote both food leaving and food avoidance in feeding-defective animals.