Enzyme kinetics and distinct modulation of the protein kinase N family of kinases by lipid activators and small molecule inhibitors
ABSTRACT
---
The PKN (protein kinase N) family of Ser/Thr protein kinases regulates a diverse set of cellular functions, such as cell migration and cytoskeletal organization. Inhibition of tumour PKN activity has been explored as an oncology therapeutic approach, with a PKN3-targeted RNAi (RNA interference)-derived therapeutic agent in Phase I clinical trials. To better understand this important family of kinases, we performed detailed enzymatic characterization, determining the kinetic mechanism and lipid sensitivity of each PKN isoform using full-length enzymes and synthetic peptide substrate. Steady-state kinetic analysis revealed that PKN1–3 follows a sequential ordered Bi–Bi kinetic mechanism, where peptide substrate binding is preceded by ATP binding. This kinetic mechanism was confirmed by additional kinetic studies for product inhibition and affinity of small molecule inhibitors. The known lipid effector, arachidonic acid, increased the catalytic efficiency of each isoform, mainly through an increase in kcat for PKN1 and PKN2, and a decrease in peptide KM for PKN3. In addition, a number of PKN inhibitors with various degrees of isoform selectivity, including potent (Ki<10 nM) and selective PKN3 inhibitors, were identified by testing commercial libraries of small molecule kinase inhibitors. This study provides a kinetic framework and useful chemical probes for understanding PKN biology and the discovery of isoform-selective PKN-targeted inhibitors.
No MeSH data available.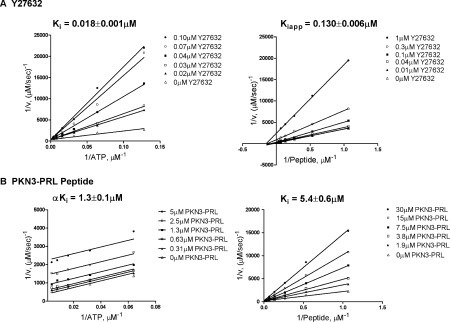 © Copyright Policy - open-access
License
getmorefigures.php?uid=PMC3958129&req=5
Mentions: To determine the catalytic contribution of lipid activation, as well as the kinetic mechanism and order of substrate addition during peptide phosphorylation, bisubstrate kinetic analysis was performed in the presence and absence of arachidonic acid by varying ATP and peptide substrate in a matrixed format. Since PKN1 and PKN2 achieved maximal initial velocity in the presence of 100 μM arachidonic acid, this concentration was chosen for these two enzymes. The effects of arachidonic acid at 5 μM (below the inhibitory concentration) on PKN3 kinetics were also examined. Transformation of initial velocity data to Lineweaver–Burk plots displayed lines intersecting to the left of the y-axis, consistent with a sequential mechanism, whereby a ternary complex forms between enzyme and substrates before product release (Figures 3A and 3B). To distinguish ordered versus random kinetic mechanism, product inhibition (using ADP, Figure 4) and substrate competitive inhibition studies (using Y27632 and PKN3-PRL peptide, Figure 5) were conducted. These data sets were consistent with an ordered Bi–Bi kinetic mechanism, as further explained below. The catalytic parameters generated through global fitting of the data to eqn (1), are presented in Table 2. There is considerable difference in kinetic constants between isoforms, both in the presence and absence of arachidonic acid. Arachidonic acid caused an 18-fold increase in kcat for PKN1 and a 9-fold increase in kcat for PKN2, which primarily contributed to the 32-fold and 12-fold increase in catalytic efficiency, respectively. Although arachidonic acid at 5 μM had no effect on kcat for PKN3, it actually led to a 4-fold decrease in KM,Pep, and corresponding increase in the catalytic efficiency (kcat/KM,Pep). The ATP KM for PKN1 was relatively unaffected by arachidonic acid, while ATP KM for PKN2 and PKN3 was marginally reduced by 6- and 3-fold, respectively. As stated above, PKN1 was actually dramatically more sensitive to arachidonic acid with regard to processing the peptide substrate (as measured by kcat/KM,Pep). On the other hand, PKN2 actually showed the highest increase (45-fold) with regard to processing of ATP upon arachidonic acid stimulation (as measured by kcat/KM,ATP) (Table 2). We cannot discount the idea that a physiological protein substrate, rather than a synthetic peptide, or the addition of effector proteins, such as Rho or Rac, may have an influence on the catalytic properties of PKNs.