Enzyme kinetics and distinct modulation of the protein kinase N family of kinases by lipid activators and small molecule inhibitors
ABSTRACT
---
The PKN (protein kinase N) family of Ser/Thr protein kinases regulates a diverse set of cellular functions, such as cell migration and cytoskeletal organization. Inhibition of tumour PKN activity has been explored as an oncology therapeutic approach, with a PKN3-targeted RNAi (RNA interference)-derived therapeutic agent in Phase I clinical trials. To better understand this important family of kinases, we performed detailed enzymatic characterization, determining the kinetic mechanism and lipid sensitivity of each PKN isoform using full-length enzymes and synthetic peptide substrate. Steady-state kinetic analysis revealed that PKN1–3 follows a sequential ordered Bi–Bi kinetic mechanism, where peptide substrate binding is preceded by ATP binding. This kinetic mechanism was confirmed by additional kinetic studies for product inhibition and affinity of small molecule inhibitors. The known lipid effector, arachidonic acid, increased the catalytic efficiency of each isoform, mainly through an increase in kcat for PKN1 and PKN2, and a decrease in peptide KM for PKN3. In addition, a number of PKN inhibitors with various degrees of isoform selectivity, including potent (Ki<10 nM) and selective PKN3 inhibitors, were identified by testing commercial libraries of small molecule kinase inhibitors. This study provides a kinetic framework and useful chemical probes for understanding PKN biology and the discovery of isoform-selective PKN-targeted inhibitors.
No MeSH data available.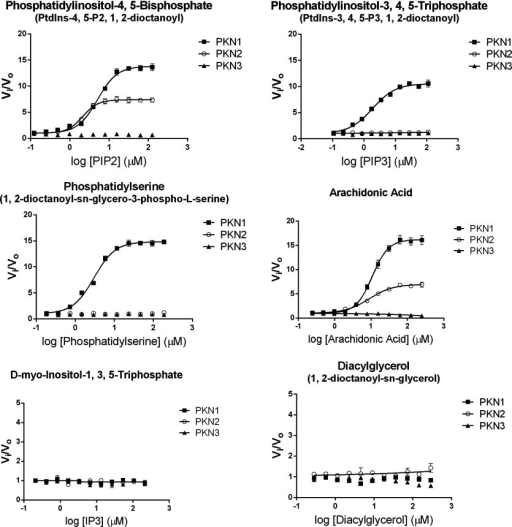 © Copyright Policy - open-access
License
getmorefigures.php?uid=PMC3958129&req=5
Mentions: The kinase activity of the PKN family has been reported to be responsive to fatty acids, such as arachidonic and linoleic acid as well as phosphatidylinositols [1,28,36]. To determine the effects that lipids may have on the kinetics of the individual PKN isoforms, we determined an EC50 value and maximal increase in initial rates under saturating ATP conditions of a small subset of potentially relevant signalling lipids against each PKN isoform using GSK3α derived peptide substrate (Figure 2 and Table 1). PKN1 initial rates were similarly increased by PIP2 (phosphatidylinositol-4,5-bisphosphate), PIP3 (phosphatidylinositol-3,4,5-triphosphate), phosphatidylserine and arachidonic acid (approximately 10–16-fold). Similar to PKN1, PKN2 kinase activity was increased in the presence of PIP2 and arachidonic acid. However, PKN2 kinase activity was not affected by either phosphatidylserine or PIP3. The activation profile of PKN3 by lipids differed greatly from PKN1 and PKN2. In contrast, stimulation of PKN3 catalytic activity was not observed with any of the lipids tested. However, on closer examination, arachidonic acid produced complex effects on PKN3. Kinase activity of PKN3 was slightly stimulated at a relatively low (5 μM) concentration of arachidonic acid from the kinetic analysis below, but was significantly inhibited at higher concentrations of this lipid (Figure 2). Arachidonic acid stimulation of PKN1 and PKN2 kinase activity was reported by others [28,34,35]. In this work, we observed pronounced differences in stimulation of the PKN isoforms by archidonic acid, and conducted detailed kinetic analysis of the PKN family proteins in the presence and absence of arachidonic acid.