Dependence of Impedance of Embedded Single Cells on Cellular Behaviour
ABSTRACT
---
Non-invasive single cell analyses are increasingly required for the medical diagnostics of test substances or the development of drugs and therapies on the single cell level. For the non-invasive characterisation of cells, impedance spectroscopy which provides the frequency dependent electrical properties has been used. Recently, microfludic systems have been investigated to manipulate the single cells and to characterise the electrical properties of embedded cells. In this article, the impedance of partially embedded single cells dependent on the cellular behaviour was investigated by using the microcapillary. An analytical equation was derived to relate the impedance of embedded cells with respect to the morphological and physiological change of extracellular interface. The capillary system with impedance measurement showed a feasibility to monitor the impedance change of embedded single cells caused by morphological and physiological change of cell during the addition of DMSO. By fitting the derived equation to the measured impedance of cell embedded at different negative pressure levels, it was able to extrapolate the equivalent gap and gap conductivity between the cell and capillary wall representing the cellular behaviour.
No MeSH data available.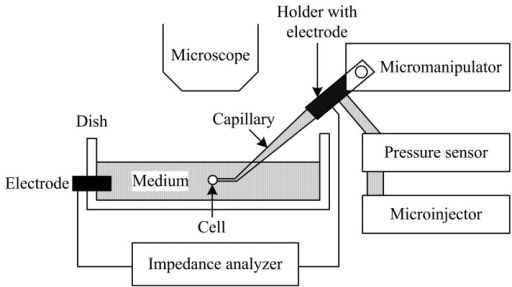 © Copyright Policy
getmorefigures.php?uid=PMC3927517&req=5
Mentions: For the cells, we prepared cultured L929 murine fibroblasts and removed the medium in the culture dish. The cells were washed once with PBS and then trypsinized with 1 ml of 10% Trypsin/EDTA for 3 minutes in an incubator Heraeus BB 6220 (Heraeus-Christ, Hanau, Germany). The cell suspension was transferred into a 15 ml plastic tube (Greiner BIO-ONE, Frickenhausen, Germany) and the cells were centrifuged at 1000 rpm for 5 minutes. After removing the supernatant, the cells were resuspended in culture medium (RPMI 1640, 10% FCS, 0.5% Penicillin/Streptavidin). For the capillary, we purchased insulated borosilicate glass capillaries (Custom Tip Type II, Eppendorf, Hamburg, Germany). Figure 2 shows the schematic of experimental setup for impedance measurement of single cell embedded in the capillary. The tubular pipette tip had the inner radius of 4 μm and the thickness of 1 μm. The capillary with holder was combined with a micromanipulator for the control of movement (PatchMan NP 2, Eppendorf, Hamburg, Germany) and a manual microinjector for the aspiration or release of single cells (CellTram® Oil, Eppendorf, Hamburg, Germany). After filling culture medium (RPMI 1640, 10% FCS, 0.5% Penicillin/Streptavidin) in the capillary and a dish, the cells were put in the dish. For the impedance measurement, an Ag-wire electrode was installed at the heel of capillary and another Pt electrode in the dish. The electrodes were connected to an electrochemical impedance analyzer (1260, Solartron Analytical, Farnborough, UK). The impedances of capillaries with and without a captured cell at the tip was measured in the frequency range from 100 Hz to 100 kHz. The single cell was captured at the tip of capillary by applying a negative pressure. The peak of input potential used for impedance measurement was 100 mV.