Monitoring and Predicting Land-use Changes and the Hydrology of the Urbanized Paochiao Watershed in Taiwan Using Remote Sensing Data, Urban Growth Models and a Hydrological Model
ABSTRACT
---
Monitoring and simulating urban sprawl and its effects on land-use patterns and hydrological processes in urbanized watersheds are essential in land-use and water-resource planning and management. This study applies a novel framework to the urban growth model Slope, Land use, Excluded land, Urban extent, Transportation, and Hillshading (SLEUTH) and land-use change with the Conversion of Land use and its Effects (CLUE-s) model using historical SPOT images to predict urban sprawl in the Paochiao watershed in Taipei County, Taiwan. The historical and predicted land-use data was input into Patch Analyst to obtain landscape metrics. This data was also input to the Generalized Watershed Loading Function (GWLF) model to analyze the effects of future urban sprawl on the land-use patterns and watershed hydrology. The landscape metrics of the historical SPOT images show that land-use patterns changed between 1990–2000. The SLEUTH model accurately simulated historical land-use patterns and urban sprawl in the Paochiao watershed, and simulated future clustered land-use patterns (2001–2025). The CLUE-s model also simulated land-use patterns for the same period and yielded historical trends in the metrics of land-use patterns. The land-use patterns predicted by the SLEUTH and CLUE-s models show the significant impact urban sprawl will have on land-use patterns in the Paochiao watershed. The historical and predicted land-use patterns in the watershed tended to fragment, had regular shapes and interspersion patterns, but were relatively less isolated in 2001–2025 and less interspersed from 2005–2025 compared with land-use pattern in 1990. During the study, the variability and magnitude of hydrological components based on the historical and predicted land-use patterns were cumulatively affected by urban sprawl in the watershed; specifically, surface runoff increased significantly by 22.0% and baseflow decreased by 18.0% during 1990–2025. The proposed approach is an effective means of enhancing land-use monitoring and management of urbanized watersheds.
No MeSH data available.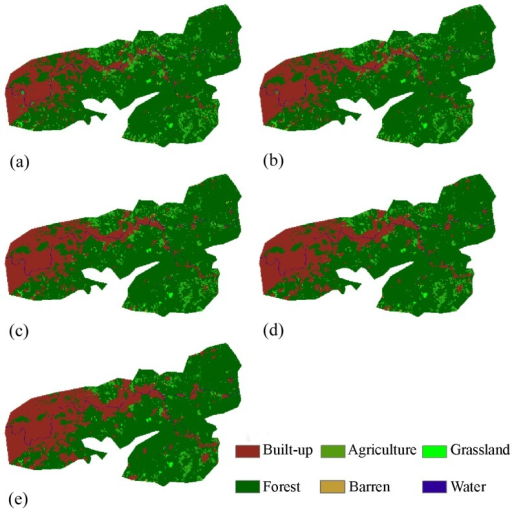 © Copyright Policy
getmorefigures.php?uid=PMC3927508&req=5
Mentions: Statistical matrices of goodness-of-fit (Table 1), for SLEUTH modeling in this study were 0.94, 0.64, 0.93, 0.92, 0.71, and 0.91 for metrics of Compare, Population, Edges, Clusters, Lee-Sallee, and F-Match, respectively. The slightly low value for the Population parameter is due to the simulated numbers of urbanized grid cells in each year from 1990–2000 deviating from the observed numbers. This phenomenon indicates that the SLUETH model, which simulates urban sprawl based on regulating the state of grid cells in the vicinity of land-uses. The spread of urbanized grid cells may be scattered rather than diffusing from current urbanized centers. Simulation results predicted by SLEUTH modeling from 2001–2005 (Figure 4) indicate that the built-up land is the only land-use class that has a monotonic increase in its area from 1551.68 ha in 2001 to 2833.12 ha in 2025. Simulated land-use maps show that the most developed and frequently changed areas are located in the eastern part of (downstream area) and along the stream in the Paochiao watershed, especially in low elevation areas (Figure 4). The increase ratio for built-up area is 82.58%. Other areas of land-use classes all decreased with ratios of 49.31%, 47.92%, 42.40%, and 11.50% for cultivated land, bare land, grassland, and forest, respectively; the water body remained unchanged (Figure 5).