An Automatic Instrument to Study the Spatial Scaling Behavior of Emissivity
ABSTRACT
---
In this paper, the design of an automatic instrument for measuring the spatial distribution of land surface emissivity is presented, which makes the direct in situ measurement of the spatial distribution of emissivity possible. The significance of this new instrument lies in two aspects. One is that it helps to investigate the spatial scaling behavior of emissivity and temperature; the other is that, the design of the instrument provides theoretical and practical foundations for the implement of measuring distribution of surface emissivity on airborne or spaceborne. To improve the accuracy of the measurements, the emissivity measurement and its uncertainty are examined in a series of carefully designed experiments. The impact of the variation of target temperature and the environmental irradiance on the measurement of emissivity is analyzed as well. In addition, the ideal temperature difference between hot environment and cool environment is obtained based on numerical simulations. Finally, the scaling behavior of surface emissivity caused by the heterogeneity of target is discussed.
No MeSH data available.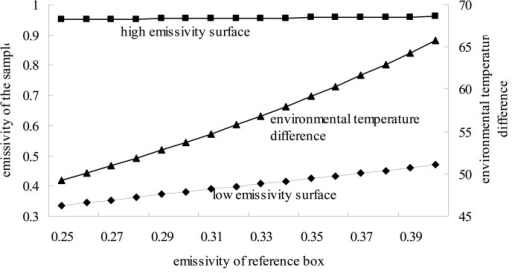 © Copyright Policy
getmorefigures.php?uid=PMC3927495&req=5
Mentions: εr, the emissivity of reference box. In the calculation of emissivity, εr is mainly used to retrieve ambient radiance Tenvi, consequently, affects the retrieval of sample's emissivity. Integrating Eq.(2) and Eq.(5) into Eq.(6), we can analyze the relationship between εr, Tenvi and the emissivity of the sample. Figure.6 shows the simulated results. Clearly, under the conditions that M1, M2, M3, M4 and Tr are constant, the difference of environmental temperature (Th–Tc) increases as εr increases,accordingly, the calculated emissivities εs also increase. For the sample with higher emissivity about 0.95, the results show little change. An variation of 0.01 in εr only results in 0.00066 change of εs. Comparatively, 0.01variation in εr causes 0.0088 change of εs for the sample with lower emissivity about 0.33, which is thirteen times than the former case. Therefore, higher attention should be paid when target object of low emissivity is measured and in this case, εr should be determined precisely. While in common cases that the samples are soils or vegetations, the effects result from the small error of εr can be ignored in the applications. Using the experimental data, Table 4 was obtained, which exhibited good consistence with the above conclusion, that is to say, εr has larger effects on objects of low emissivity.