Metabolic regulation by p53 family members.
Bottom Line: The function of p53 is best understood in response to genotoxic stress, but increasing evidence suggests that p53 also plays a key role in the regulation of metabolic homeostasis. p53 and its family members directly influence various metabolic pathways, enabling cells to respond to metabolic stress.These functions are likely to be important for restraining the development of cancer but could also have a profound effect on the development of metabolic diseases, including diabetes.A better understanding of the metabolic functions of p53 family members may aid in the identification of therapeutic targets and reveal novel uses for p53-modulating drugs.
Affiliation: The CR-UK Beatson Institute, Glasgow G61 1BD, Scotland, UK.
Show MeSH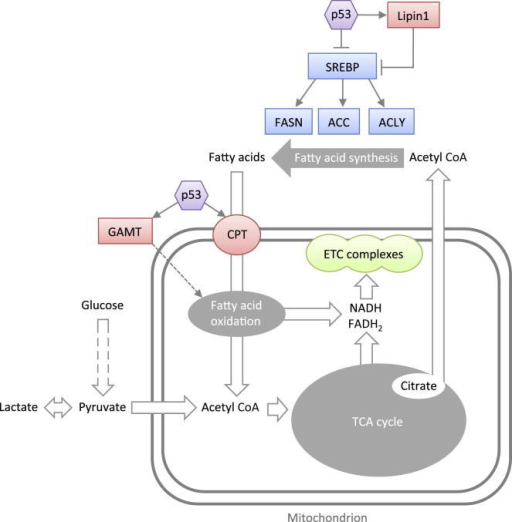 © Copyright Policy
License
getmorefigures.php?uid=PMC3824073&req=5
Mentions: Lipid metabolism is a highly regulated and synchronized process. Fatty acids can be used by cells as an energy source or a means of storing surplus energy. Fatty acid oxidation (FAO) takes place in the mitochondria and breaks down fatty acids into two-carbon units in order to yield acetyl-CoA, NADH, and FADH2, which can be channelled directly to the TCA cycle and electron transport chain to produce ATP (Figure 4). Fatty acid synthesis takes place in the cytosol and uses two-carbon units to form a gradually elongating carbon chain in a process that requires ATP and NADPH. Thus, to avoid futile cycling, these reciprocal pathways are separated into different cellular compartments and regulatory mechanisms at various levels ensure that they do not occur simultaneously. De novo fatty acid synthesis occurs mainly in a limited number of tissues—i.e., adipose tissue, the liver, and lactating mammary glands. Fatty acids are transported to cells throughout the body through the circulation in the form of lipoprotein particles, which are made up of newly synthesized fatty acids as well as dietary fatty acids, and are exported from adipose, liver, or gut tissues. When supply is higher than demand, fatty acids can be stored in liver and fat tissue in lipid droplets, mainly in the form of triglycerides. Another important branch of lipid metabolism is the mevalonate pathway, through which the two-carbon acetyl groups are utilized to synthesize cholesterol. Whereas adult differentiated cells obtain lipids mainly from the diet, highly proliferative cells such as embryonic stem cells and cancer cells display high rates of de novo fatty acid synthesis for generating building blocks for new membranes as the cells divide and for steroid hormones that enhance cell growth (Swinnen et al., 2006; Santos and Schulze, 2012). Multiple tumor types display elevated levels of cholesterol or lipid droplets. Expression of key enzymes in the fatty acid synthesis pathway, such as fatty acid synthase (FASN), acetyl CoA carboxylase (ACC), and ATP citrate lyase (ACLY), was shown to be reactivated in various tumors and contribute to cell transformation and tumorigenesis (Swinnen et al., 2006). Additionally, the PI3K-AKT and mTOR pathways, which are commonly activated in cancer cells (Yang et al., 2002; Santos and Schulze, 2012), are known to enhance lipid synthesis. Finally, under hypoxic conditions that are expected to occur in solid tumors, FAO is inhibited because NADH and FADH2 cannot be oxidized and, thus, such conditions shift the balance toward lipid synthesis and accumulation (Santos and Schulze, 2012).